This smoked sausage recipe results in tender, juicy sausages infused with rich, woody flavor. From choosing the perfect sausages to setting up your smoker, this guide will take you through the process of smoking sausages in your own backyard!
Smoked sausages are one of the easiest things you can make on your smoker and require minimal prep. Just heat up your smoker, toss your sausages on the grates and then relax for a few hours while they smoke to juicy perfection!
Choosing Sausages for Smoking
The key to making delicious smoked sausages is starting with high quality raw sausages.
Make sure to use raw or uncooked sausages for optimal flavor and texture. Pre-cooked sausages won't absorb as much smoke flavor and may dry out in the smoker. One exception is hot dogs, which actually take on an extra layer of delicious flavor when smoked!
Tips for Choosing Quality Sausages
Not all sausage is created equal. From taste to texture, the quality of the sausages you choose can make a significant difference in your smoking experience. Here are a few tips for choosing sausage to smoke:
Talk to your local butcher. We generally buy sausages from our local butcher. They tend to be fresher and use higher quality ingredients.
Check for freshness. Look for plump sausages with consistent color. Avoid sausages that look excessively dry, have a slimy surface or patches of discoloration.
What Sausages are Best for Smoking?
Any fresh sausage can be smoked, but here are some of our favorite options:
Bratwursts: This is our favorite option for cookouts. You can get a variety of brats, ranging from regular to beer brats and jalapeno cheddar so there's something for everyone!
Kielbasa (Polish Sausage): Best served on a toasted bun with sauerkraut and spicy brown mustard!
Italian Sausage: Italian sausage is often spiced with garlic and fennel. Both sweet and spicy varieties make for delicious smoked sausages!
Chorizo: While Spanish chorizo is typically already cooked and cured, several of our local butchers sell fresh chorizo-spiced sausages that we love for making choripán! Choripán is a sandwich that consists of grilled chorizo served on a crusty bread roll with chimichurri.
Breakfast sausage: Perfect to level up your brunch game! Because breakfast sausage links tend to be small, they may only need 30-45 minutes on the smoker.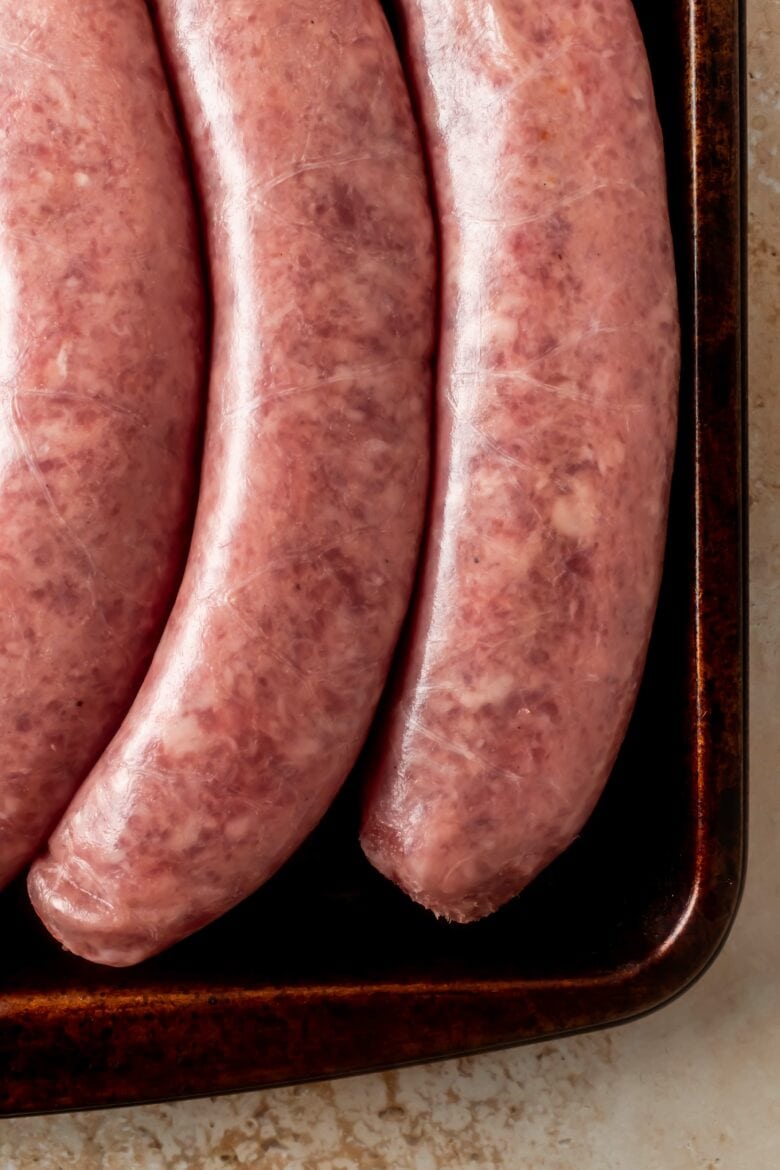 Set up the Smoker
While smoking started as a method for food preservation, it has now evolved into a mouthwatering technique to infuse meat with the beautiful flavors of smoke. The first step? Choosing the best wood for your smoked sausages!
Choosing the Best Smoking Wood
While we sometimes have wood preferences for smoking certain meats, there's really no wrong answer for smoked sausages. It's all about balancing flavors and deciding the type of smokiness you'd like to achieve.
Oak and pecan are our favorite all purpose picks for smoking sausage. These woods add a rich and mildly smoky flavor that works well with a wide variety of sausages. It enhances their natural flavors without overpowering them.
If you opt for plain sausages without many spices or herbs, you can always try something a little stronger. Hickory is a great option for a more intense flavor.
And for breakfast sausages, a mild wood like apple or maple works wonders, imparting a subtly sweet flavor that goes well with pancakes, waffles and all your favorite breakfast fare!
When in doubt, opt for oak or pecan wood. They work well with most sausage varieties and will impart a mild smokiness.
For more in-depth information about the types of wood, check out this article which includes a handy reference chart at the bottom.
Smoking Sausages
Now that you've picked your sausages and wood chips, it's time to fire up the smoker! We cook them low and slow to impart maximum smokiness and prevent the casing from bursting.
Cook the sausages at 200°F (73°C) for 1.5-2 hours. Use an instant read meat thermometer to check the temperature of the thickest part of the sausage. The smoked sausages are done when they reach an internal temperature of 160°F (71°C).
While prepping your smoker will depend on the type of smoker you have, here are some tips to make sure you get perfectly smoked sausages every time:
If using an electric or gas smoker, preheat the smoker for at least 30 minutes to build up smoke before adding the sausages. Because sausages don't need much time in the smoker, this step is essential to maximizing the smoky flavor.
Open the smoker as little as possible so it doesn't lose heat and drop the temperature.
Don't let the smoked sausages rest too long before serving. The magic happens when sausages are hot, as the melted fat beautifully coats the sausage, creating a juicy and irresistible texture!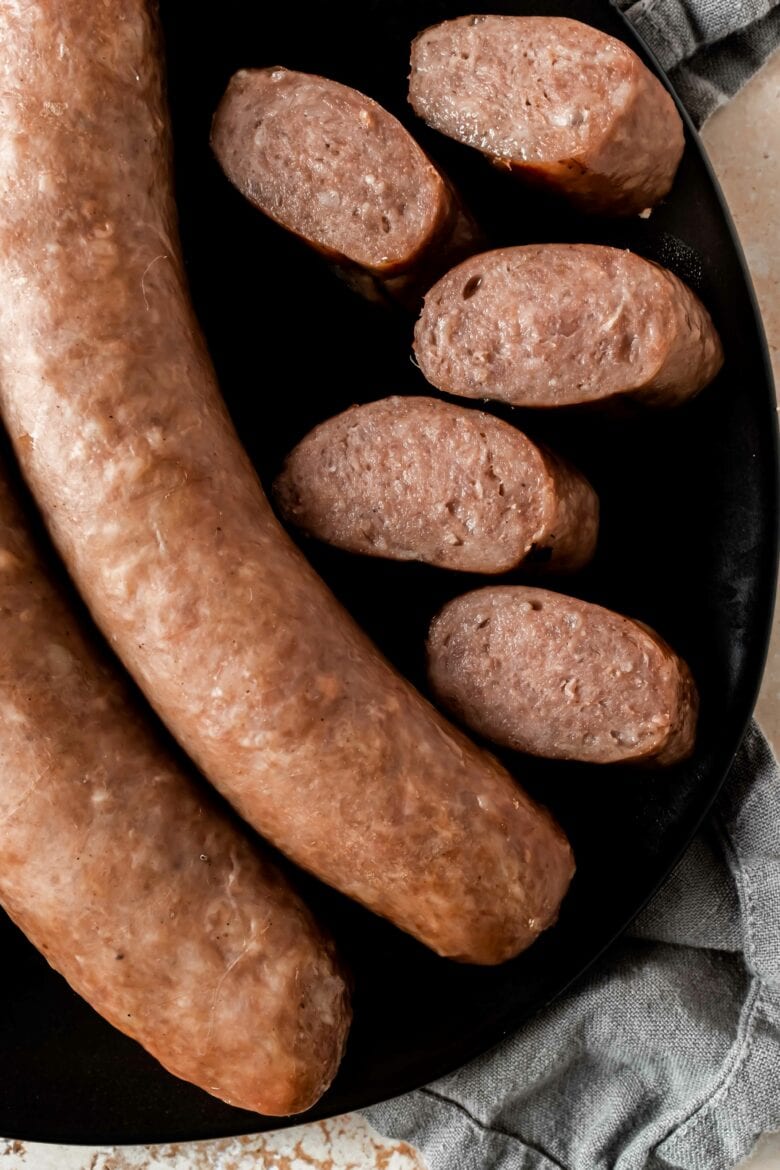 Serving Ideas
Now the fun part! What can you make with all of your freshly smoked sausages? Here are our favorite ideas:
Get creative with toppings! I love the classic sauerkraut and mustard for brats. Smoked italian sausage is amazing with sauteed onions and bell peppers. And you can make the most epic chili cheese dog with spicy smoked sausages!
Add it to pasta! Italian sausage is a great addition to pasta dishes. And this creamy chorizo pasta is one of our favorite easy weeknight dinners.
Make sausage skewers with bell peppers, onions and mushrooms and then grill to perfection!
Try creole or cajun cuisine! Home-smoked sausages will level up your jambalaya and gumbo!
Storing Smoked Sausages
Leftover smoked sausages can be stored in an airtight container in the fridge for up to a week.
To freeze smoked sausages, allow them to cool and then wrap each sausage individually in plastic wrap. Place them in a freezer-safe bag and store for up to three months. Thaw the sausages in the refrigerator overnight before reheating.
Reheating Smoked Sausages
Our favorite way to reheat smoked sausages is to toss them on the grill over medium heat (about 4-5 minutes on each side).
You can also wrap them in foil and reheat them in the oven at 350°F (180°C) for about 15 minutes, or heat them in a skillet on the stovetop with a little water or oil.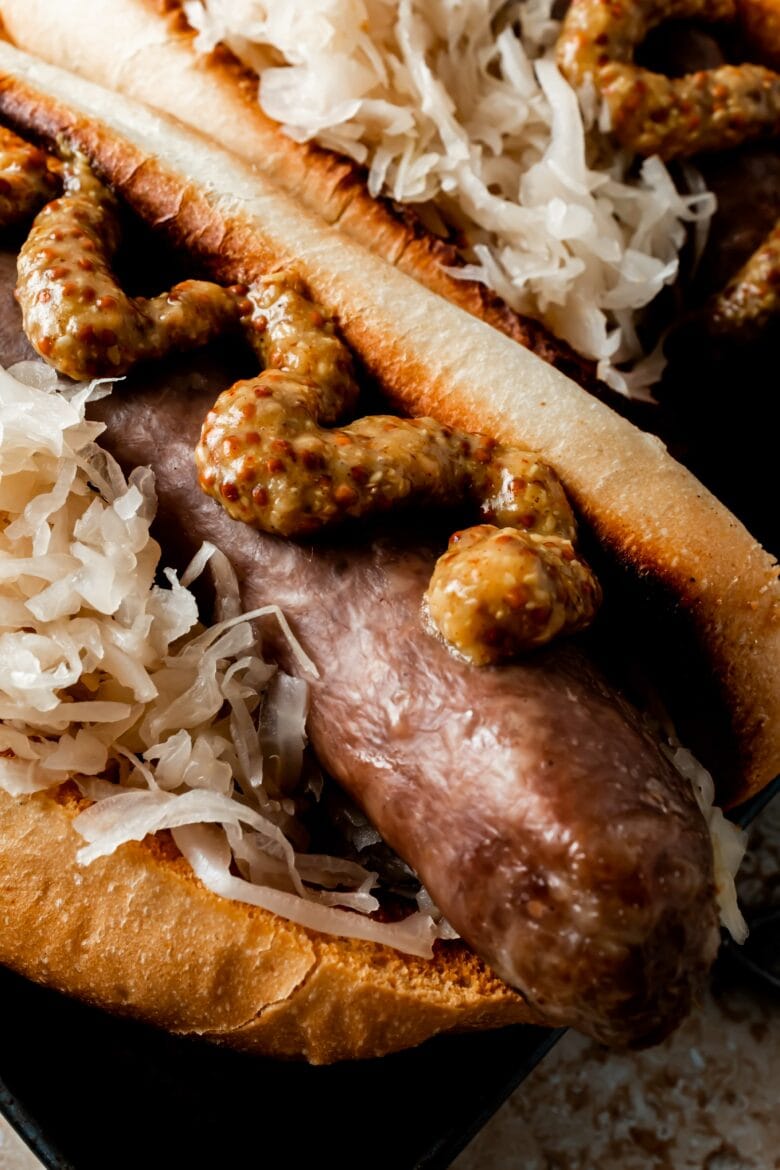 Smoked Sausages: FAQs
What type of sausage is good for smoking?
Most types of sausage can be enhanced by smoking! Just make sure you're starting with raw or fresh sausage. Brats, kielbasa, breakfast sausage and chorizo are all excellent options.
At what temperature should you smoke sausages?
We recommend smoking sausages at 200°F (93°C). This low temperature allows the sausages to cook slowly and absorb the smoky flavors without overcooking or bursting the casing.
How long does it take to smoke sausages?
Typically, sausages will need 1.5-2 hours until fully cooked to an internal temperature of 160°F (71°C). Breakfast sausages or smaller links may cook in as little as 45 minutes.
Looking for something to serve alongside your smoked sausages? Give these recipes a try!
Print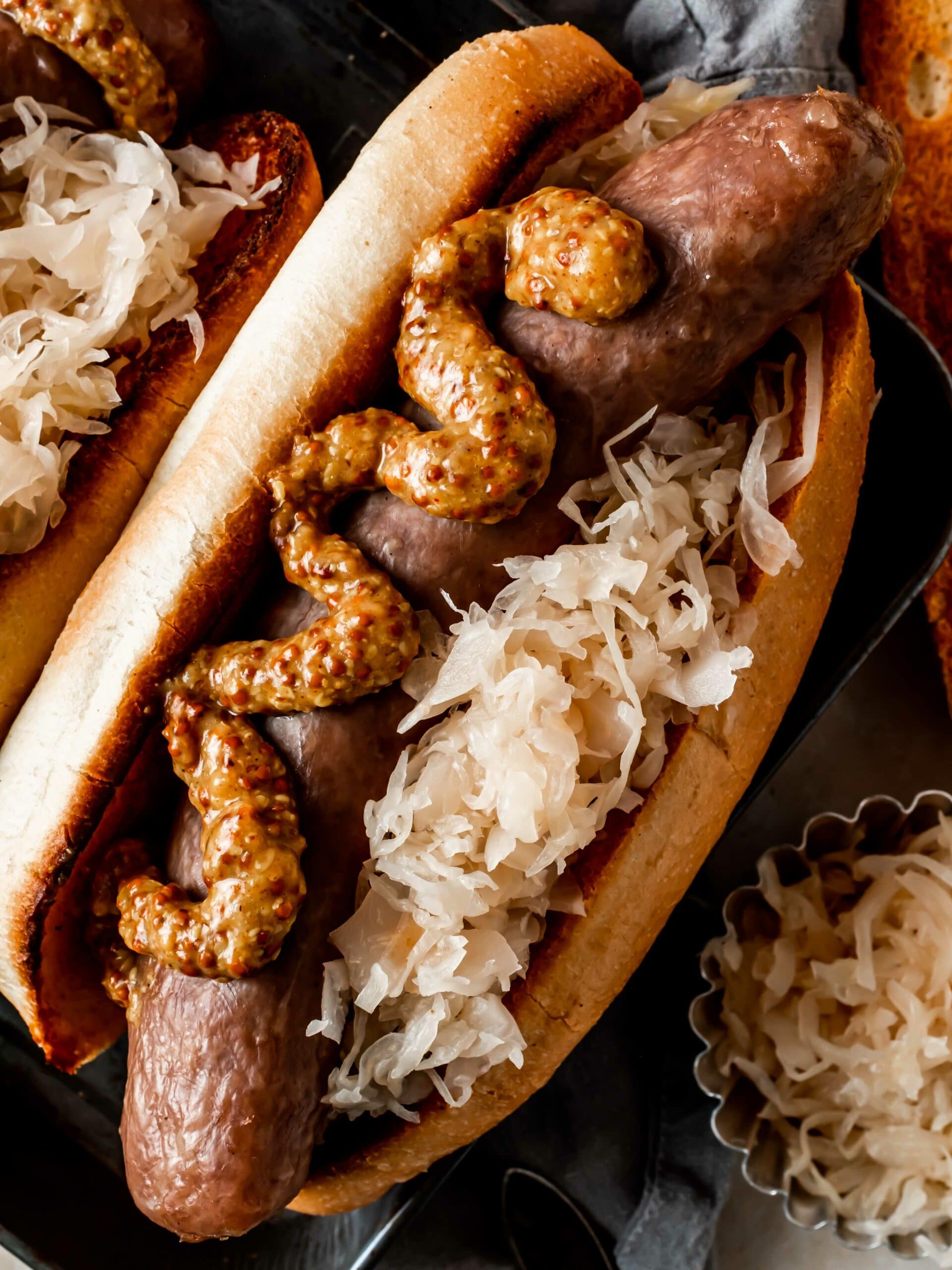 Smoked Sausage (how to smoke sausages)
---
Author:

Prep Time:

5 minutes

Cook Time:

2 hours

Total Time:

2 hours 5 minutes

Yield:

10
Description
This smoked sausage recipe results in tender, juicy sausages infused with rich, woody flavor!
---
sausages

2 lbs (900 g)

(brats, kielbasa, etc.)

wood chips

see notes
---
Instructions
Preheat the smoker to 200°F (93°C) and add wood chips* according to manufacturer instructions. If using an electric or gas smoker, let the smoker build up smoke for 30 minutes before adding the sausages.

Place the sausages directly on the grates, making sure they aren't touching each other. Smoke for 1.5-2 hours or until the internal temperature reaches 160°F (71°C).

Transfer the sausages to a plate and allow to cool for 5 minutes before serving.
Notes
Wood: Oak and pecan are our preferred wood chips for smoking sausages. But hickory is great for a bolder flavor and apple or maple are perfect for breakfast sausages!
Storing: Leftover smoked sausages can be stored in an airtight container in the fridge for up to a week.
Category:

dinner

Method:

smoking

Cuisine:

global
Keywords: smoked sausages, smoked brats, how to smoke sausages
This post may contain affiliate links through which we may earn a small commission at no additional cost to you. We only recommend products that we genuinely love and would use ourselves.