Chocolate namelaka is light and creamy yet stable enough to pipe, making it perfect for decorating your favorite desserts! This uncomplicated recipe requires just four ingredients and 10 minutes of active prep!
This velvety, melt-in-your-mouth chocolate namelaka is pure decadence! The base for this luxuriously smooth treat is made with just chocolate, whole milk and heavy cream. The final ingredient is gelatin, which stabilizes the cream just enough for it to keep its shape, allowing it to hold up well when piped or layered onto other desserts!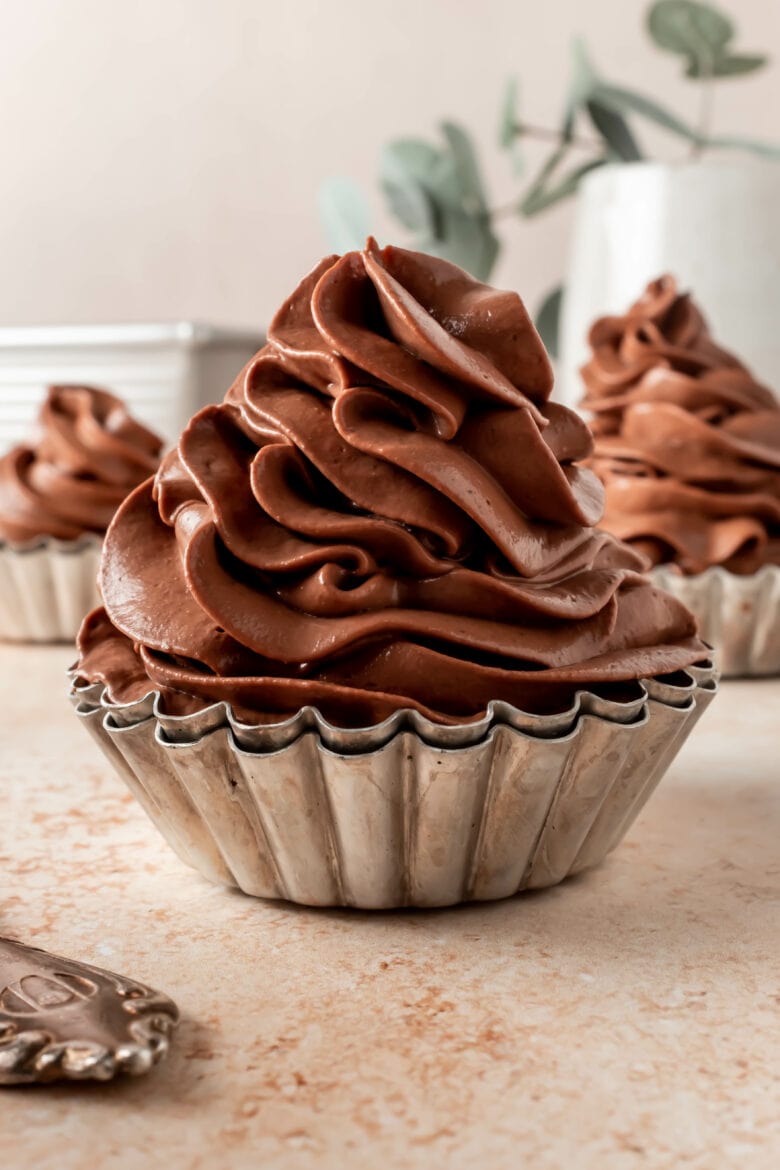 What is Namelaka?
The Origins of Namelaka
The word namelaka comes from the Japanese term for a smooth or creamy texture.
It's difficult to pinpoint the exact origin of namelaka, as various chefs have contributed to its development and refinement. The technique generally involves combining cream, a stabilizing agent (such as gelatin or agar agar), and a flavoring agent. The mixture is then whipped or blended to create the velvety smooth texture.
While chocolate is the most well-known variation, other options to add flavor include fruit purees, caramel, coffee or tea.
Dark Chocolate Namelaka
Today, we're making a dark chocolate namelaka, a version that has been made popular by l'École Valrhona. The recipe calls for just milk, heavy cream, chocolate and gelatin. No additional sugar is added, which results in a confection that is perfectly balanced and not overly sweet!
Chocolate namelaka is lighter and more delicate than mousse or custard, but it's stable enough to pipe. This makes it an excellent option for frosting cupcakes, decorating cakes or filling pastries!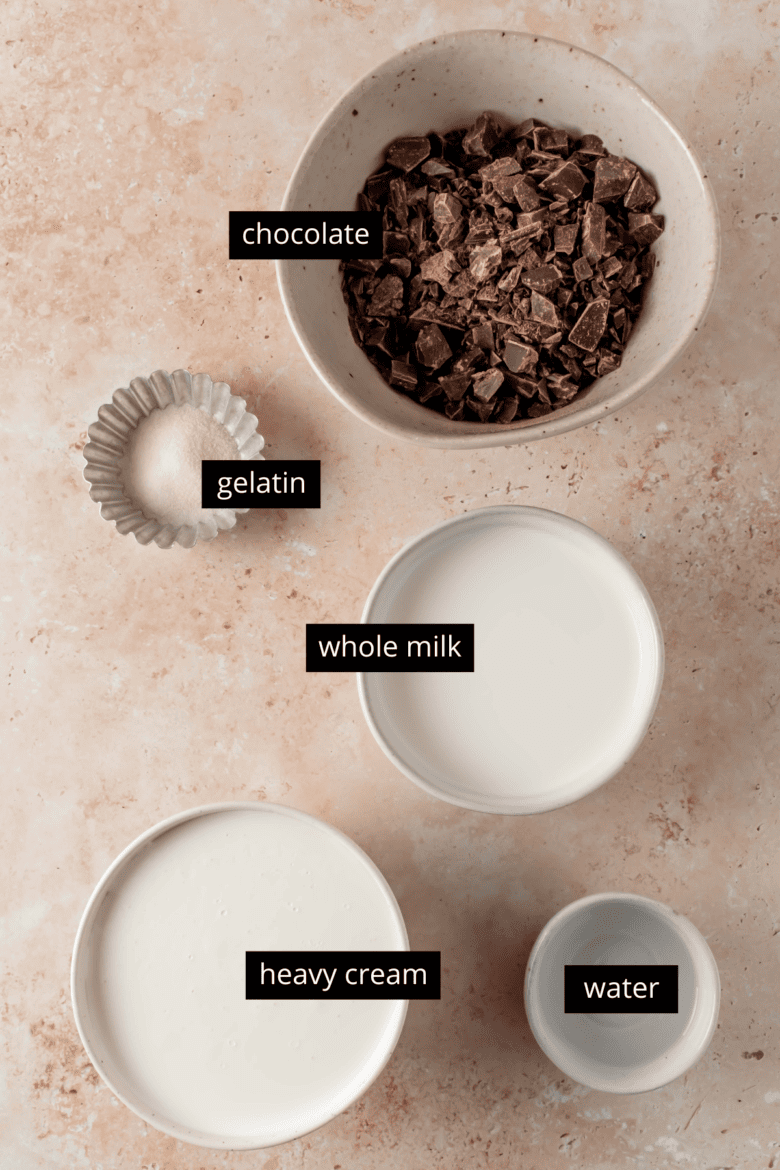 Choosing the Chocolate
We prefer using dark chocolate with a 70% cocoa content to give the namelaka an intense chocolatey flavor. Here are some tips for choosing chocolate that will work well in this recipe:
Avoid chocolate chips and make sure to use high-quality chocolate bars or chocolate pieces. High-quality chocolate has a richer flavor and also tends to melt and re-solidify more smoothly. 
Valrhona, Callebaut and Guittard are excellent brands for quality chocolate, but a good bar of baking chocolate from your grocery store will work in a pinch.
While we sometimes use chocolate labeled "bittersweet" for this recipe, distinctions such as "bittersweet" and "semisweet" aren't well-defined. Aim for something with a cocoa percentage of about 70% for best results.
Making Namelaka
Chocolate namelaka can be made in three easy steps:
Heat the milk and then combine it with the bloomed gelatin.
Pour the milk over the chopped chocolate and whisk until the chocolate is fully melted.
Whisk in the heavy cream (or use an immersion blender) and then chill until set!
Working with Gelatin
This chocolate namelaka recipe calls for powdered gelatin, which is incorporated into the namelaka in two steps:
Bloom the gelatin. Blooming gelatin refers to hydrating the gelatin to soften and activate it. To bloom the gelatin, simply sprinkle it over cold water and allow the gelatin to absorb the liquid for 10 minutes.
Dissolve the gelatin completely. To make sure your namelaka isn't lumpy, you'll pour the bloomed gelatin into the warm milk and whisk until the mixture is completely smooth and the gelatin is dissolved.
How to Use Namelaka
Here are some of our favorite ways to use chocolate namelaka:
Frost cupcakes with decorative swirls.
Alternate layer cakes with decadent layers of namelaka.
Decorate cakes by piping namelaka borders and designs.
Use it as a macaron filling.
Fill a tart shell with chocolate namelaka and top it with fresh berries.
Spread the namelaka into a crepe and top with whipped cream.
Pipe namelaka into eclairs or profiteroles.
Chocolate Namelaka: FAQs
How is namelaka different than ganache?
Ganache is a mixture of cream and chocolate and is generally more dense than namelaka. Namelaka includes gelatin and has a light and airy texture.
Does my chocolate have to be high quality?
Chocolate is the star of the show, so you'll want to make sure you are using a quality chocolate with at least 70% cocoa. That being said, you don't have to use something incredibly expensive. Of course a namelaka using Valrhona chocolate will have a superior flavor, but a good-quality baking chocolate from your local grocery store will still produce delicious results.
What container should I use to store my namelaka?
A 9×5 inch (23×13 cm) loaf pan is the perfect size, but really any baking dish or a set of ramekins will work well.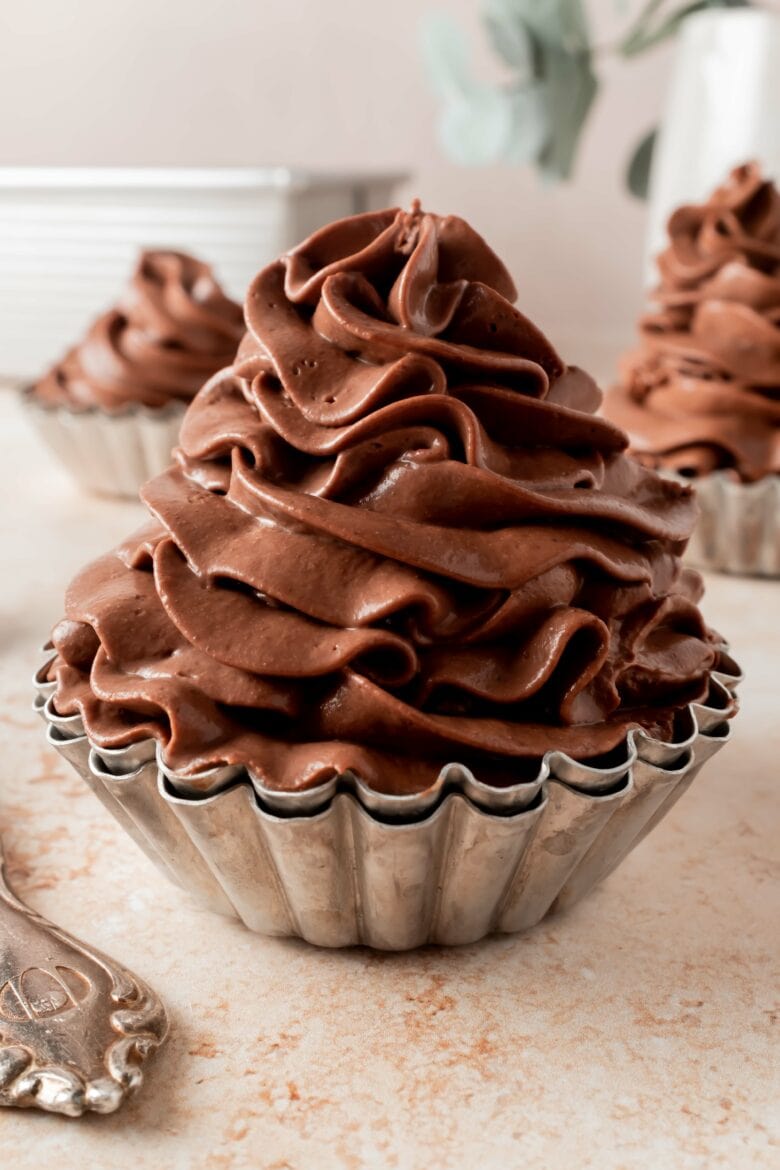 Loving this namelaka recipe? Here are some more of our favorite chocolate creations!
Print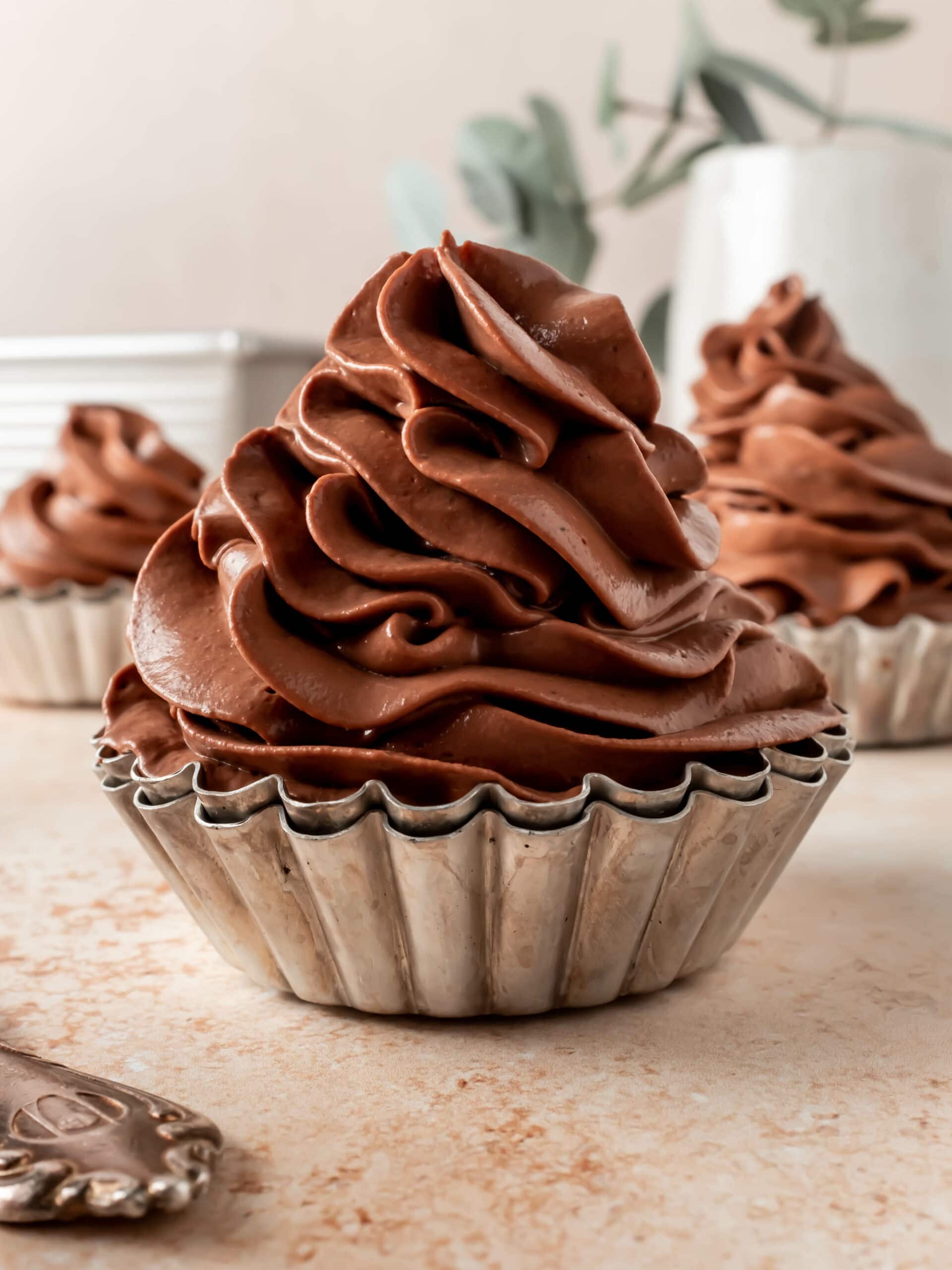 Chocolate Namelaka (Chocolate Cream)
---
Author:

Prep Time:

20 minutes

Chill Time:

4 hours

Total Time:

4 hours 20 minutes

Yield:

8
Description
Chocolate namelaka is a light, airy, and pipeable cream that will add a touch of decadence to your favorite desserts!
---
water, cold

2 tbsp (30 ml)

gelatin powder

1 ¾ tsp (5 g)

whole milk

¾ c (180 ml)

dark chocolate, finely chopped*

8 oz (225 g)

(I recommend 70% cocoa content)

heavy cream, cold

1.5 c (355 ml)
---
Instructions
Pour the cold water into a small bowl and sprinkle the gelatin over the top. Let sit for 10 minutes.

Place the finely chopped chocolate in a large heatproof bowl. Set aside.

In a small saucepan, bring milk to a boil over medium heat. We're not looking for a rolling boil here, but more of a rapid simmer with small bubbles.

As soon as the milk comes to a rapid simmer, remove from heat and whisk in the gelatin mixture until dissolved. Immediately pour over the chopped chocolate.

Whisk until the chocolate is completely melted and the mixture is smooth.

Pour in the cold heavy cream and use an

immersion blender

to mix until completely smooth. If you don't have an immersion blender, you can whisk the mixture together until smooth.

Transfer the namelaka to a loaf pan or baking dish. Cover with plastic wrap pressed directly into the cream. Place in the refrigerator until set (at least 4 hours).
Notes
Chocolate: Opt for a high-quality chocolate with a cocoa percentage of around 70%.
Category:

dessert

Method:

no bake

Cuisine:

global
Keywords: namelaka, chocolate namelaka
This post may contain affiliate links through which we may earn a small commission at no additional cost to you. We only recommend products that we genuinely love and would use ourselves.