Rich and decadent with a crispy crinkle top, these red velvet brownies are ultra fudgy and perfectly sweet! This easy one-bowl brownie recipe is a chocolate lover's dream!
Our homemade red velvet brownies are full of gooey, chewy chocolatey goodness and studded with white chocolate chips. With their crimson color and irresistible flavor, these indulgent brownies are sure to satisfy your chocolate cravings!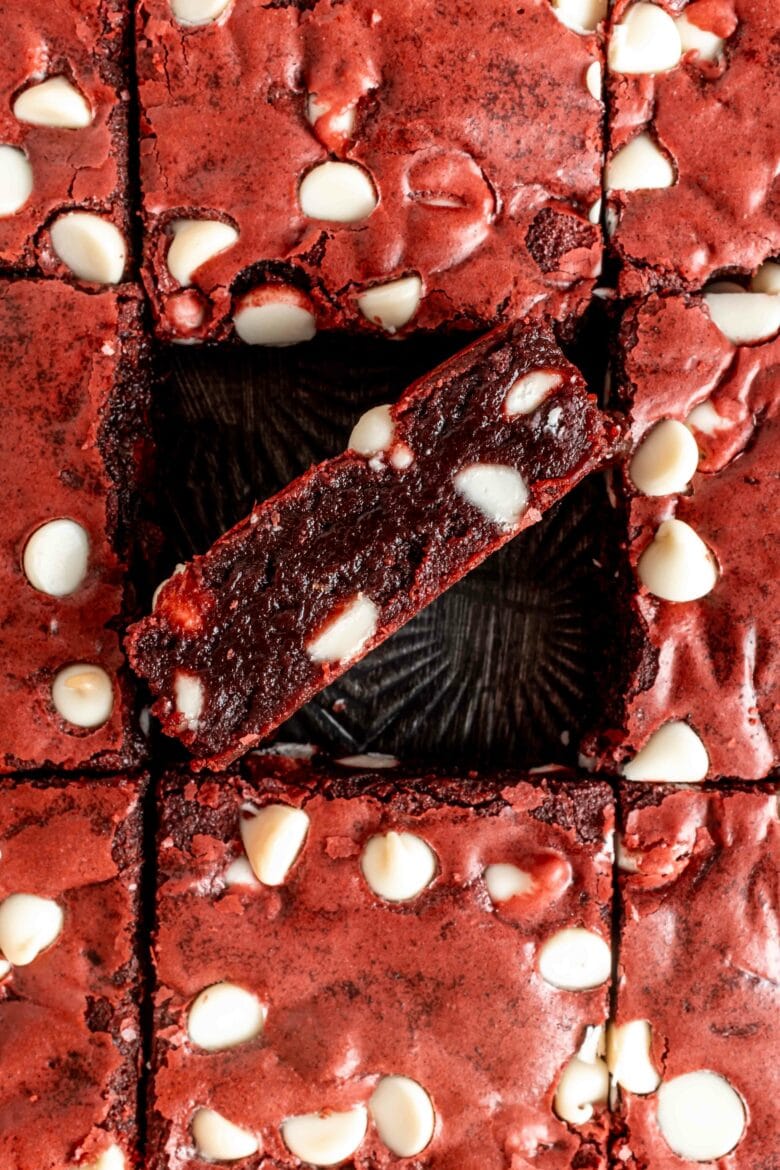 what exactly is red velvet?
There are numerous theories on the origins of red velvet cake, but most point towards it being a version of chocolate cake made with natural cocoa powder, buttermilk and vinegar. A chemical reaction between the cocoa powder and acid in the buttermilk and vinegar gave the cake a reddish tint.
The earliest red velvet cakes actually date back to Victorian times where velvet cake referred to confections with a soft, fluffy crumb. Over the years, the crimson-colored cake has been reworked and reintroduced many times over. The modern red velvet cake generally features multiple layers with cream cheese frosting and likely bears little in resemblance to the original versions. Regardless, red velvet has become an increasingly popular flavor and can now be found in cookies, cupcakes, ice cream and today… brownies!
If that quick overview didn't satisfy your curiosity, you can check out this article on the mysterious history of red velvet cake.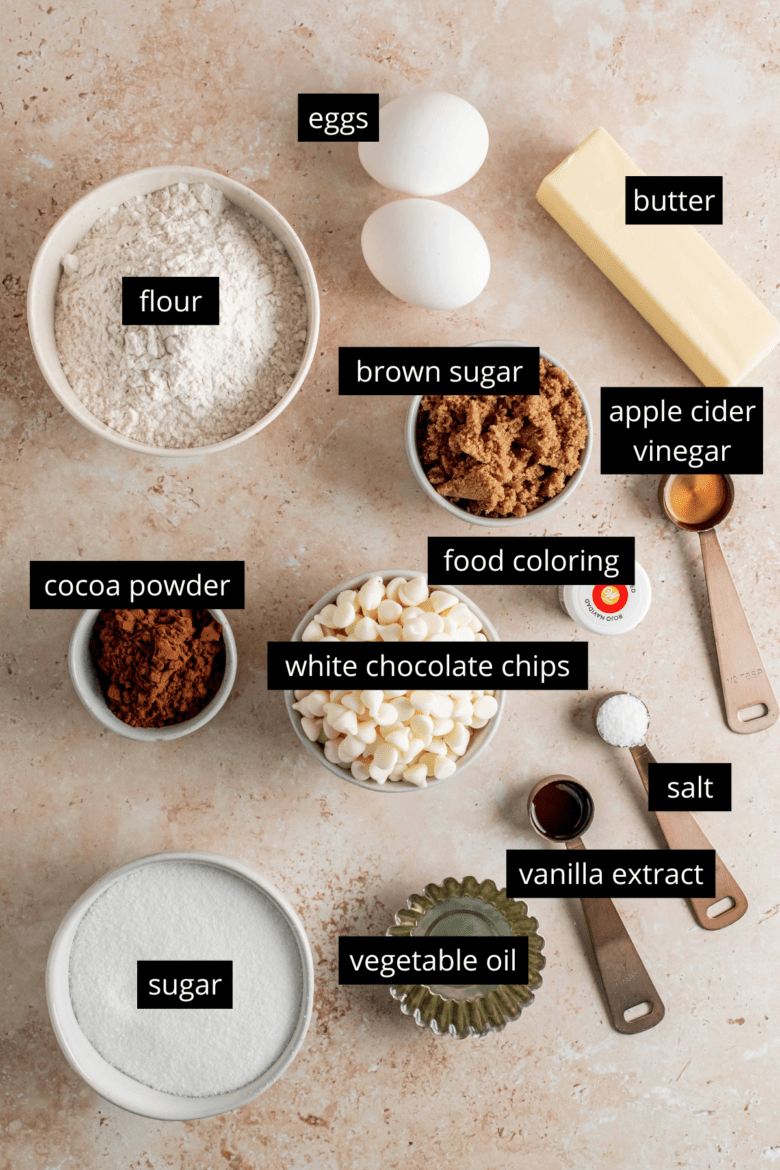 how to get red velvet flavor in brownies
Today, red velvet is often more about color than flavor or texture. But in our opinion anything labeled "red velvet" should still have the tangy element of the classic red velvet cake. Here are the key ingredients we use to get the perfect red velvet color and flavor in our brownies:
Dutch processed cocoa powder: Using dutch processed cocoa powder gives these brownies a deeper color and more intense fudgy flavor. Natural unsweetened cocoa powder can also be used, but will have a milder flavor and be lighter in color.
Apple cider vinegar: To get a bit of tanginess — the "what exactly is that?" flavor of red velvet cake — we add a few teaspoons of apple cider vinegar. Feel free to substitute rice wine vinegar or white wine vinegar.
Red food coloring: A bit of gel food coloring gives these brownies their beautiful red hue. Just make sure to avoid liquid food coloring as it can add too much moisture to the batter.
White chocolate chips: Red velvet cake often features a cream cheese frosting and the contrast in color really gives the cake that wow factor! Here we use white chocolate chips for a pop of color to turn these brownies into a showstopping treat!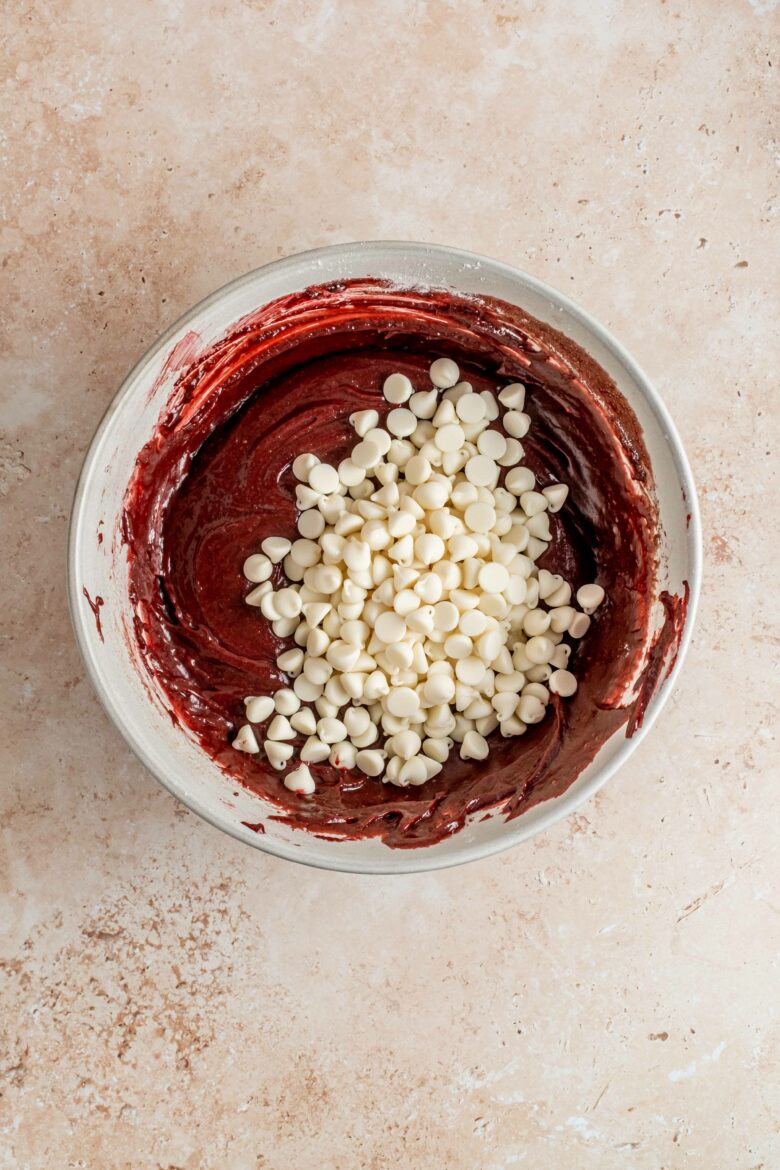 making the brownies
You can whip up these brownies in just a few steps:
Whisk together melted butter with sugar and cocoa powder.
Mix in the eggs followed by the remaining wet ingredients (vegetable oil, apple cider vinegar, vanilla extract and gel food coloring).
Add the dry ingredients (flour and salt).
Fold in the white chocolate chips and bake!
tips and tricks for fudgy brownies
You can tell the brownies are ready when they just begin to pull away from the sides of the pan. For the fudgiest texture, we recommend sticking towards the minimum bake time.
Once the dry ingredients have been added, be sure not to overmix the batter. Overmixing can give your brownies a lighter, more cake-like texture.
As it is easy to overmeasure flour when using cups, we recommend measuring your flour with a kitchen scale for best results. If using cups, make sure to use the spoon and level method.

Lightly spoon flour into the measuring cup until full and then use the back of a knife to gently scrape off any excess.
red velvet brownies: FAQs
What makes these brownies red velvet?
The bright red color and chocolatey flavor with a hint of tanginess (from apple cider vinegar) is what gives these brownies a red velvet makeover.
Can I use regular unsweetened cocoa powder instead of dutch processed?
Yes! We use dutch processed cocoa powder for its darker hue and intense chocolate flavor, but regular unsweetened cocoa powder will still taste amazing in this recipe. The color of the brownies may vary depending on the amount of food color added and type of cocoa powder used.
How much and what kind of food coloring should I use?
You'll want to use a gel-based food coloring as liquid food colorings will affect the consistency of the batter. I used about 1/2 teaspoon to get this vibrant red color, but you can adjust as needed.
For more chocolate recipe inspiration, make sure to check out these posts!
Print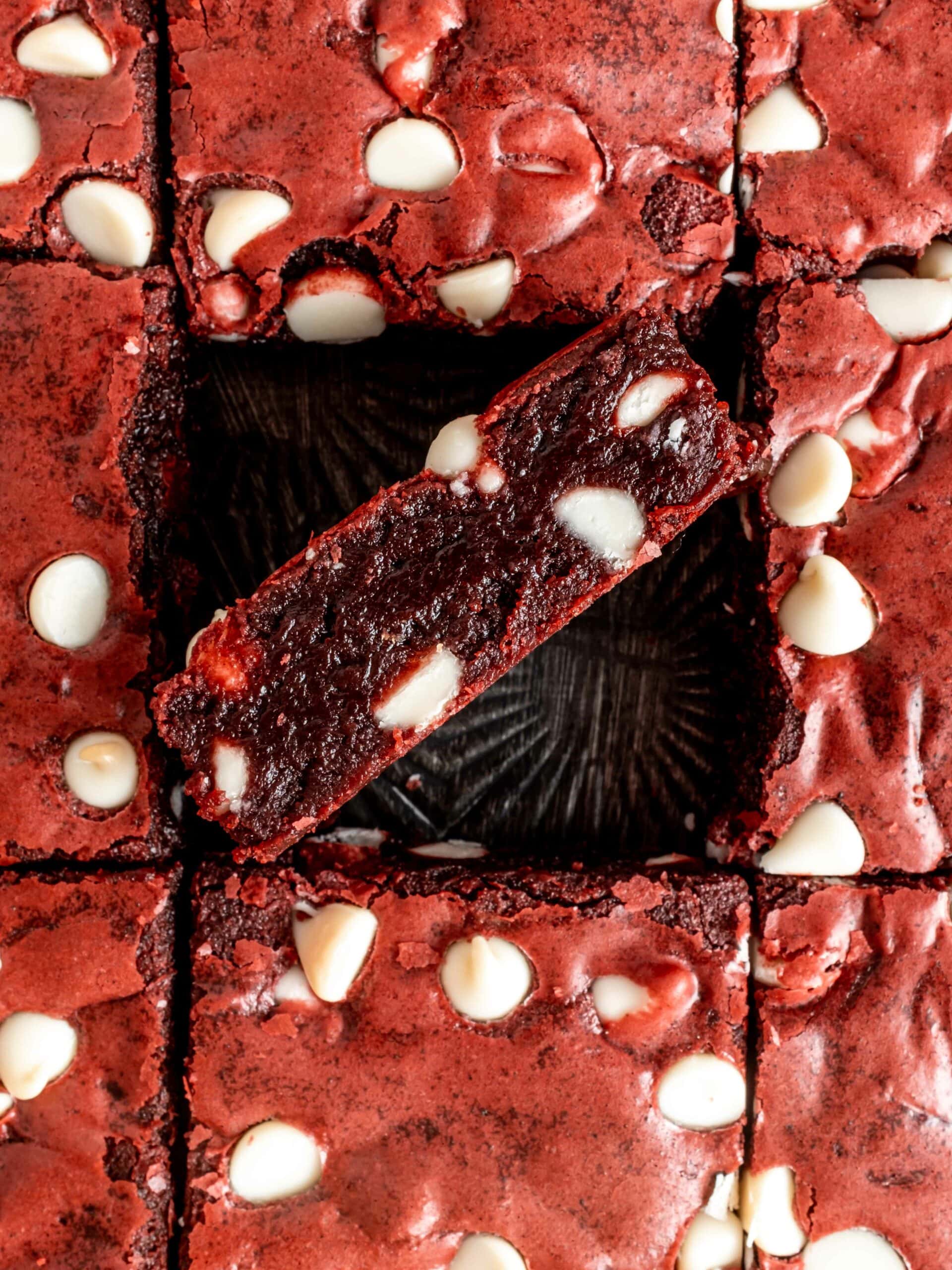 red velvet brownies
---
Author:

Prep Time:

10 minutes

Cook Time:

25 minutes

Total Time:

35 minutes

Yield:

16
Description
Rich and decadent with a crispy crinkle top, these red velvet brownies are ultra fudgy and perfectly sweet!
butter

½ c (115 g)

granulated sugar

1 c (200 g)

brown sugar, packed

⅓ c (70 g)

cocoa powder, dutch-process

4 tbsp (24 g)

eggs

2 large

vegetable oil

⅓ c (80 ml)

apple cider vinegar

2 tsp

vanilla extract

1 tsp

red gel food coloring

as needed

all purpose flour

1 ¼ c (160 g)

(spooned and leveled*)

salt

½ tsp

white chocolate chips, divided

1 cup (170 g)
---
Instructions
Preheat oven to 350 F (180 C) and grease an 8×8 inch baking dish.

Melt the butter in a large bowl and whisk in the granulated sugar, brown sugar and cocoa powder until combined.

Add the eggs one at a time, mixing well after each addition.

Mix in the vegetable oil, apple cider vinegar, vanilla extract and food coloring.

Add in the flour and salt and mix until just combined.

Fold in ¾ of the white chocolate chips (reserve the remaining chocolate chips to sprinkle over the top).

Pour the brownie batter into the prepared baking dish and sprinkle the remaining white chocolate chips over the top.

Bake for 25-30 minutes or until the edges just begin to pull away from the sides of the pan. Allow to cool before slicing.
Notes
Measuring Flour: We highly recommend using a kitchen scale to measure flour. If measuring by volume, use the spoon and level method to avoid over-measuring the flour. Lightly spoon flour into the measuring cup until it's completely full. Then run the back of a knife over the cup to gently scrape off any excess.
Category:

dessert

Method:

baking

Cuisine:

american
Keywords: red velvet brownies
This post may contain affiliate links through which we may earn a small commission at no additional cost to you. We only recommend products that we genuinely love and would use ourselves.