This khmeli suneli chicken and potato dinner is bursting with the rich flavors of Georgia! Served alongside a creamy walnut yogurt sauce, this easy sheet pan dinner is one you'll want to make again and again!
Our absolute favorite sheet pan dinner: khmeli suneli chicken and potatoes with a creamy walnut yogurt sauce! While not at all traditional, this Georgian-inspired dish features a blend of khmeli suneli (literally dried spices) that is incredibly fragrant, warming and invigorating! To get the beautifully rich flavors so loved in Georgian cuisine, you'll most likely need to source a few of the spices. Luckily, they're readily available online and I guarantee you'll want to use the versatile blend for everything!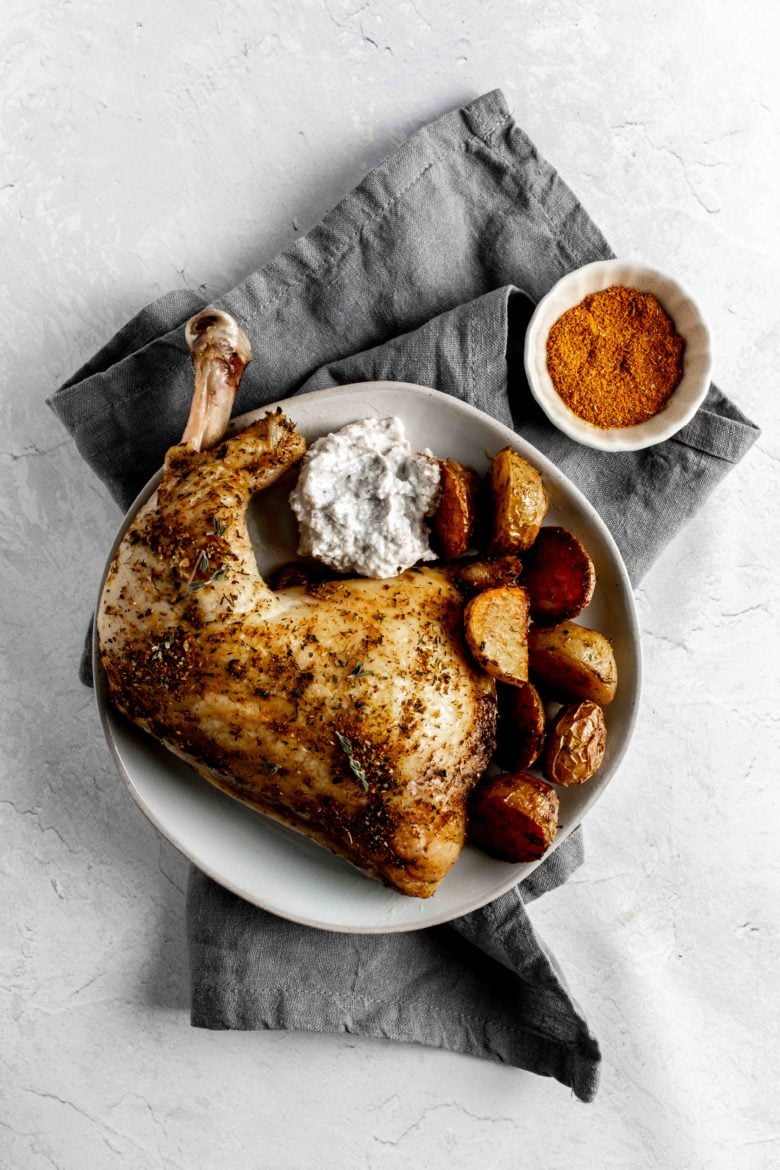 khmeli suneli: all about georgian spices
Khmeli suneli literally translates as dried spices, but in recent years it has become synonymous with the fragrant blend of spices so often used in Georgian cuisine. Among those spices are things you probably already have in your cupboards, such as ground coriander and dried basil. But you'll also find a few new faces, particularly ground marigold and blue fenugreek. Of course, every household uses their own combination of spices for different dishes and this is just my favorite Georgian-inspired blend:
ground marigold: Sometimes translated as imeretian saffron or even just saffron, you can buy this vibrant golden spice as dried petals or in powdered form. It adds a bit of earthiness and beautiful color to everything it touches. The flavor also makes for incredibly invigorating soups and stews — perfect for the colder months! You can find ground marigold powder here (this specific product was translated as saffron, but I've used it before and can confirm it is marigold).
blue fenugreek: Also called utskho suneli, blue fenugreek is milder than the type of fenugreek used in Indian cuisine. It's sweeter, slightly floral and for me provides that little flavor boost that I have come to associate with many Georgian foods. You can find blue fenugreek online here.
ground coriander: This incredibly fragrant spice adds deep savory notes to the blend. Along with marigold and blue fenugreek, coriander is the remaining ingredient in kharcho suneli: a spice mix used to flavor kharcho (a type of rich stew made with rice and walnuts).
dried herbs: Georgian dishes are also known for their abundant amount of fresh and dried herbs. For this recipe I used a combination of dried basil, dill weed and marjoram, but feel free to use your favorites!
a little heat: And finally, I always like to add a bit of dried chile powder to the mix. I used cayenne for this blend, but you can also use your favorite ground dried chiles or even substitute red chile flakes.
georgian spiced chicken and potatoes
Now that we've got our spice mix ready, the rest of this sheet pan dinner is super easy to whip up! You'll need four chicken leg quarters and about 1.5 pounds (680 grams) of baby potatoes (also called new potatoes). Just drizzle everything with a bit of olive oil and then sprinkle your khmeli suneli spice mixture over the top. Toss to coat evenly and place on a rimmed baking pan lined with parchment paper. Bake at 400 F (200 C) for about 40 minutes or until the chicken is cooked to an internal temperature of 165 F (74 C).
For substitutes, chicken thighs would also work well in this recipe. But if you'd prefer to use something like boneless skinless chicken breasts I would recommend adding them to the pan about halfway through the cooking time so they don't dry out.
walnut yogurt sauce
From appetizers to stews, walnuts are incredibly popular in Georgian cuisine so what better way to round out the dish than a delicious walnut yogurt sauce! The sauce is completely optional, but it just adds a creamy element and flavor boost that makes this meal feel extra special.
To make the sauce, start by pulsing walnuts and a few cloves of garlic in your food processor until it forms a fine paste. This can take a few minutes depending on the type of food processor you have. The texture shouldn't be completely smooth — somewhat grainy is perfect for this sauce. Then just mix it with greek yogurt, a spoonful of red wine vinegar and a pinch of blue fenugreek for a bit of depth. It's great with both the potatoes and chicken so if you're a dip-loving family I would even recommend doubling the batch!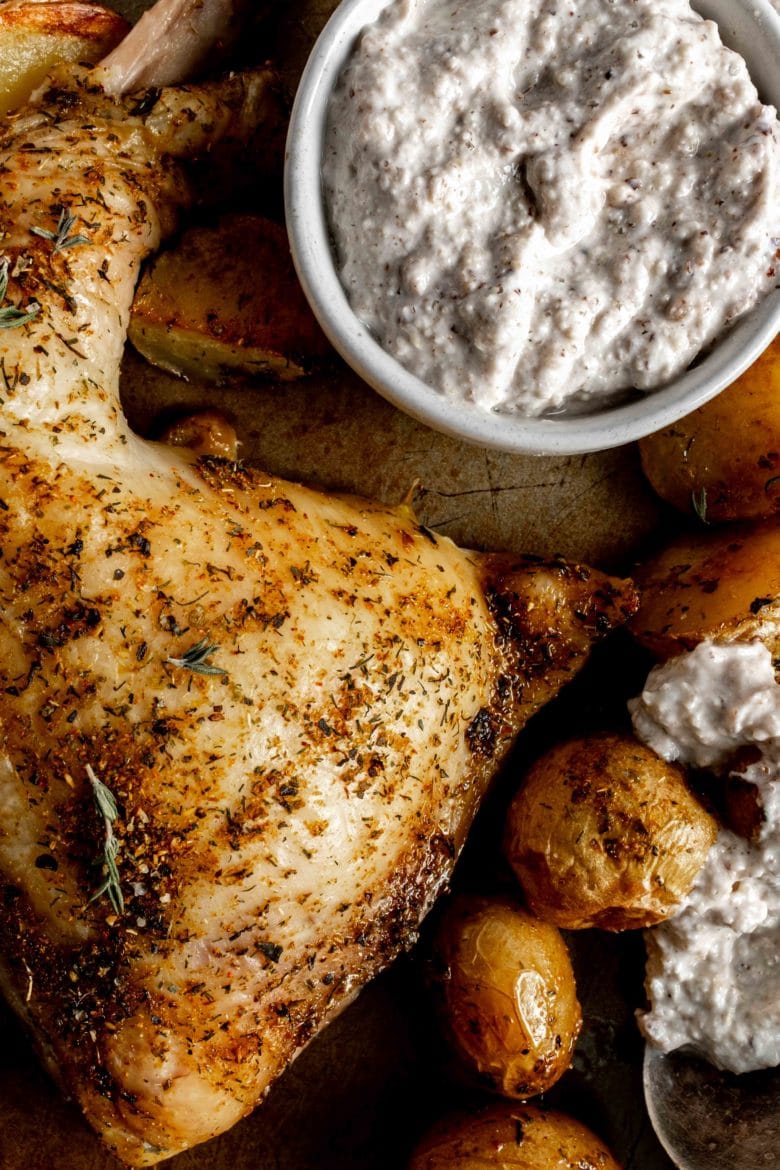 For more of our favorite Georgian inspired meals, check out these recipes!
Print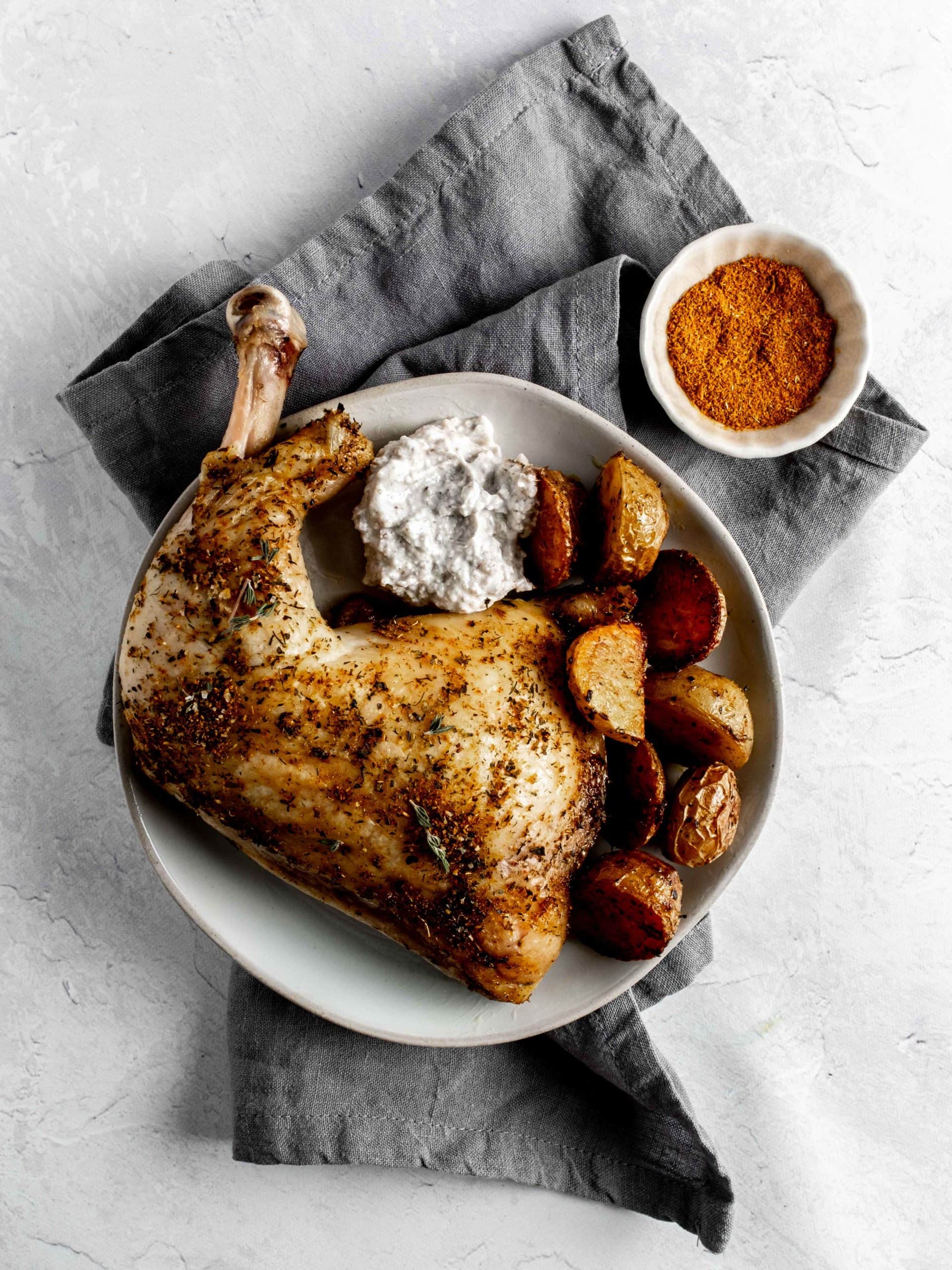 Khmeli Suneli Roasted Chicken Leg Quarters and Potatoes + Walnut Yogurt Sauce
---
Author:

Brit Kapustina

Total Time:

55 minutes

Yield:

4

Prep Time:

15 minutes

Cook Time:

40 minutes

Category:

Dinner

Method:

Oven

Cuisine:

Georgian
Roasted Chicken And Potatoes
4

pounds (1.8 kg) chicken leg quarters

1.5

pounds (680 grams) baby potatoes

2 tablespoons

olive oil
Khmeli Suneli
1 teaspoon

ground coriander

1 teaspoon

dried basil

1 teaspoon

dried marjoram

1 teaspoon

dried dill weed

1 teaspoon

blue fenugreek

½ teaspoon

ground marigold

¼ teaspoon

cayenne

1.5 teaspoons

kosher salt
Walnut Yogurt Sauce
½ cup

(50 grams) walnuts, chopped

2

cloves garlic

1 tablespoon

red wine vinegar

½ cup

(120 grams) greek yogurt

¼ teaspoon

blue fenugreek

kosher salt

to taste
---
Instructions
Preheat oven to 400 F (200 C) and line a rimmed baking pan with parchment paper.
Combine all ingredients for the khmeli suneli mix in a small bowl and set aside.
Place the chicken quarters and potatoes on the pan and pour the olive oil over top. Toss to combine.
Sprinkle the khmeli suneli over the chicken and potatoes. Coat evenly on all sides.
Cook for about 40 minutes or until the potatoes are crispy and the chicken is cooked through.
While the chicken is cooking, prepare the sauce. Process the walnuts and garlic in a food processor until a fine paste forms. Combine the walnut paste with the red wine vinegar, greek yogurt and blue fenugreek. Season with salt to taste.
Keywords: Khmeli Suneli Chicken
This post may contain affiliate links through which we may earn a small commission at no additional cost to you. We only recommend products that we genuinely love and would use ourselves.