Layered with mozzarella, gorgonzola and prosciutto, this white pizza is topped with fresh figs for an irresistible sweet and savory treat! Flavor-packed fig pizza makes for a wonderfully addictive appetizer or decadent main dish!
Figs are in season! And by the time I finish writing this post they may already be out of season. Luckily, I've made so many fig bakes in the last few weeks that I think I'll soon be ready to move onto apples, pumpkins and persimmons. But not before sharing my favorite of our fig experiments: this gorgonzola, prosciutto and fig pizza!
pizza dough
For the pizza dough, you can use either homemade or store bought dough. Whichever you decide, about ½ lb (230 g) of dough is generally just about right for one of these gorgonzola and fig pizzas. That being said, the amount of toppings you like on your pizza is definitely more about personal preference so feel free to adjust to taste.
We like to use our thin crust pizza dough recipe for almost every pizza we make at home and this was no exception. If you decide to give the recipe a try, just note that it will make enough dough for two pizzas. We tend to just make two pizzas and enjoy any leftovers the next day, but you could also cut the recipe in half or even freeze the rest for later. It should keep well in the freezer for up to a month.
gorgonzola, prosciutto and fig pizza
And now the best part: the toppings! After your pizza dough is rolled out, we'll start with the following:
Mozzarella: Definitely stay away from pre-shredded mozzarella if you can for this recipe. I always opt for fresh mozzarella balls, tear them into pieces and scatter them across the dough.
Gorgonzola: Creamy gorgonzola adds an extra layer of delicious flavor to the pizza. If you can't find a good gorgonzola you can also substitute your favorite blue cheese (roquefort or stilton would be good here). And I know blue cheese can be divisive, so you can certainly leave it off all together if you'd rather. I may have gone a little cheese crazy, so the mozzarella alone is definitely enough to cover the entire pizza.
Prosciutto: I also like to add a few pieces of torn prosciutto to the pizza, but you can skip it for a meatless version. It just adds a little bit of crispy deliciousness!
And that's it before the baking. No need for sauce or any additional seasonings (although a few red pepper flakes wouldn't be amiss). Now just bake your pizza on a rack in the lower third of the oven for approximately 15 minutes or until the crust is golden brown. And as soon as it comes out of the oven we'll add our final toppings:
Sliced fresh figs: Now slice up three or four fresh figs (Quickly! They're only in season for a minute!) and top off your pizza for a sweet finish. Could you add the figs before baking? I actually tried this and they just added too much additional moisture. Plus, I ended up preferring the texture when the figs were added post-baking.
Arugula: And the final addition is a handful of arugula for a burst of freshness (and to get some greens in there)!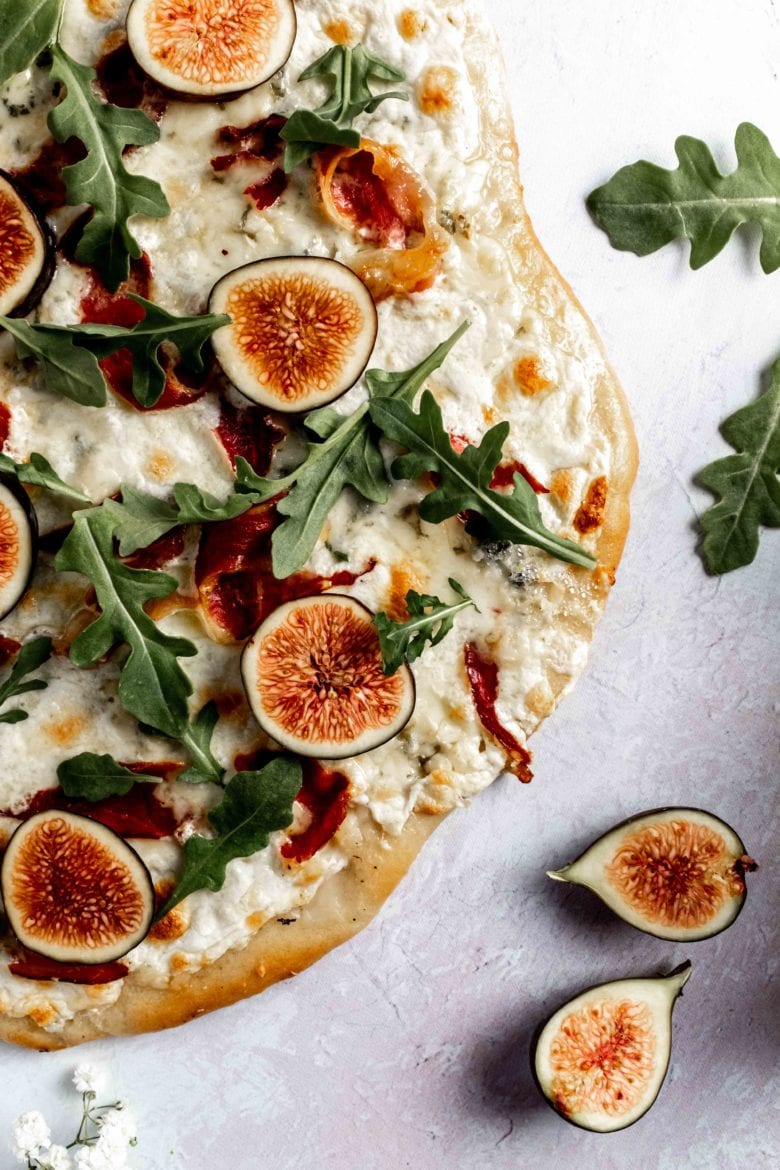 For more delicious cheese-filled dinners and appetizers, make sure to check out these recipes!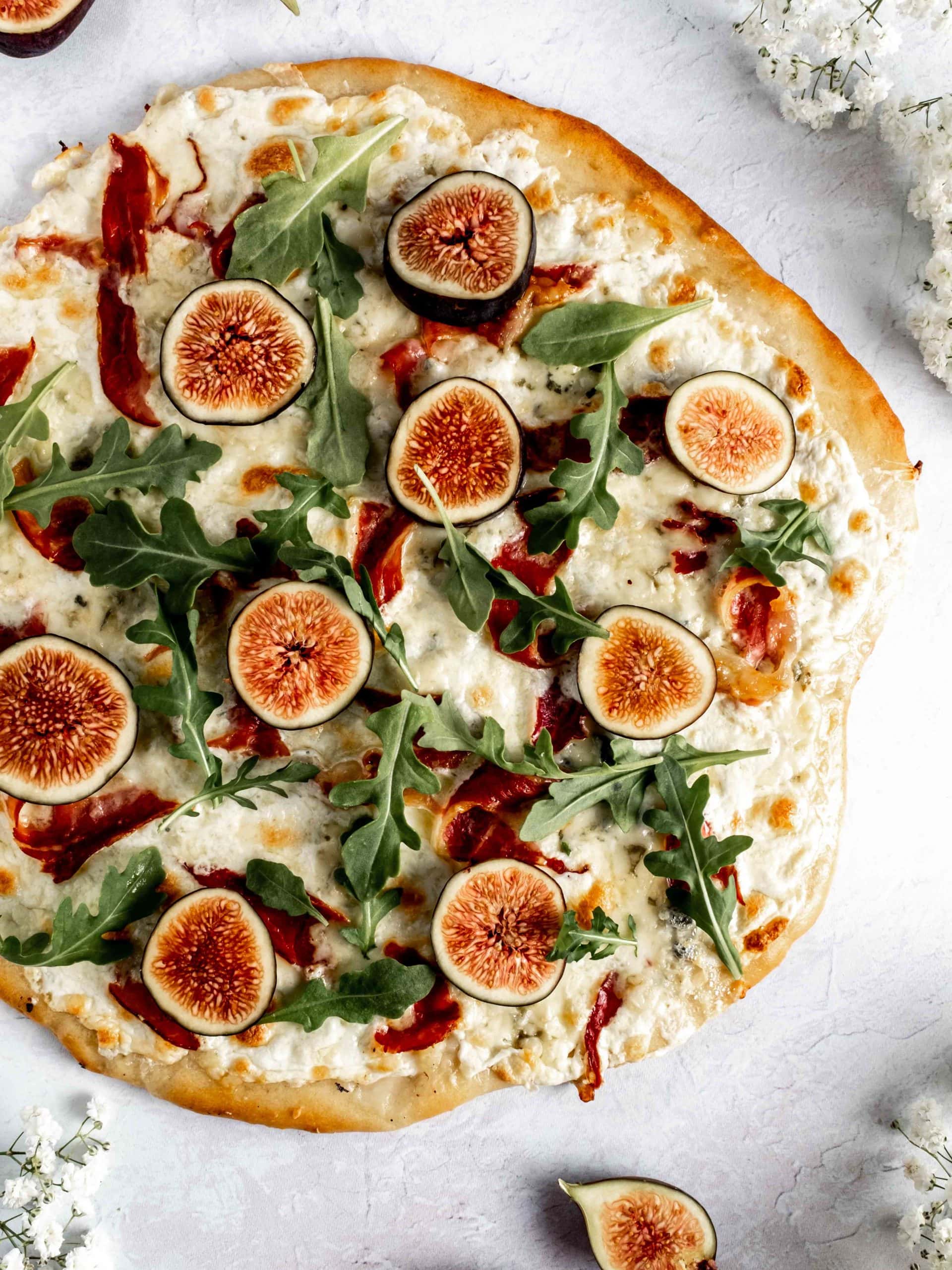 ingredients
pizza dough

½ lb (230 g)

(we use half of this thin crust pizza dough recipe)

mozzarella

8 oz (225 g)

gorgonzola

3.5 oz (100 g)

prosciutto

3 slices (50 g)

fresh figs (sliced)

3-4 whole

arugula

handful
instructions
Preheat oven to 450 F (230 C) and grease a baking sheet or pizza pan.
Turn out your dough onto a lightly floured surface and roll into a thin circle (about ⅛ inch or 3 mm thick).
Transfer the dough to the prepared pan and add the mozzarella and gorgonzola. Tear the prosciutto into small pieces and place on top.
Place the pan on a rack in the lower third of the oven and bake for approximately 15 minutes or until the crust is golden brown.
Remove from oven and top with sliced fresh figs and arugula.

Did You Make This Recipe?
This post may contain affiliate links through which we may earn a small commission at no additional cost to you. We only recommend products that we genuinely love and would use ourselves.