Celebrate the holidays with your favorite seasonal coffee in cookie form! These festive peppermint mocha macarons are filled with a creamy mocha buttercream, drizzled with chocolate and topped with a sprinkling of crushed peppermint!
originally published 12.12.2020
Now that the holidays have me in an uncontrollable baking craze, I've been finding inspiration for macaron flavors all over the place. For example, what better way to celebrate my favorite seasonal coffee than to make peppermint mocha macarons?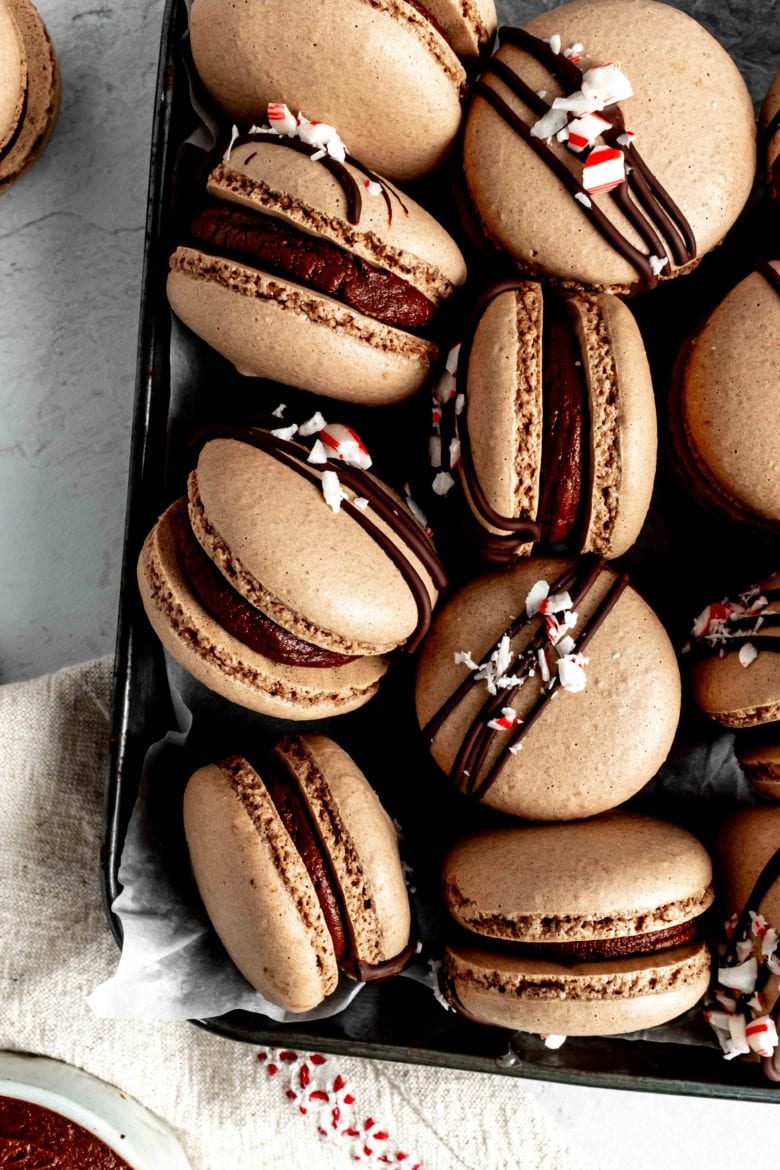 preparing your ingredients
The process of making macarons isn't all that difficult, but it does require a bit of patience and a certain degree of precision. That being said, if you only take away one point from this post, make sure it's this: weigh your ingredients. Using US cups just won't provide you with the accuracy needed to get the right proportions. We've been using this kitchen scale almost daily for several years — it's affordable, dependable and easy to use!
The first three ingredients in our lineup are almond flour, powdered sugar and unsweetened cocoa powder. To get a smooth finish on your macarons, you'll need to make sure that this mixture is finely ground. Make sure to use a super-fine almond flour and sift the mixture at least twice. You can even pulse the almond mixture (or just the almond flour) in the food processor to get the perfect consistency.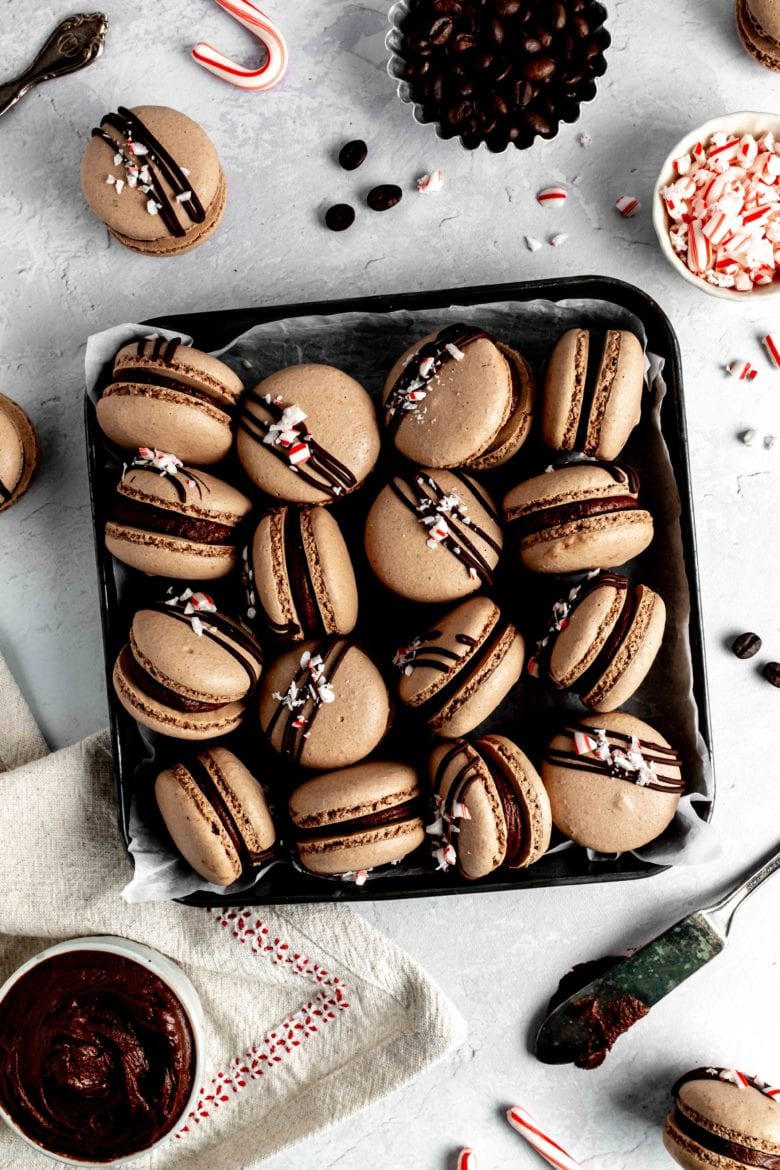 making the macarons
Now let's get started with the base of our macarons — the meringue! First, measure out approximately 100 grams of egg whites (usually about three eggs) and let them come to room temperature. This will make it easier to whip into a meringue. Then use a mixer to briefly beat the eggs until they're frothy and white, gradually add the granulated sugar and continue mixing until stiff peaks form. You should be able to turn the bowl upside down without the meringue falling out.
Now it's time to fold the almond flour mixture into the meringue. This step is so important that it even has its own term: macaronage! But don't let that scare you — the process isn't too difficult. Add about one-third of the almond mixture to the meringue and use a spatula to scrape the bottom of the bowl, folding the mixture over the top. Repeat this folding motion continuously and gradually add the rest of the almond mixture until fully incorporated. Your mixture should be quite thick, but still able to slowly stream from the spatula almost like a ribbon. You'll know your mixture is the right consistency when it can fall from the spatula into a figure-eight without breaking. That's your signal to stop mixing and start piping your cookies!
To form your macarons, fit a piping bag with a medium-sized round tip and pipe 1.5 inch (4 cm) circles onto a pan lined with parchment paper. I freehanded my macaron shells, but you can definitely use a macaron template if you'd rather. And lastly, before you can put these treats in the oven, make sure to tap the pans against the counter to get rid of any air bubbles and then let the macarons sit for about 40 minutes or until they're dry to the touch. Now you're ready to bake!
mocha buttercream
Phew, that took awhile! But now you've got beautifully formed macaron shells just waiting for the perfect filling, which can be anything from jam to chocolate ganache. Today's featured filling is, of course, mocha buttercream!
To make the mocha buttercream, start by beating softened butter until it's light and fluffy. Then add powdered sugar, unsweetened cocoa powder, instant espresso and a bit of vanilla extract and salt. At this point, your mixture will resemble coarse crumbs. To get to that creamy frosting consistency, start mixing in strong brewed coffee one tablespoon at a time. I generally need about five tablespoons of coffee, but you can use more or less depending on the consistency you're looking for. Now just pipe a circle of buttercream onto one baked macaron shell and top it with another shell!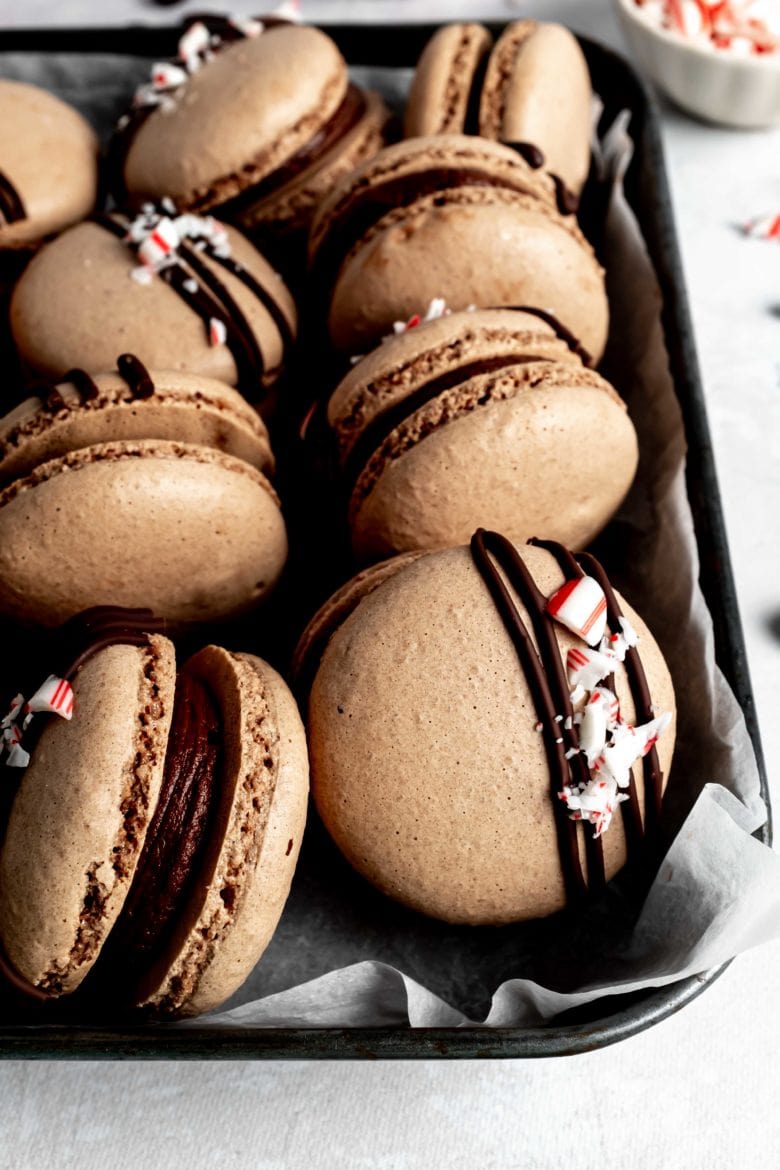 chocolate drizzle and crushed peppermint
From mixing food coloring into the dough to adding colorful sprinkles, there are so many creative and fun options to decorate macarons. For our peppermint mocha macarons, I decided to go with a drizzle of melted chocolate and a sprinkling of crushed peppermint. The chocolate holds the peppermint in place and gives the macarons a very festive feel! You might have noticed that crushed candy canes are the sole contributor to the peppermint taste in my ingredient list. While I experimented with using peppermint extract, I found that a few crushed candy canes is more than enough to get the perfect peppermint mocha flavor!
And if you'd rather not add the drizzle of chocolate to the top of your macaron shells, but still want that peppermint flavor, I do have a few workarounds. My personal favorite option would be to crush the candy canes very finely and then sprinkle a bit right on top of the mocha buttercream. But if you don't have any candy canes on hand, adding a drop or two of peppermint extract into the buttercream will also give you a good peppermint taste. Just make sure not to go overboard!
One last tip: I find it easier to decorate the macaron shells before I add the buttercream. Piping the chocolate onto the macarons goes a bit more smoothly when the shells sit flat, which makes for a cleaner presentation!
Print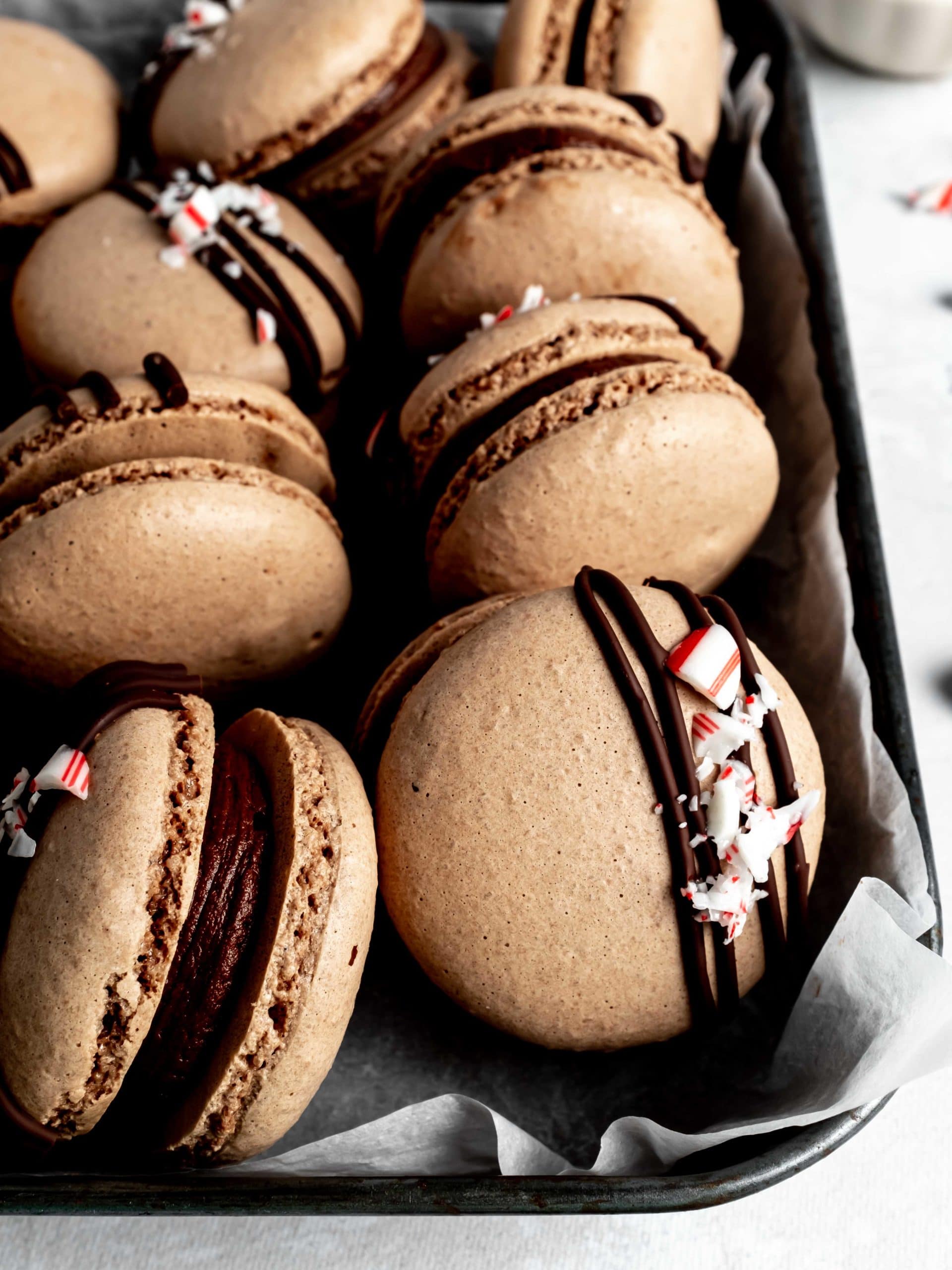 peppermint mocha macarons
---
Author:

Prep Time:

1 hour

Cook Time:

15 minutes

Total Time:

1 hour 15 minutes

Yield:

28
chocolate macarons
super-fine almond flour

120 g

powdered sugar

120 g

cocoa powder

15 g

egg whites

100 g

(room temperature)

granulated sugar

100 g

vanilla extract

½ tsp

salt

a pinch
mocha buttercream
softened butter

½ c (115 g)

powdered sugar

2 c (240 g)

cocoa powder

½ c (60 g)

instant espresso

2 tsp

vanilla extract

1 tsp

strong brewed coffee

5-6 tbsp

salt

to taste
chocolate peppermint garnish
melted chocolate*

crushed candy canes or other peppermint candy
---
Instructions
Mix together the almond flour, powdered sugar and cocoa powder. Sift the mixture twice, discarding any larger pieces, and set aside.
Beat the egg whites with a pinch of salt until frothy and white.
Begin adding the granulated sugar gradually and keep beating until stiff peaks form. This can take anywhere from 5-10 minutes.
Beat in the vanilla extract.
Gently fold the dry ingredients into the meringue. Start with ⅓ of the almond mixture and then gradually add the rest until all of the mixture is fully incorporated. You'll know the batter is the right consistency when it can stream from the spatula into a figure-eight without breaking.
Line several baking sheets with parchment paper. Use a piping bag fitted with a medium-sized round tip to pipe the macarons into 1.5 inch (4 cm) rounds, leaving about 1 inch (2.5 cm) between each macaron.
Tap the baking sheet against the counter several times to eliminate any air bubbles.
Let the macarons rest at room temperature for 40 minutes or until dry to the touch. This step is very important so don't skip it!
Preheat the oven to 300 F (150 C) and bake the macarons for 15-17 minutes. To test for doneness, touch the top of a macaron and try to move it back and forth slightly. If it doesn't wiggle, it's ready!
Let the macarons rest for 15 minutes on the pan and then transfer to a wire rack to cool completely.
Use a spoon or piping bag to drizzle melted chocolate over half of the macaron shells. Top with crushed candy canes.
To make the filling, beat the butter until light and fluffy. Mix in the powdered sugar, cocoa powder, instant espresso, vanilla extract and a pinch of salt and continue beating until coarse crumbs form. Add the brewed coffee one tablespoon at a time until you reach your desired consistency. I used five tablespoons for these macarons.
Pipe the buttercream filling onto the undecorated macaron shells and top with decorated macarons.
Notes
Melted chocolate: To make the chocolate garnish, heat chopped chocolate in the microwave in 20 second increments. Stir after every 20 seconds until the mixture is smooth.
Peppermint: Crushed candy canes are the sole contributor to the peppermint flavor in these macarons. While I experimented with using peppermint extract, I found that a few crushed candy canes is more than enough to get the perfect peppermint mocha flavor! If you want more peppermint flavor, you can add 1/4 teaspoon peppermint extract to the buttercream.
Keywords: mocha macarons, peppermint mocha macarons, chocolate peppermint macarons, christmas macarons
This post may contain affiliate links through which we may earn a small commission at no additional cost to you. We only recommend products that we genuinely love and would use ourselves.