These melt-in-your-mouth candies feature the irresistible combination of coffee and caramel! Espresso infused soft caramels are chewy, buttery and make great holiday gifts!
We've been on a bit of a soft caramel kick lately. And after infusing all sorts of different ingredients into our caramel, we've settled on a few favorite flavors. One of the most delicious (and easiest) versions we've made are these espresso-infused delights that taste like a caramel macchiato!
making soft espresso caramels
These caramels are made in two easy steps:
Boil together heavy cream, instant espresso powder, sugar and corn syrup until the mixture reaches 240 F (116 C).
Stir in butter, vanilla extract and salt and pour the mixture into a baking tin.
Not so difficult at all! But because the process moves quickly, it's incredibly important to prepare everything beforehand. Here's what you'll need to do:
Line a 9×9 inch (23×23 cm) pan with parchment paper, making sure to leave a slight overhang. Use vegetable oil to very lightly grease the parchment paper.
Measure out the butter, vanilla extract and salt. Cut the butter into small cubes. These are the ingredients you'll mix in as soon as the caramel reaches its target temperature.
Have a candy thermometer ready.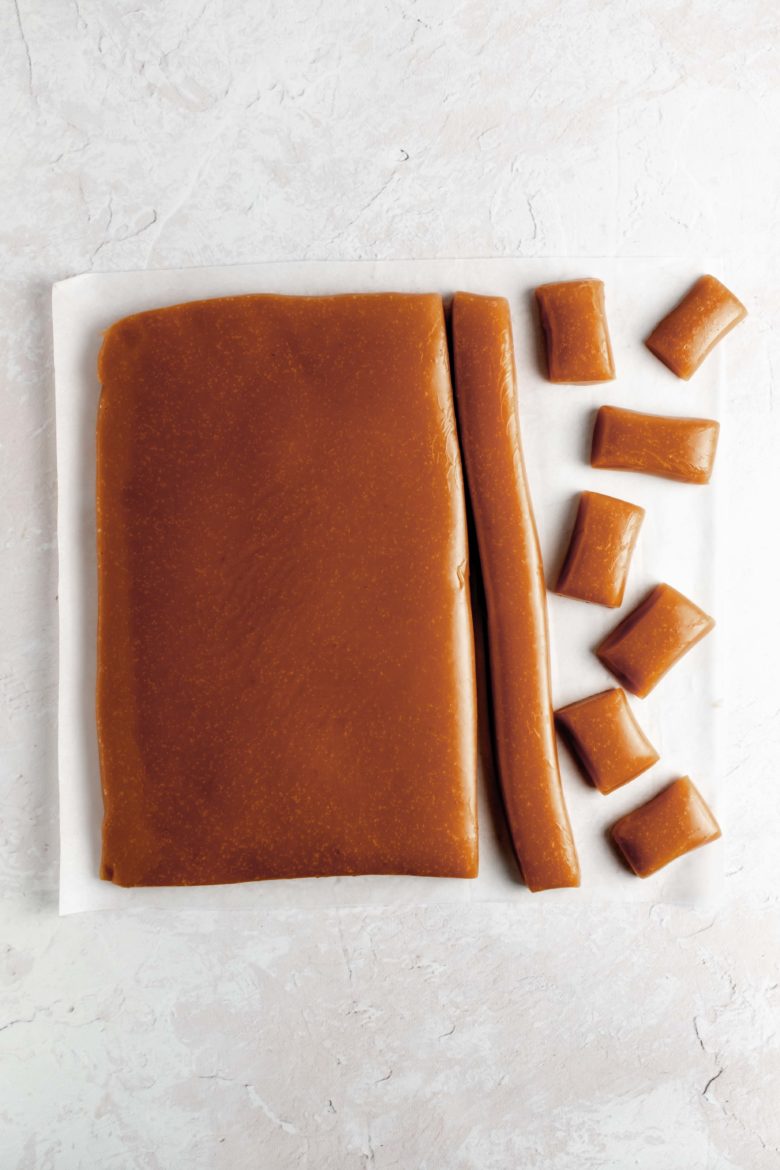 caramel making tips and tricks
to stir or not to stir
I've made this recipe three ways: without stirring at all, swirling the pan occasionally and stirring continuously. Stirring continuously has provided the most consistent results.
Stirring sugar syrup is generally not recommended as it can cause crystallization, which makes for a grainy texture. But we also have corn syrup in our lineup, which helps prevent crystallization and makes stirring the mixture a viable option. I find that the benefits of stirring the caramel (namely avoiding burning the batch) outweigh the costs — especially for beginners. Just take care to stir carefully and avoid splashing the mixture onto the sides of the pan as best as you can.
adjust the heat as necessary
We recommend cooking your caramel over medium heat. For more control over your caramel and to ensure your mixture doesn't burn, you can reduce the heat to low or medium-low once the caramel begins to take on color. This will make the process a bit longer, but it can be worth it to make sure your caramel comes out perfectly!
have a candy thermometer handy
Temperature is incredibly important for candy making. By far the easiest and most foolproof way to test that your caramel has reached the correct stage is to use a candy thermometer. If you're someone who makes caramels often and can generally determine its readiness by color and texture, I would actually still recommend using a thermometer for this specific recipe. The espresso powder deepens the color of the caramel considerably, which makes going off color a bit more difficult.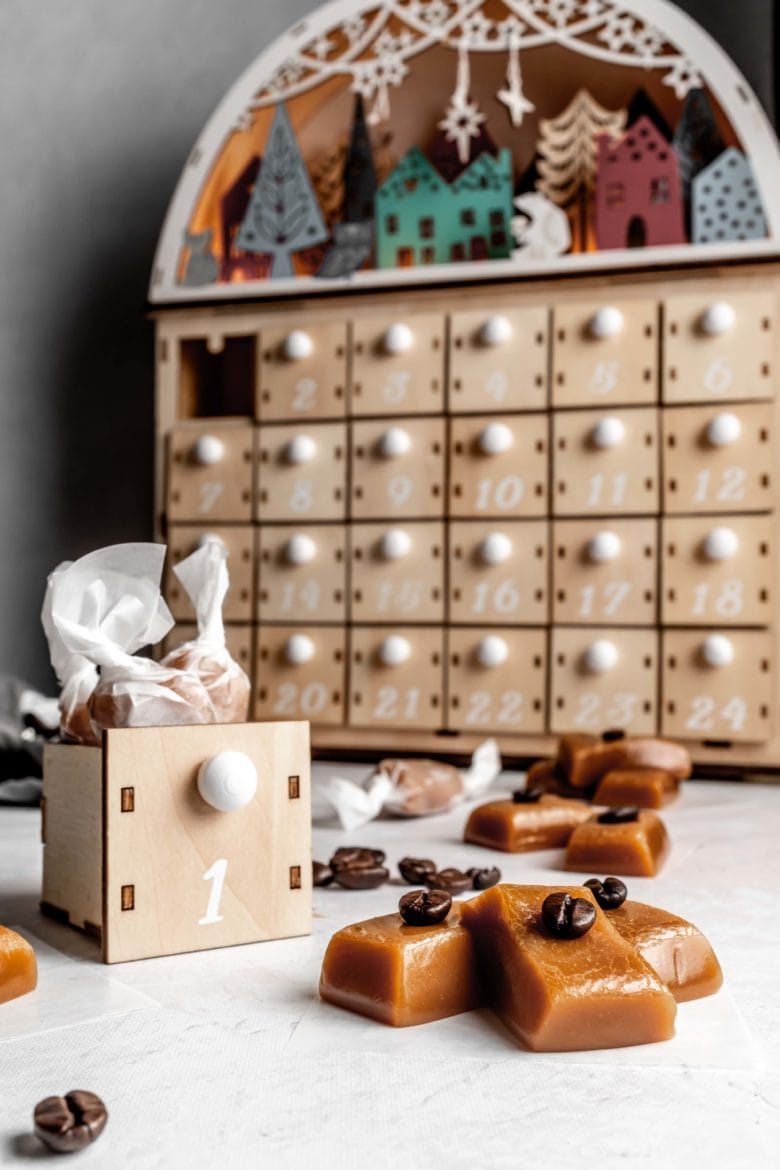 wrapping and storing soft caramels
Once the soft caramels have cooled (approximately four hours), you can cut them and wrap them. I like to use these wax wrappers, which I cut in half. Cellophane wrappers would also work well. Just make sure to wrap up the candies immediately after cutting to help them keep their form.
As for dimensions, you can cut your caramels into whichever shape and size you prefer. I cut mine into little rectangles approximately 1 x 1.5 inches (2.5 x 4 cm), which gives me about 54 caramels per batch.
Store the wrapped caramels in an airtight container in a cool, dry place. They will keep for several weeks.
For more sweet treats, make sure to check out these recipes!
Print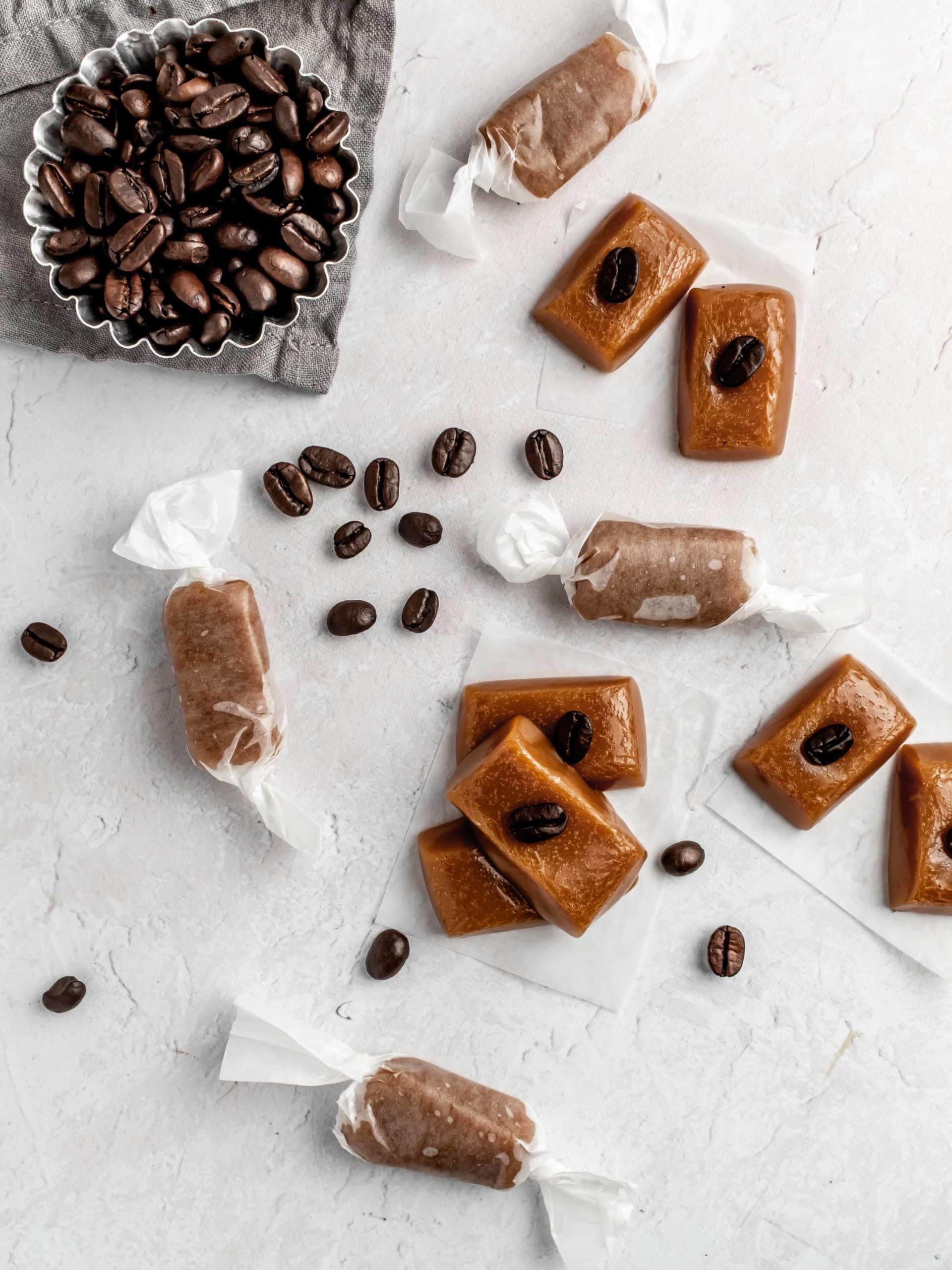 soft espresso caramels
---
Author:

Brittney

Total Time:

50 minutes

Yield:

54 caramels

Prep Time:

20 minutes

Cook Time:

30 minutes

Cuisine:

global
vegetable oil for greasing

1.5 cups (360 ml) heavy cream

2 cups (400 grams) granulated sugar

1 cup (240 ml) light corn syrup

5 tablespoons (70 grams) unsalted butter

1 teaspoon vanilla extract

¼ teaspoon kosher salt
---
Instructions
Line a 9×9 inch (23×23 cm) baking pan with lightly greased parchment paper. Make sure to leave a slight overhang.

Cut the butter into small pieces and measure out the vanilla extract and salt. Set aside.

Combine the heavy cream and espresso powder in a heavy-bottomed pot over medium heat. Stir until mostly combined.

Add the sugar and corn syrup. Cook, stirring continuously*, until the mixture reaches 240 F (116 C) on a

candy thermometer

(about 15-20 minutes). The mixture will bubble as the moisture evaporates.

Remove from heat and stir in the butter, vanilla extract and salt. Continue stirring until the butter has melted and immediately pour the mixture into the prepared baking pan.

Allow to cool completely (at least 4 hours) and then cut into small pieces. Wrap in cellophane wrappers or

wax paper

and store in an airtight container for up to two weeks.
Notes
Stirring: When it comes to stirring your caramel you have two options.
Option 1: Stir the mixture continuously, making sure to splash the sides of the pot as little as possible. This method will ensure you don't burn your caramels.
Option 2: Stir the mixture until the sugar dissolves. Stop stirring and continue cooking until the mixture begins to take on color. Reduce heat to medium-low and swirl the pan occasionally.
Keywords: soft caramels, espresso caramels, coffee caramels
This post may contain affiliate links through which we may earn a small commission at no additional cost to you. We only recommend products that we genuinely love and would use ourselves.