With its crunchy texture, deep amber color and intense honey flavor, this honeycomb candy dipped in chocolate is a true delight! Enjoy it on its own, use it to decorate your favorite cake or crush it over milkshakes and ice cream!
Honeycomb candy is a great addition to any home baker's repertoire! I love to eat it as a little snack (especially when it's dipped in chocolate), but it's also an incredible decoration if you're looking to level up your holiday bakes. And the best part? You only need three ingredients… well okay, four if you decide to dip them in chocolate!
honeycomb candy
Honeycomb candy, which can be made with just sugar syrup and baking soda, can be found in many different cuisines. This particular version is closest to the candy popular in Britain, New Zealand, Canada and to a lesser extent in the US. It has a lot of other regional names such as hokey pokey and cinder toffee.
Many recipes for honeycomb include corn syrup in order to help prevent the sugar from crystallizing while on the stovetop. I prefer to use honey instead of corn syrup for its distinct flavor even though it decreases the safety margin when it comes to crystallization. If you're not a fan of honey or would like to make the process a bit easier, you can substitute honey with an equal amount of corn syrup.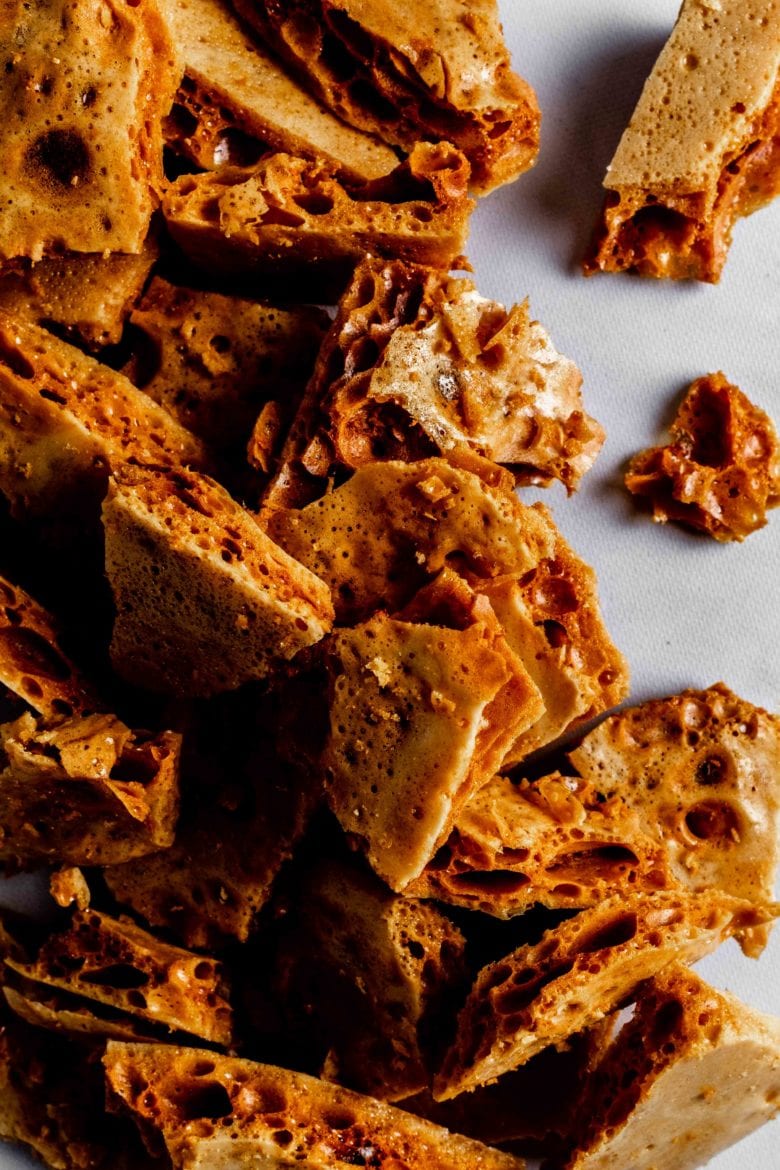 making toffee
Honeycomb candy is a type of toffee and as such you want your syrup to reach a temperature of about 300 F (150 C) — the temperature at which toffee will be the consistency of brittle. The easiest and most foolproof approach is to use a candy thermometer, although an instant read kitchen thermometer would also work, since you can safely allow an error of a few degrees. If using an instant read thermometer, just make sure that it doesn't touch the bottom of the pan.
And if you don't have a thermometer (or just love to experiment) you can use the traditional candy making method for checking if your syrup has reached the right temperature. As the syrup heats up it goes through different stages that have distinctive names in candy making, for example "soft ball", "hard crack" or "clear liquid". For toffee we are aiming for the "hard crack" stage. For testing you will need a bowl of water and a dry spoon. Once the syrup starts to develop an amber color you can start testing the temperature. Remove the saucepan from heat and then drop a little syrup using a dry spoon into the water. Use your fingers to pull the ball of syrup into a strand. After the strand solidifies, it should snap when you bend it — this means you've reached the right temperature and you can add baking soda.
tips for the perfect honeycomb candy
Apart from getting the temperature right, there a few things to keep in mind when making honeycomb:
The sugar syrup will reach a very high temperature and it is incredibly sticky, so make sure not to get any on your skin.
As the water in the honey evaporates the temperature will rise rapidly — always keep an eye on your syrup.
Since candy making is a time-sensitive process, make sure you have everything ready before you start: a baking sheet lined with parchment paper on a heat proof surface, pre-sifted baking soda, everything you need to measure the syrup's temperature, and a wooden or silicone spatula.
To prevent the crystallization of the mixture, don't stir it directly. Instead you can swirl the saucepan.
To clean the saucepan and utensils, use hot water as it will dissolve any leftover syrup.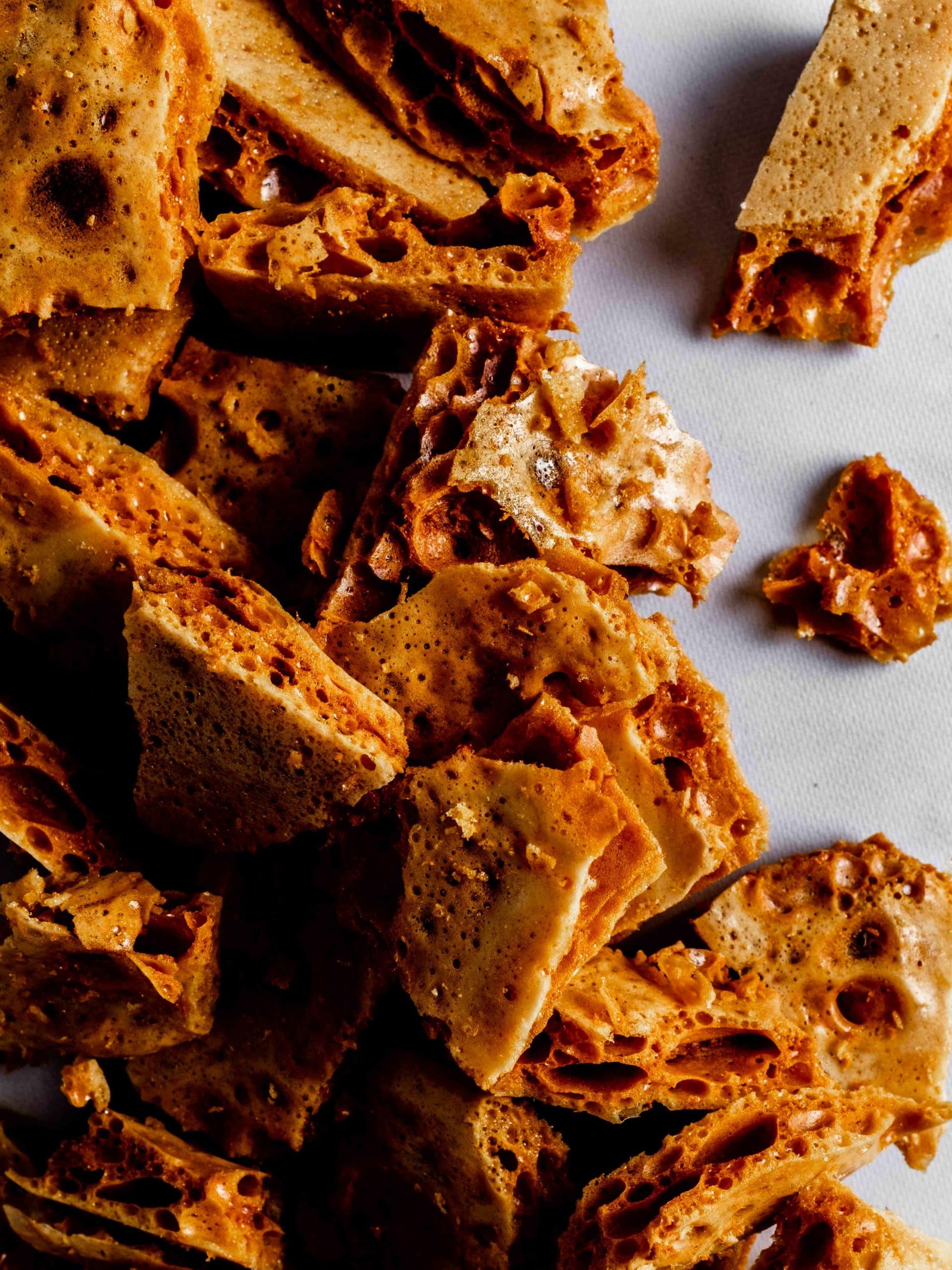 ingredients
baking soda

2 tsp (10 g)

honey

¼ c (70 g)

granulated sugar

½ c (100 g)

chocolate

5 oz (150 g)
instructions
Before preparing the honeycomb, make sure you have everything prepared. Line a rimmed baking sheet or baking dish with parchment paper and place it on a heat resistant surface. Prepare a wooden or silicone spatula and a thermometer (or a bowl of water and a dry spoon).* Pre-sift the baking soda.
Place the honey and sugar into a deep saucepan - the volume will rapidly increase during cooking, so make sure the saucepan is deep enough.
Melt the mixture over low heat for about 5 minutes. Occasionally swirl the saucepan.
Once the mixture forms a liquid, increase the heat to medium. Occasionally swirl the saucepan. Cook until the mixture reaches a temperature of about 300 F (150 C). Start checking the temperature as the mixture develops an amber color.
This is a time sensitive step. When the mixture reaches the right temperature turn off the heat and immediately stir in the baking soda. As the mixture expands and begins to foam, pour it onto the prepared baking sheet. Scoop out any leftovers.
Leave the honeycomb to set on the baking sheet without touching it for about 30 minutes.
After the honeycomb has set, break it into pieces.
Melt the chocolate in a microwave in 30 second intervals, stirring in between. Dip one end of honeycomb into the melted chocolate and let it set on a wire rack.
Store in an airtight container.
notes
Measuring temperature: The best way to measure the temperature is with a candy thermometer, although an instant read kitchen thermometer will also work. If you don't have a thermometer you can use the following method: use a dry spoon to drop a little caramel into a bowl of water. Use your fingers to pull the syrup into a strand. After the strand solidifies it should snap when you try to bend it - this means the temperature is correct!

Did You Make This Recipe?
This post may contain affiliate links through which we may earn a small commission at no additional cost to you. We only recommend products that we genuinely love and would use ourselves.