This recipe is based on the traditional Norwegian porridge risgrøt— a sweet rice porridge often served around the holidays with a pat of butter and a sprinkle of cinnamon. Our version of this heartwarming rice porridge also calls for a splash of coconut milk and additional toppings for a bit of extra flavor and crunch!
I recently came to the conclusion that we don't eat porridge for breakfast nearly enough around here. To kick off my adventure into this new territory, we cooked up a batch of festive rice porridge made ultra creamy with whole milk and coconut milk and topped with toasted pecans, coconut flakes and pomegranate arils. This sweet rice porridge is the perfect breakfast to warm you up on these chilly mornings — extremely satisfying, filling and so delicious!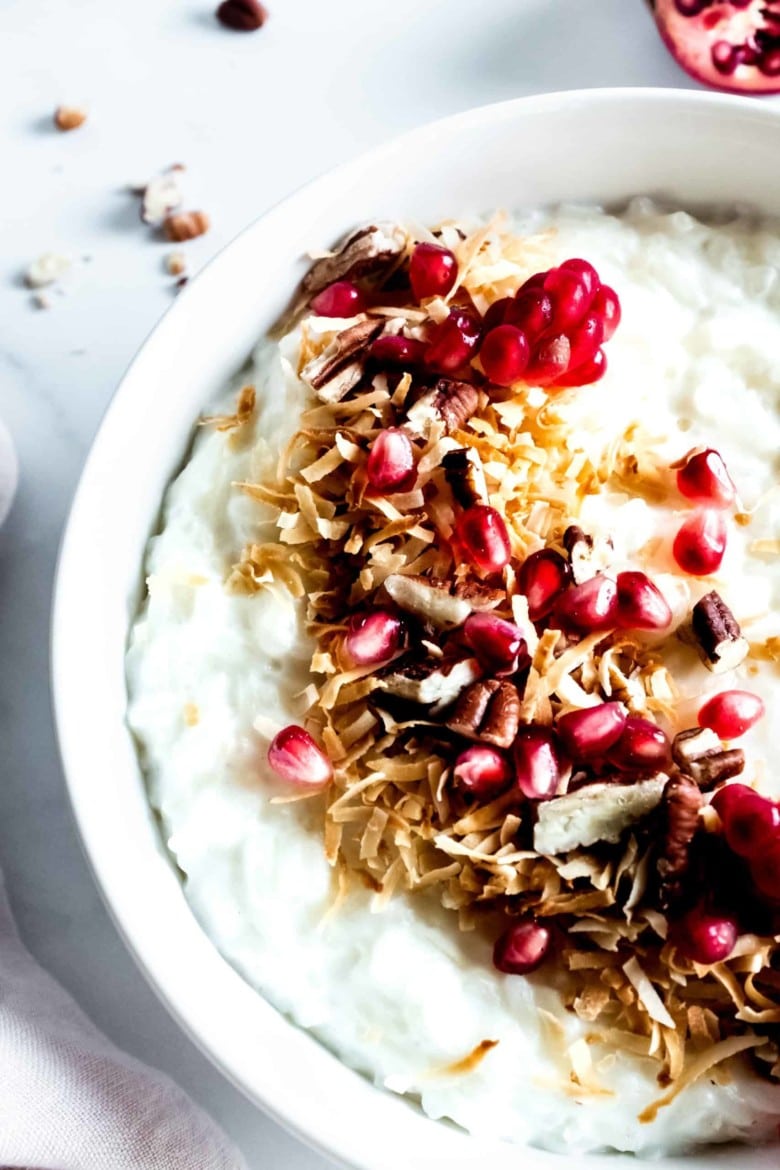 risgrøt
I based this recipe off of Norwegian risgrøt or rice porridge. The Scandinavian treat is often served around Christmas time where a single almond is hidden in the porridge. Whoever finds the almond wins a little pig made of marzipan! Sine I absolutely love marzipan, I think this is a tradition I can get behind.
Our version of this sweet rice porridge takes a few liberties — we pour in a bit of coconut milk for some extra flavor and also add a few additional toppings. Traditional risgrøt is generally served with just a pat of butter and a sprinkling of cinnamon and sugar, but I also like to stir in toasted nuts and coconut flakes for some added texture. Whichever toppings you decide to use, I highly recommend keeping the pat of butter in your lineup. It makes the porridge incredibly creamy and just a little bit goes a long way!
I also always add a bit of fruit to round out the porridge. While I opted for pomegranate arils this time, Viktor tends to go for fresh blueberries or sliced strawberries!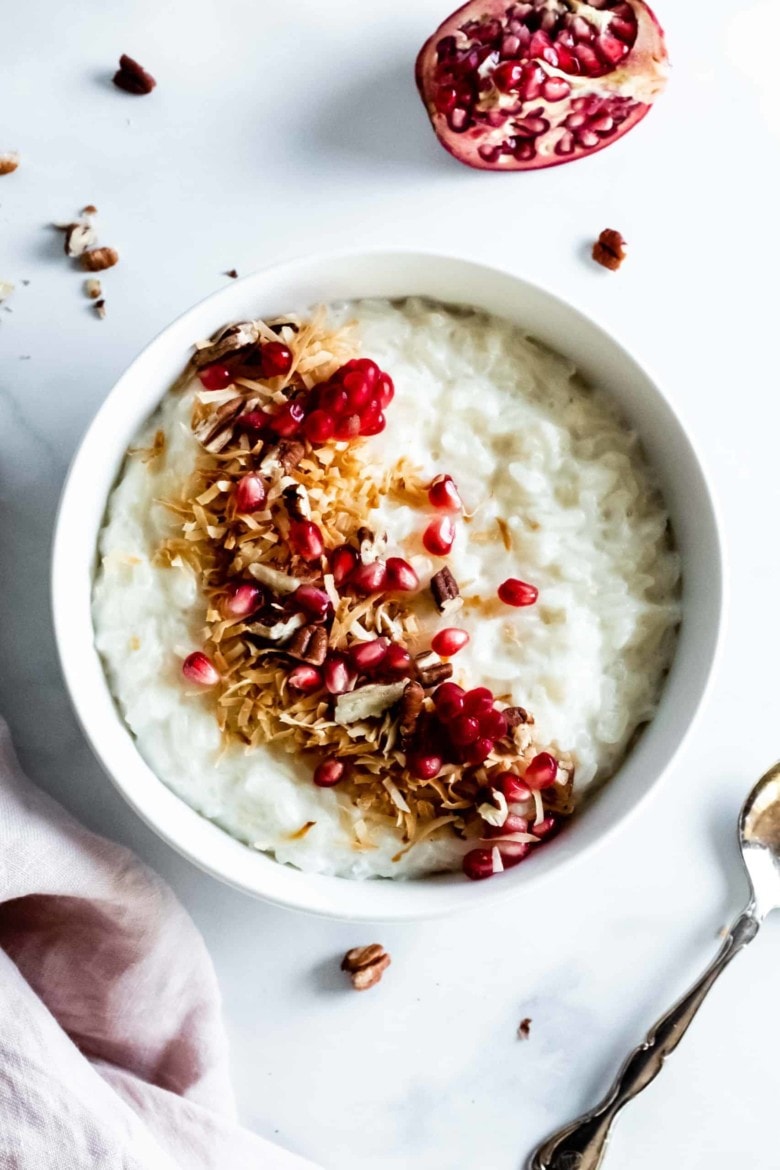 making rice porridge with milk
I used jasmine rice to make this rice porridge, but I've also seen it made with most types of white rice from short-grain to long-grain so feel free to experiment with whatever rice you've got on hand!
While this porridge is quite simple, it does take a bit of time. To get the creamy texture, you add the milk one cup at a time while stirring often to prevent burning. Because we use five cups of milk and it takes about five to 10 minutes for each cup to be fully incorporated, you'll need to set aside about an hour to cook up this porridge. But I can assure you it will be so worth the wait!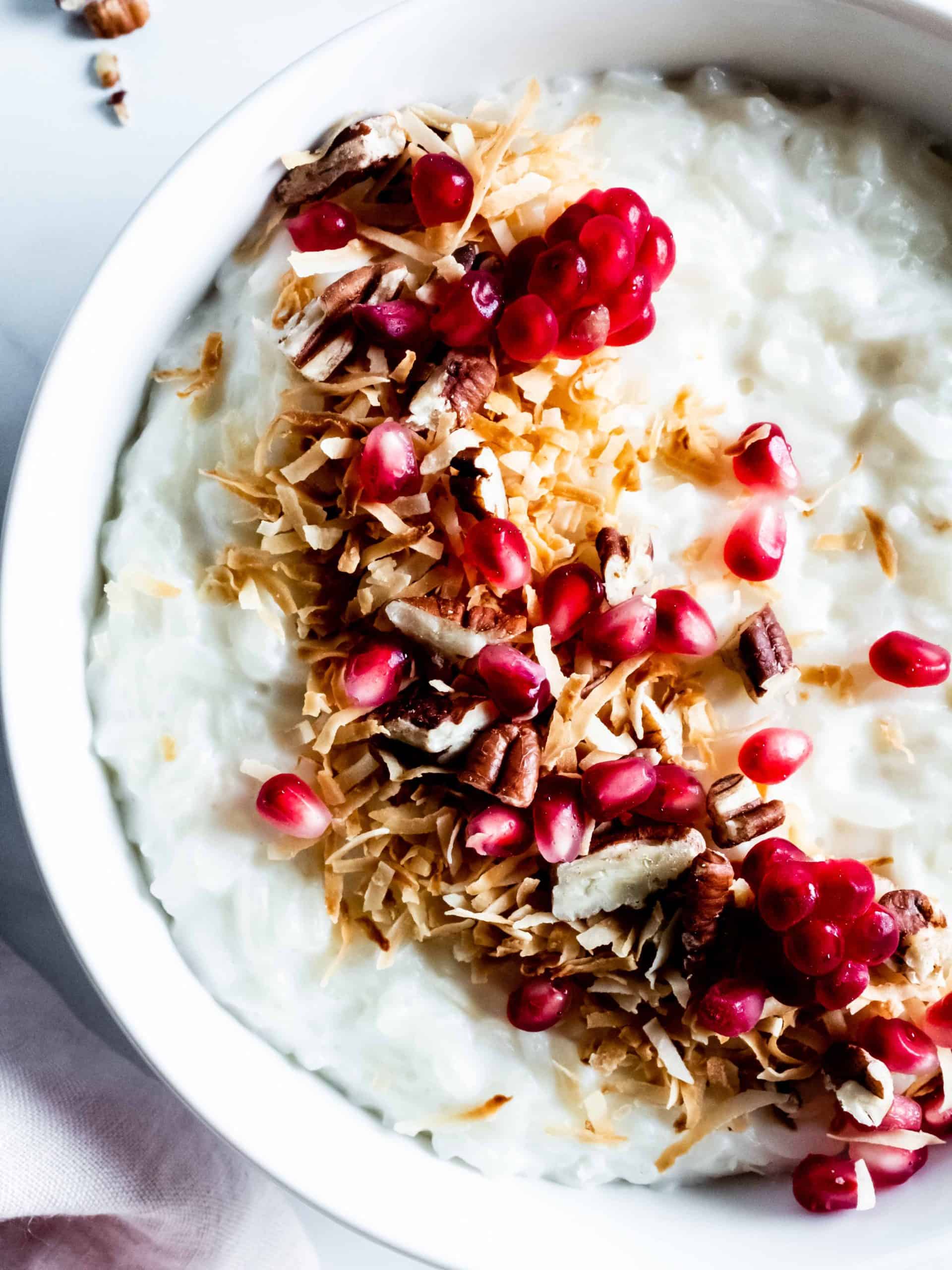 ingredients
sweet coconut rice porridge
jasmine rice

1 c (200 g)

water

2 c (500 ml)

whole milk

4 c (1 l)

coconut milk (full fat)

1 c (250 ml)

sugar

3 tbsp

salt

to taste
for serving
traditional risgrøt: butter and cinnamon
our favorite toppings: toasted pecans and coconut flakes, pomegranate arils
instructions
Briefly rinse the rice to remove any impurities.
Bring the water and rice to a simmer in a pot over medium-high heat. Simmer for about 10 minutes or until most of the water is absorbed, stirring occasionally.
Reduce the heat to medium (or a bit lower if it's cooking too fast) and stir in one cup (250 ml) of the milk. Cook, stirring often, until most of the milk has been absorbed (5-10 minutes). Repeat this step three times.
Pour in the coconut milk. Stir often until the coconut milk has been absorbed.
Stir in the sugar and a pinch of salt.
Serve warm and top with a pat of butter and your favorite toppings.

Did You Make This Recipe?
This post may contain affiliate links through which we may earn a small commission at no additional cost to you. We only recommend products that we genuinely love and would use ourselves.