Lemon posset is rich, creamy and comes together like magic! Serve your luscious lemon posset with fresh berries and buttery shortbread for an irresistible treat!
Bright and citrusy with a velvety texture, lemon posset is a custard-like treat made with just a handful of ingredients: cream, sugar, a few lemons and a pinch of salt. Simply boil the cream with sugar, salt and lemon zest. Then stir in lemon juice to set the mixture, chill and enjoy!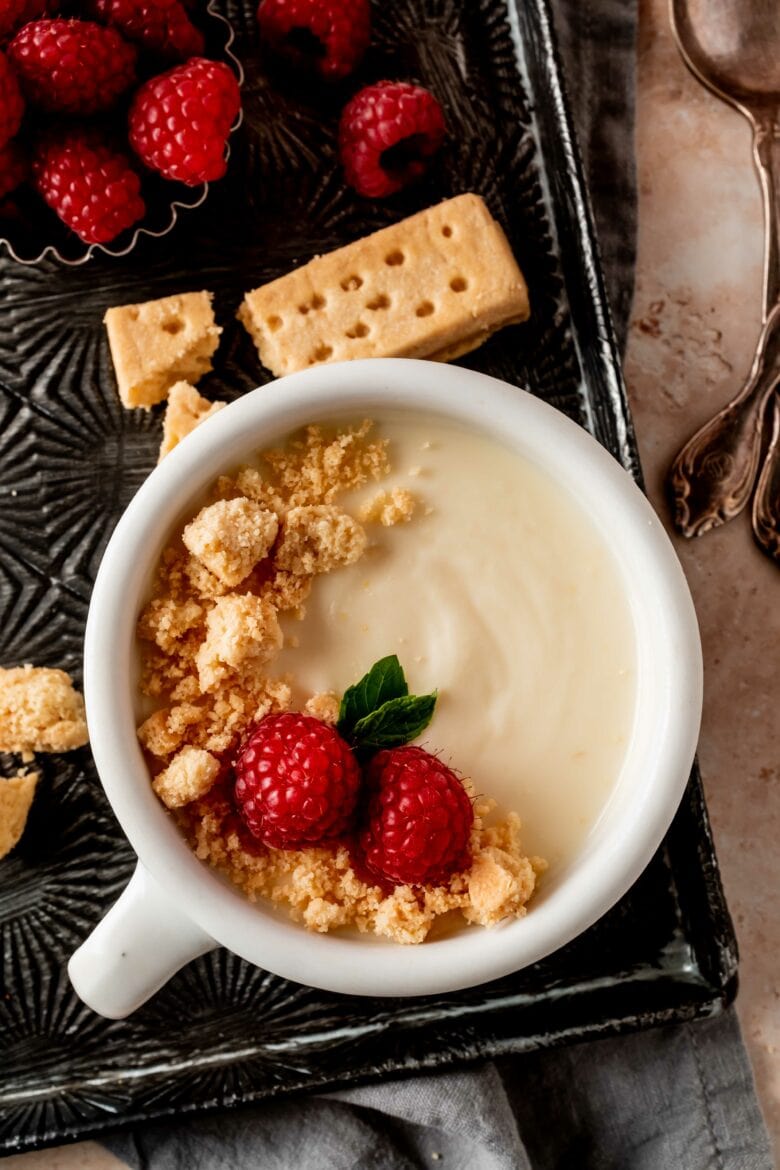 what is posset?
Originally, posset referred to a hot drink dating back to 15th century England. It was made with curdled milk, sugar and alcohol and often used as a remedy of sorts. In the 19th century, after the original drink had gone out of style, the name posset was repurposed as the softly set custard-like treat we'll be making today.
The best part about the chilled, citrus-set dessert? You'll need just 4 ingredients:
Granulated sugar: Sugar adds sweetness, but is also essential to thickening the mixture so don't skimp here! 
Heavy cream: No substituting milk or half and half — the fat from the heavy cream is essential in getting the mixture to properly thicken and set.
Salt: Just a pinch to balance the sweetness.
Lemons: Lemon juice is necessary to get the proper consistency, but we also like to add lemon zest for an extra flavor boost!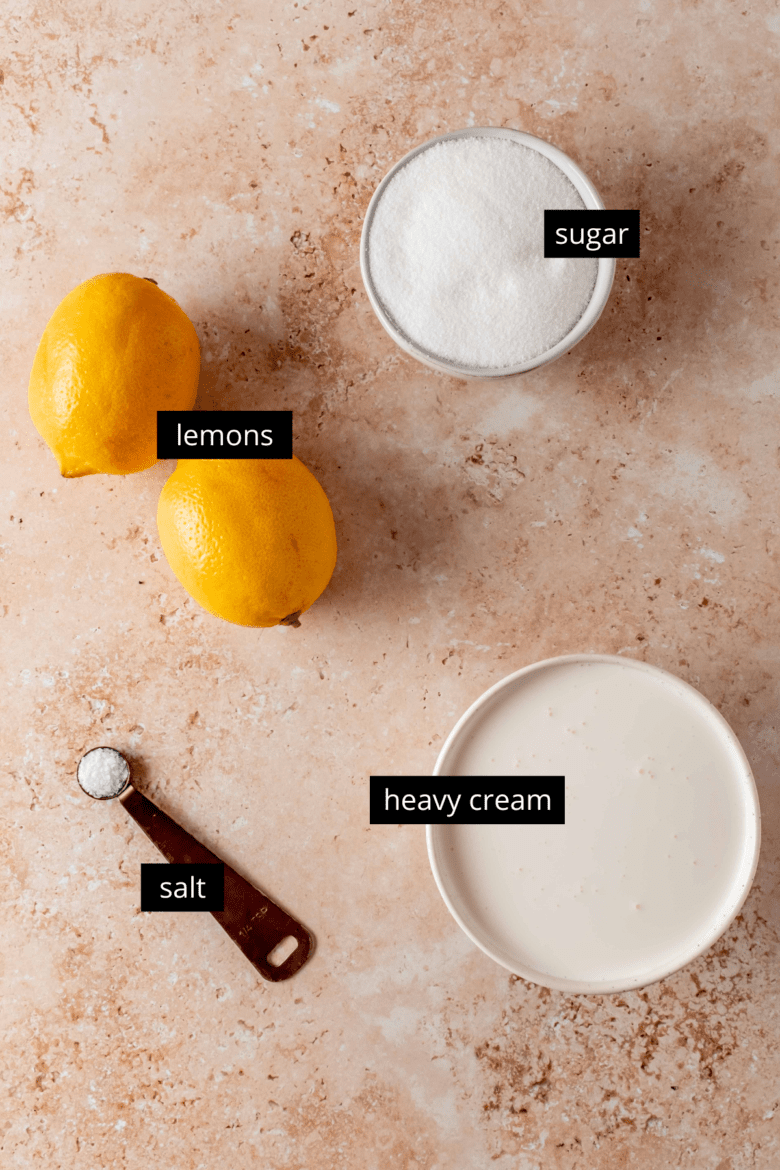 how it works
With no gelatin or thickening agent, you may be wondering how we get such a luscious, custard-like texture. Here's how it works:
Boil the cream, sugar, salt and zest for several minutes.
Boiling the mixture dissolves the sugar and concentrates the proteins and fats in the cream.
Remove from heat and add lemon juice to thicken the mixture.
The lemon juice reacts with the cream causing the casein proteins in the cream to clump. However, the fat from the cream prevents the mixture from clumping too tightly (curdling) and it instead thickens into creamy posset!
tips + tricks
Make sure to use a large enough pot and keep an eye on the cream as it boils. The mixture can boil over quite quickly so don't step away!
While you can leave out the zest or salt without any adverse effects, don't experiment with the cream, sugar or lemon juice. The proportions used are necessary to get a perfectly smooth and set posset.
Because this dessert is so rich, we like to divide it among six ramekins. You could also divide it among 4-5 ramekins for a larger portion size.
Make sure to cover each ramekin with plastic wrap to avoid a skin forming before serving.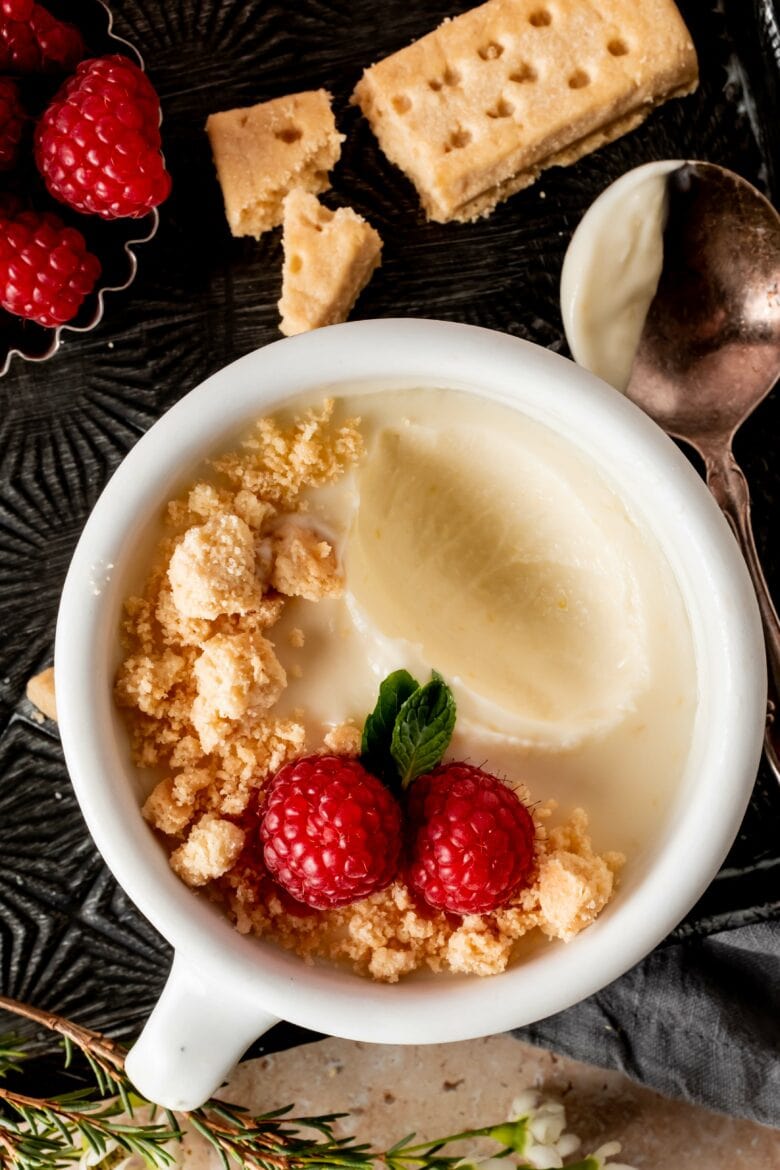 lemon posset: FAQs
How would you describe the texture of lemon posset?
The texture of posset is soft and creamy. It's a bit lighter than a pudding, but more dense than mousse.
How long does the posset need to set?
About 2-3 hours in the fridge is all you'll need to set your posset.
Can I make this dessert ahead of time?
Yes! Posset will keep covered in the fridge for 3 days. If making ahead, we recommend preparing it the day or night before serving for the best flavor and texture.
What should I serve with lemon posset?
Our favorite thing to serve with lemon posset is shortbread! Use shortbread cookies to scoop up the mixture or sprinkle shortbread crumbles on top. Berries (raspberries, blueberries or blackberries) also make great additions. And a bit of mint can add a wonderfully fresh flavor.
For more easy recipes to satisfy your sweet tooth, make sure to check out these posts:
Print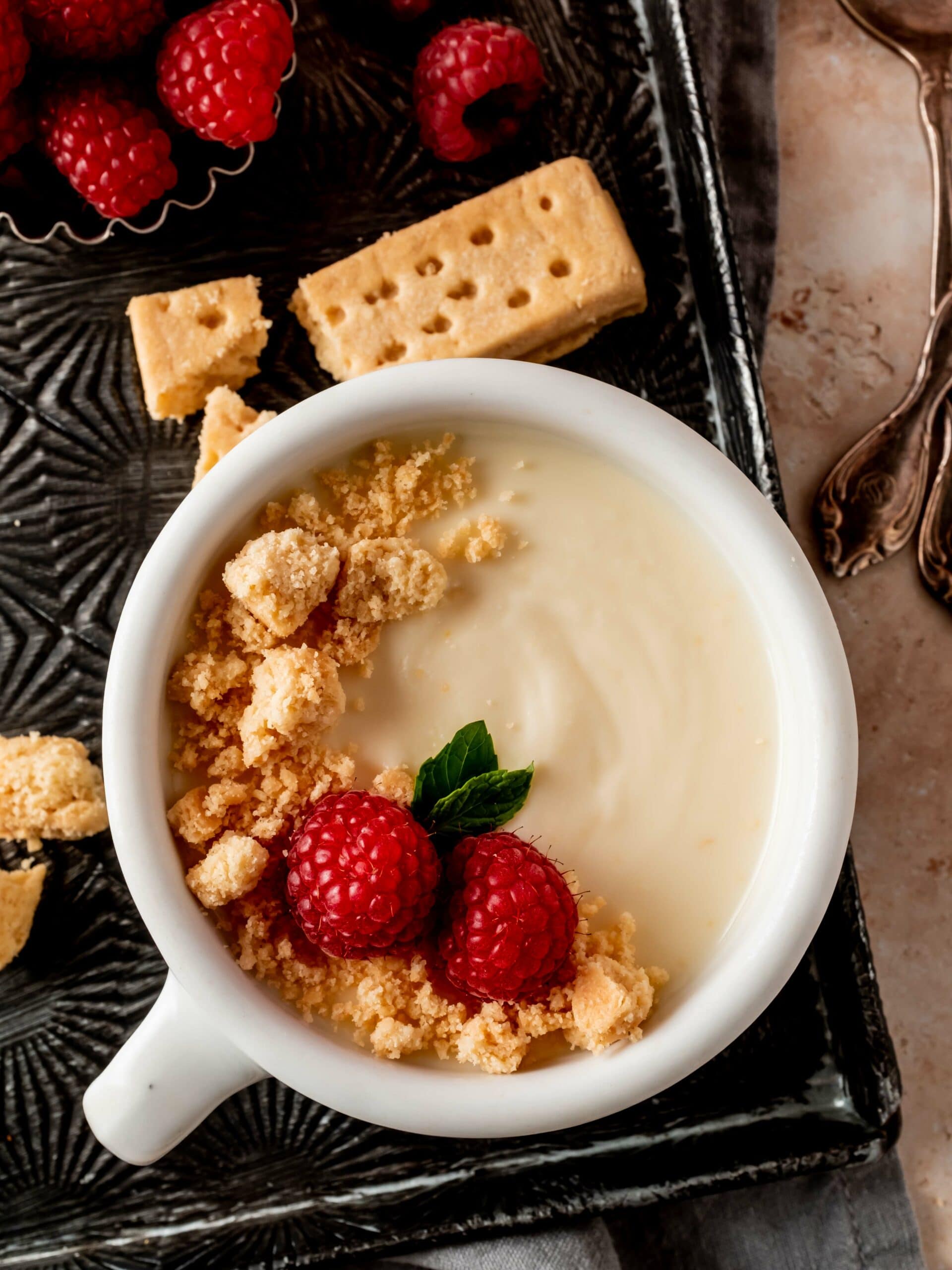 lemon posset
---
Author:

Prep Time:

5 minutes

Chill Time:

2 hours

Cook Time:

5 minutes

Total Time:

2 hours 10 minutes

Yield:

6
Description
Made with just four ingredients, this lemon posset is rich, creamy and comes together like magic!
---
heavy cream

2 c (470 ml)

granulated sugar

⅔ c (130 g)

lemon zest

1.5 tbsp

salt

¼ tsp

fresh lemon juice

⅓ c (80 ml)
For serving (optional): raspberries, fresh mint and shortbread
---
Instructions
In a medium saucepan combine the heavy cream, sugar, lemon zest and salt. Bring to a boil over medium-high heat, stirring frequently until the sugar dissolves.

Once the mixture begins to boil, cook for 3 minutes stirring occasionally. Make sure to watch the pot closely so the mixture doesn't boil over.

Remove from heat and immediately stir in the lemon juice.

Allow the mixture to cool for 20 minutes. Then pour into a bowl through a fine mesh sieve, discarding the zest.

Divide among 6 ramekins. Cover with plastic wrap and refrigerate until set (approximately 2-3 hours).
Notes
Lemons: Two medium-sized lemons should be enough to get the amount of juice and zest needed. 
Category:

dessert

Method:

stovetop

Cuisine:

english
This post may contain affiliate links through which we may earn a small commission at no additional cost to you. We only recommend products that we genuinely love and would use ourselves.