This simple mushroom barley soup is slightly smoky, incredibly hearty and perfect for a cold winter evening! Serve it with a spoonful of sour cream and fresh dill for a delicious flavor boost!
Pearl barley or perlovka (перловка) in Russian is something that Viktor grew up eating, but the nutritious grain never made it into my family's cooking repertoire. So when we picked up a large bag of barley at our local market, it took me awhile to decide how I wanted to use it. To start with something simple, I decided to make a batch of soup with ingredients traditionally found in the many Russian barley dishes of Viktor's childhood: mushrooms, dill and a big spoonful of sour cream!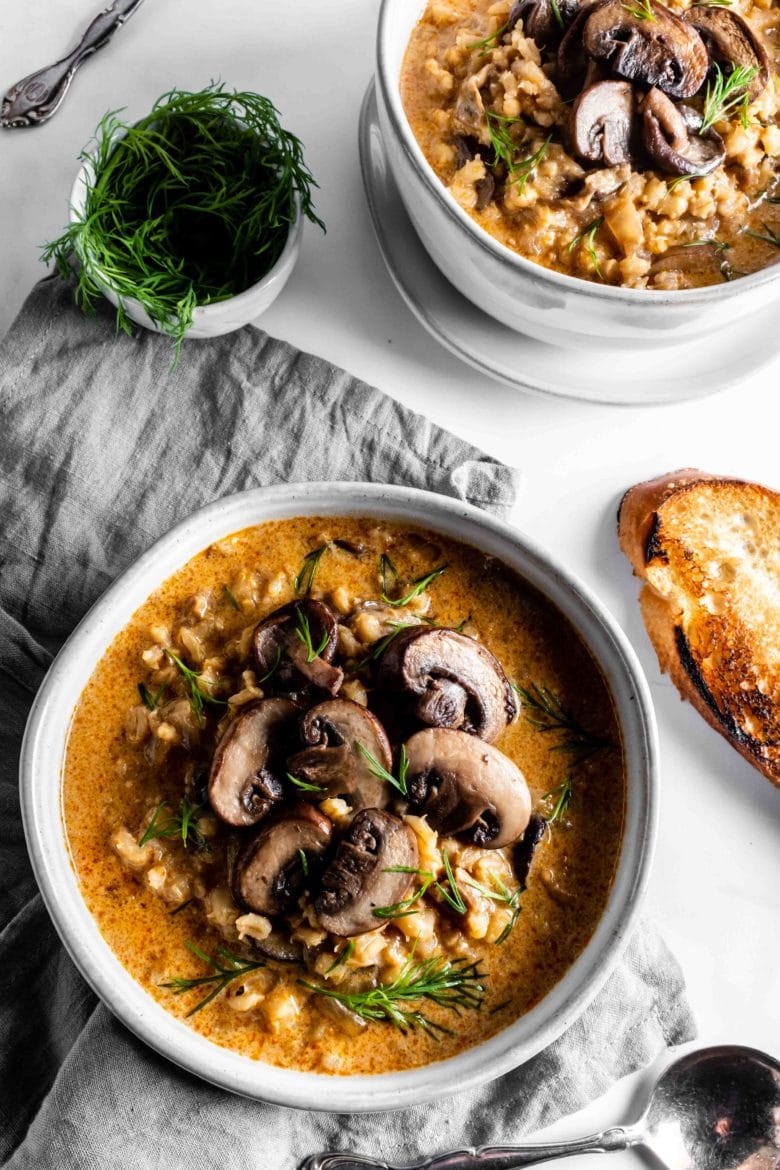 the mushrooms!
Most of the flavor in this barley soup comes from the variety of fresh and dried mushrooms. I like to start with a few dried porcini mushrooms to really pack an umami punch. If you're not familiar with dried mushrooms, they couldn't be easier to use and you only need about 10 grams (or ¼ cup) to really infuse the mushroom flavor into the broth. To rehydrate your mushrooms, simply soak them in hot water for 30 minutes. And to maximize the use of your dried porcinis, make sure to add the soaking liquid (strained of any sediment) to the soup along with the rehydrated mushrooms!
As for the fresh mushrooms, I used a mixture of shiitake and cremini mushrooms and loved how the dish came out. Chanterelle and oyster mushrooms would also be great additions so feel free to use your favorite varieties! To prepare your mushrooms, thoroughly wash them and slice into bite-sized pieces. Then saute the mushrooms in a tablespoon of butter with a pinch of salt. Here it's important to cook the mushrooms until their liquid releases and then completely evaporates.
And if you're looking for more ways to use dried mushrooms, definitely check our recipes for polish hunter's stew and thai curry soup! 
how to make soup with pearl barley
The main thing to remember when making soup with pearl barley is to ensure you're using enough liquid. This recipe calls for five cups of liquid plus one cup of barley. The barley absorbs almost three cups of that liquid and because the starch content of the barley also helps to thicken the soup, the final dish has an almost stew-like consistency.
If you'd like your barley soup to be a bit more brothy, you have a few options. The easiest option is to just add a few more cups of liquid (broth, water or even mushroom soaking liquid) to the soup. Alternatively, you could cook your barley separately, briefly rinse and then add to the soup. I recommend the first option, as the pearl barley tastes best when it has a chance to absorb the delicious flavors of the soup!
If making your barley in a separate pot, you can just follow package instructions. But to use pearl barley in this soup, we like to let it simmer for 40-50 minutes in the mushroomy broth. The cooked barley should be soft, but still a bit chewy.
the finishing touches
Other than onion and garlic, the only other seasoning we add while cooking this soup is smoked paprika. It gives the broth a smoky taste that perfectly complements the deep mushroom flavor. However, once the soup has finished cooking, we do like to add a bit of sour cream for creaminess and a sprinkling of dill to add a bit of freshness to our earthy soup.
When adding the sour cream, you can either stir it into the entire pot of soup (our preferred option) or serve it on the side and let everyone add their own spoonful. If you decide to add the sour cream directly to the soup, make sure to remove the soup from heat before stirring it in. You want to avoid adding the sour cream to boiling liquid as it will cause the sour cream to curdle.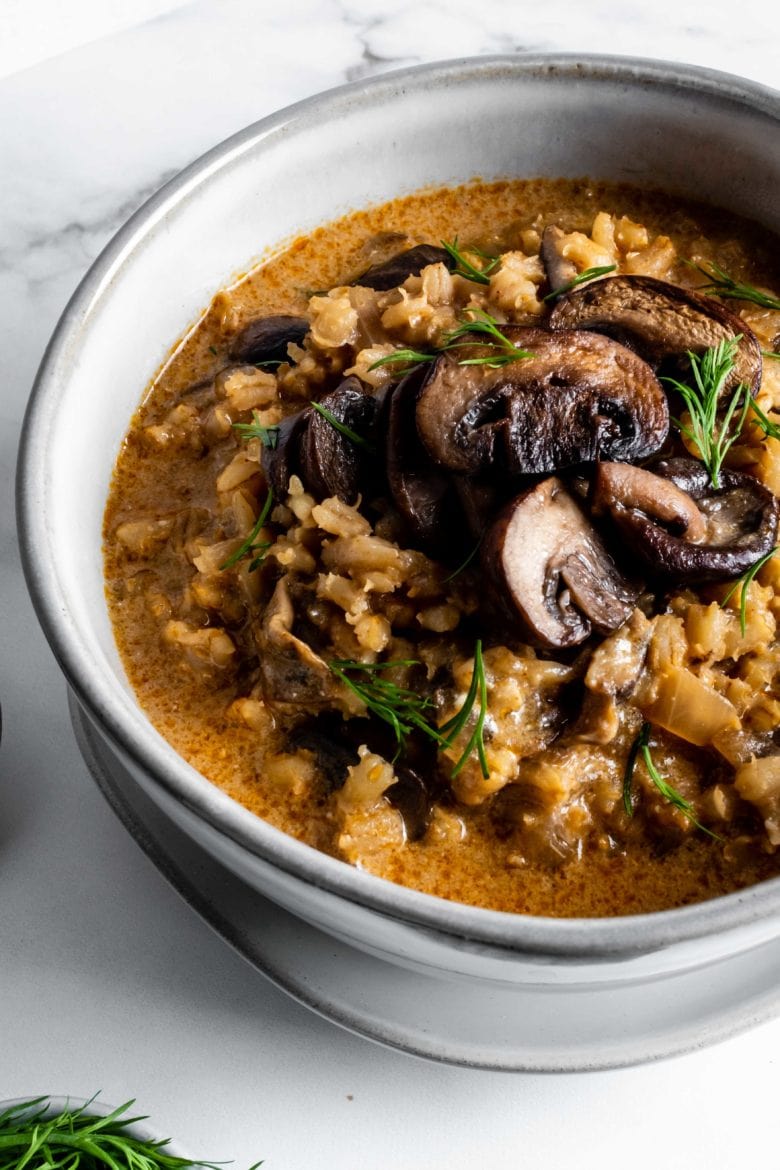 And don't forget to check out some of our other favorite soups and stews!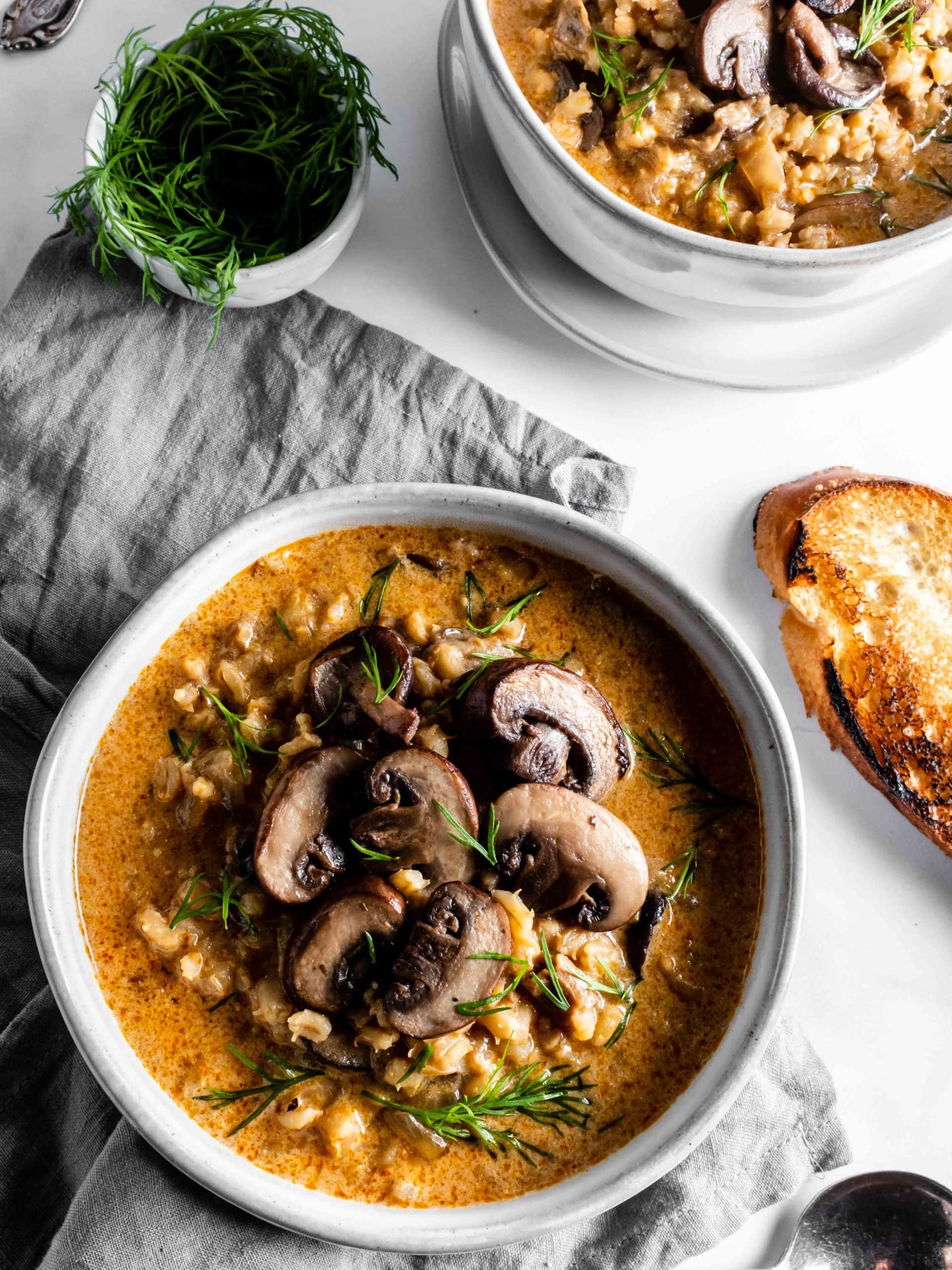 ingredients
dried porcini mushrooms

¼ c (10 g)

butter (divided)

2 tbsp (30 g)

sliced mushrooms

8 oz (230 g)

(we used shiitake and cremini mushrooms for this version)

diced onion

1 large

minced garlic

2 cloves

vegetable broth

4 c (1 l)

smoked paprika

1 tsp

pearl barley

1 c (200 g)

sour cream

½ c (120 g)

salt

to taste

fresh dill

for serving
instructions
Soak the porcini mushrooms in 1 cup (240 ml) of warm water for 30 minutes or until tender. Roughly chop the mushrooms. Strain the liquid to remove any sediment and set aside with the mushrooms.
Heat one tablespoon of butter in a large pot or dutch oven over medium heat. Add the sliced mushrooms and a pinch of salt. Cook the mushrooms until they have released their liquid, the liquid has evaporated and the mushrooms are browned (about 15 minutes). Transfer the mushrooms to a plate and set aside.
Heat another tablespoon of butter and add the onion to the pot. Cook until the onion begins to turn slightly golden brown (15 minutes). You can reduce the heat to medium-low if it's cooking too fast.
Add the garlic and cook an additional minute.
Return the mushrooms to the pot. Stir in the rehydrated porcini mushrooms, reserved soaking water, vegetable broth, paprika and barley. Bring the soup to a boil. Lower the heat, cover the pot and simmer for about 40-50 minutes or until the barley is just tender.
Season with salt to taste, remove from heat and let cool for a few minutes. Stir in the sour cream and garnish with dill.

Did You Make This Recipe?
This post may contain affiliate links through which we may earn a small commission at no additional cost to you. We only recommend products that we genuinely love and would use ourselves.