Featuring sweet strawberries and a crunchy crumble topping, this super simple dessert is full of fresh flavor and so easy to make! Our strawberry crumble is the perfect treat for spring and summer!
There's nothing dreamier than juicy baked strawberries bubbling up around a layer of crispy, buttery crumble. The best part about this crowd-pleasing strawberry dessert? It takes just 15 minutes to prepare! Serve your strawberry crumble with a big scoop of vanilla ice cream and enjoy!
The Strawberries!
I prefer the reddest, plumpest strawberries I can find if I'm making this dessert for family and friends. But if you have strawberries in your fridge that are a few days past their prime, this crumble can be a great way to use them up. Those slightly mushy strawberries that you don't want to snack on are perfect for baking — after some time in the oven you won't be able to tell they weren't in their most appealing state!
To make the fruit layer, remove the green stems and halve the strawberries. Then just mix them with brown sugar, corn starch, vanilla extract and salt.
The brown sugar and corn starch dissolve into the strawberries creating a syrupy coating. Don't be tempted to leave out the corn starch — it's what helps thicken the mixture so you get a gooey strawberry layer instead of strawberry soup.
The vanilla extract and salt help to balance the flavor. Almond extract also pairs well with strawberries and would be excellent here!
Easy Crumble Topping
We tested several variations of the crumble topping for this recipe and our favorite was a simple mixture of flour, butter, sugar, baking powder and salt.
The baking powder might seem a bit out of place here, but we swear by it to make the crumble light and tender.
How do I mix in the butter?
To make the crumble you'll mix together the dry ingredients: flour, sugar, baking powder and salt. Then cut the cold butter into small cubes and work it into the dry ingredients. I like to use my hands for this as it slightly warms the butter and makes it easier to work with, but a pastry blender can also be used.
The mixture will start to resemble sand with some clumps forming. Use your hands to squeeze the mixture together until large crumbs form. If making ahead of time, keep the mixture covered and chilled until you're ready to use.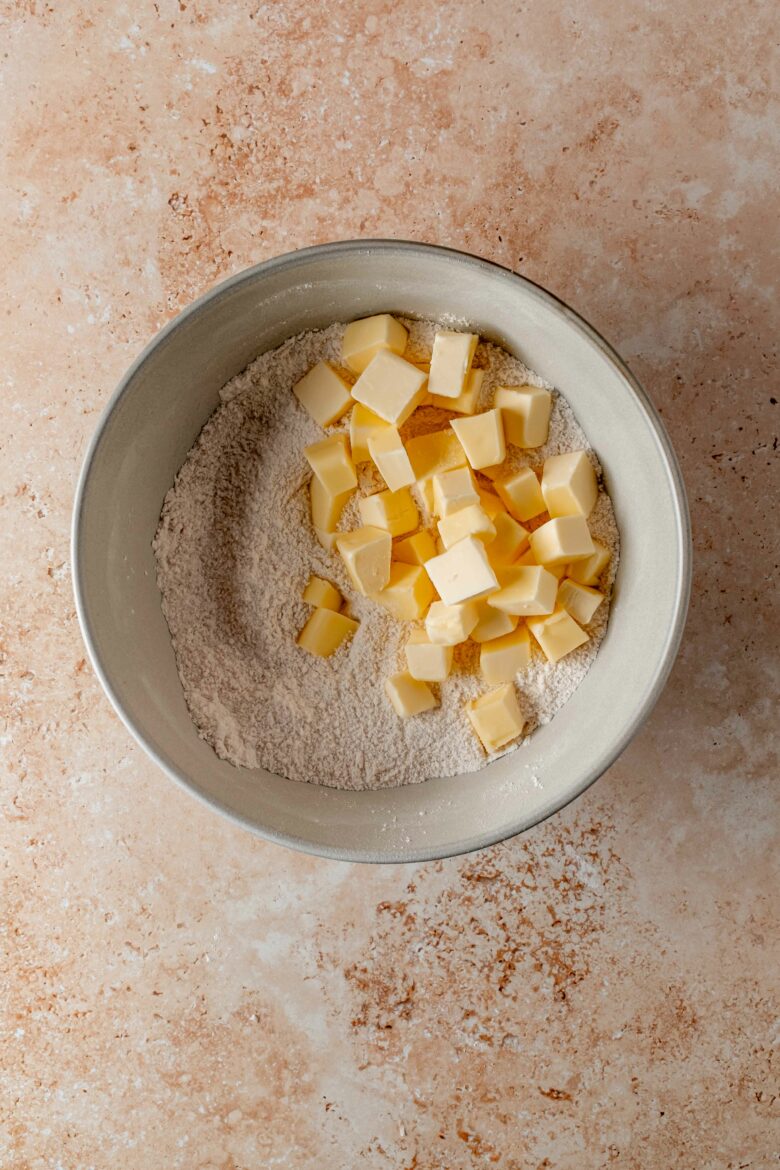 Baking the Crumble
I use a 11×7 inch (28×18 cm) baking dish for this crumble. When you pour in the strawberries, it may seem like a thin layer, but the mixture will bubble up and thicken in the oven.
Then it's time to sprinkle the crumble over the strawberries. It might look like an excessive amount of crumble, but you'll just have to trust me on this one. We tested this recipe with several different ratios of crumble to strawberry and this version was the clear winner. Some of the crumble will beautifully meld with the strawberries and a generous amount of crispy golden brown crumble will remain on top.
The crumble is baked at 350°F (180°C) for 45 minutes. You'll know it's ready when the crumble is crisp and golden brown. Allow it to sit for 10 minutes to set up before serving.
Expert Tips and Tricks
I like to cut all of the strawberries in half regardless of size. This means if your strawberries vary in size you'll have some bigger chunks and some smaller chunks. The smaller pieces will break down into a gooey mixture and the larger pieces will remain intact for a deliciously chewy texture — the perfect balance!
Measure the flour using a kitchen scale for the most accurate measurements. It's easy to over-measure flour when using cups, which can result in a dry crumble.
Baking the crumble at a lower temperature (350°F / 180°C) ensures the crumble topping won't get too brown before the strawberries have a chance to break down. If your oven runs hot or your crumble looks like it's getting too brown, you can always cover the crumble with foil for the remaining bake time.
While we love this dish warm, make sure to let the crumble sit for 10-15 minutes before serving so that the strawberries have time to set up just a bit.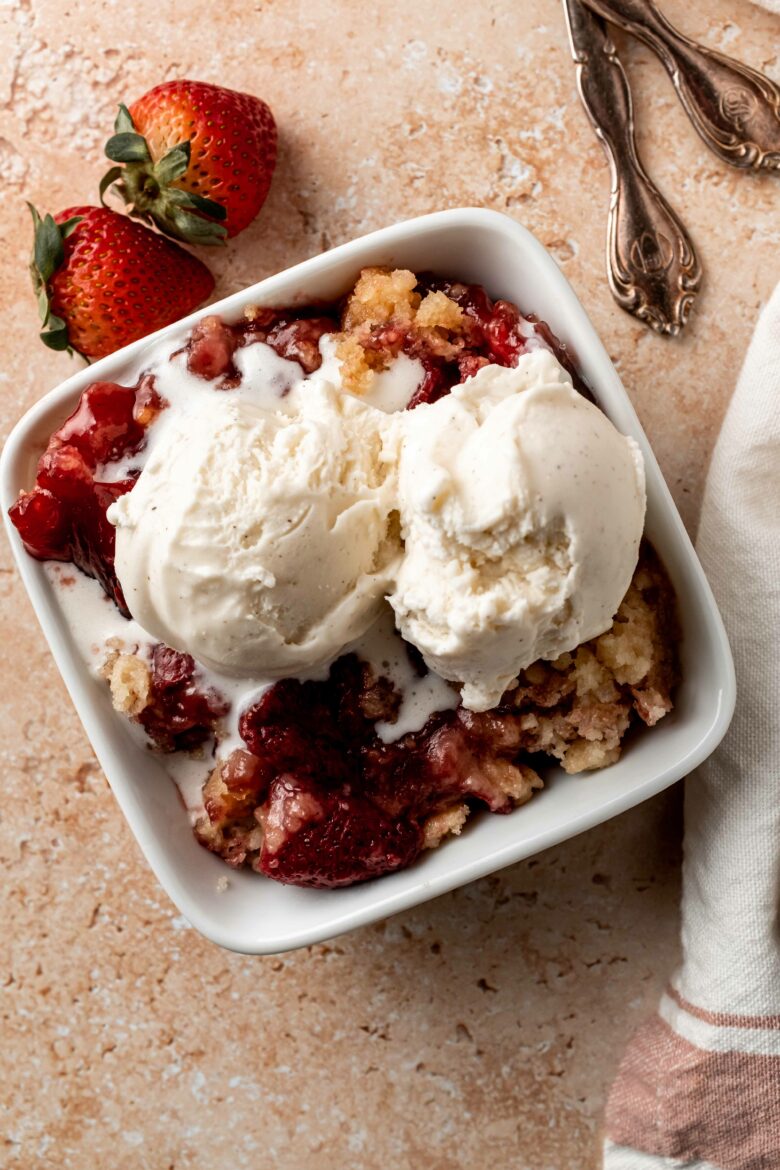 Strawberry Crumble: FAQs
Can I use frozen strawberries?
I don't recommend frozen strawberries for this crumble as their texture can be overly mushy when baked. If you must use frozen strawberries, I recommend baking them straight from frozen without thawing.
How long does strawberry crumble keep?
Strawberry crumble will keep covered in the refrigerator for up to 5 days.
How do I reheat strawberry crumble?
Cover with foil and reheat in the oven at 350°F (180°C) until warmed through.
Can I make this ahead of time?
The crumble topping can be made ahead of time and stored covered in the fridge overnight. The strawberries can be cut in half, but I wouldn't recommend combining them with the remaining ingredients until ready to bake as they can get too mushy.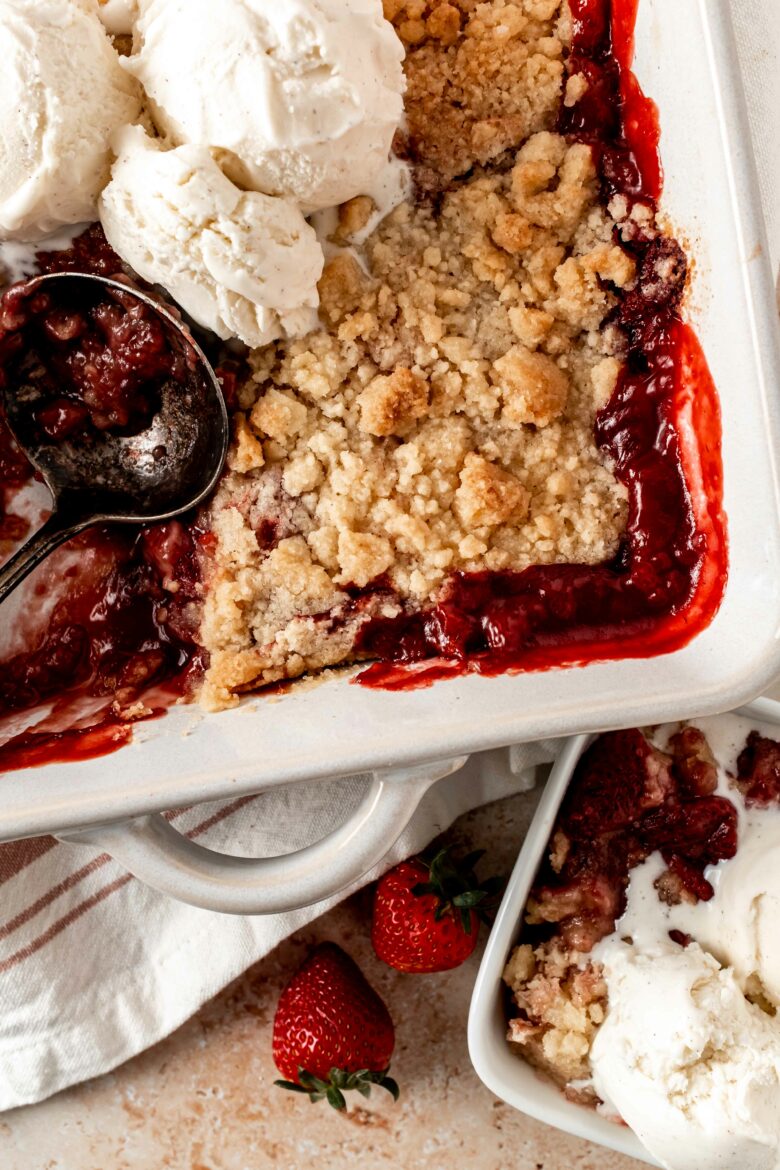 Looking for more strawberry inspiration? Here are some of our favorites recipes:
Print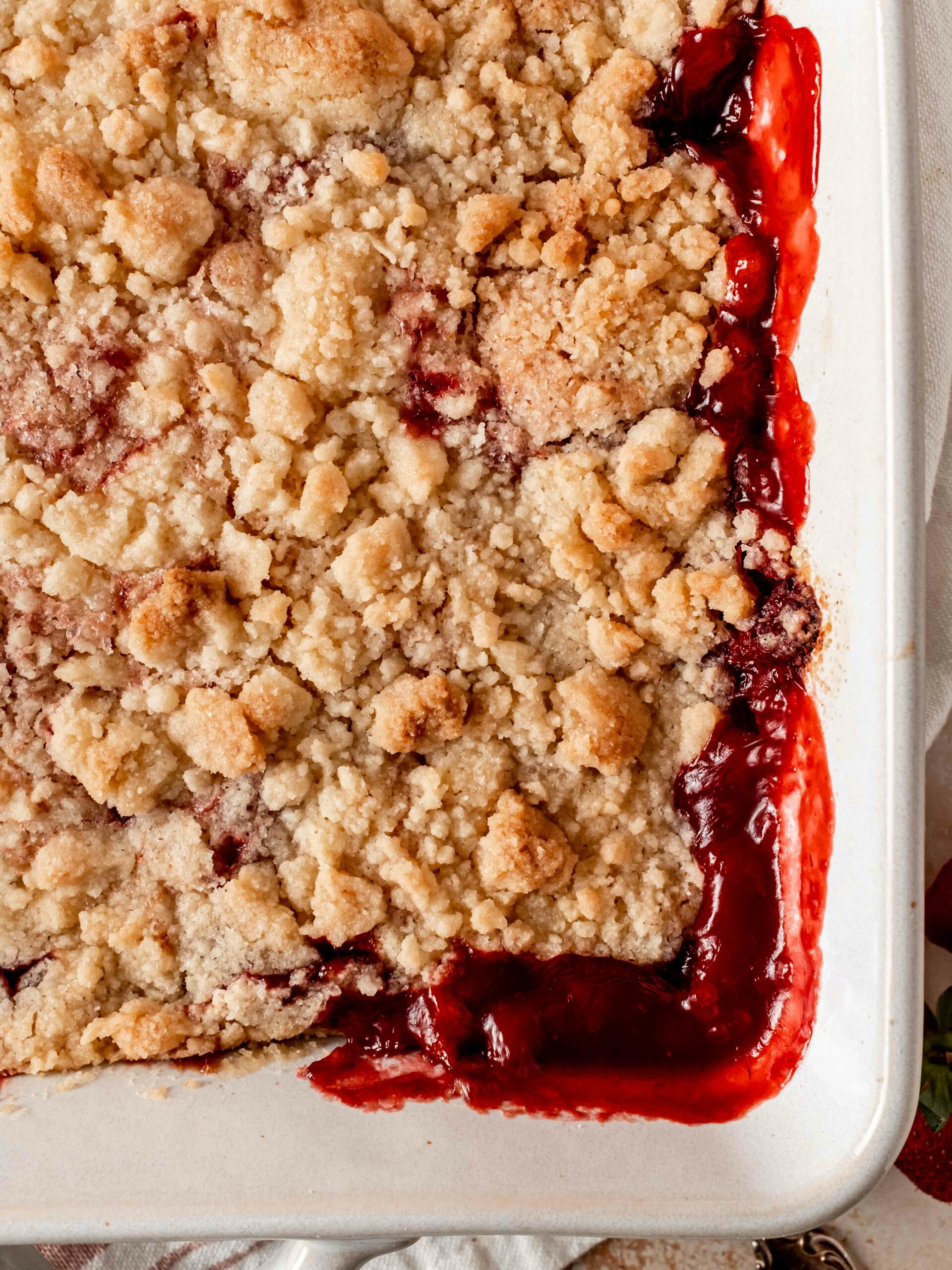 Simple Strawberry Crumble
---
Author:

Prep Time:

15 minutes

Cook Time:

45 minutes

Total Time:

1 hour

Yield:

8
Description
Featuring sweet strawberries and a crunchy crumble topping, this super simple strawberry crumble is full of fresh flavor and so easy to make!
Crumble Topping
all purpose flour

1.5 c (190 g)

(spooned & leveled*)

granulated sugar

1 c (200 g)

baking powder

1 tsp

kosher salt

¼ tsp

unsalted butter

¾ c (170 g)
Strawberry Layer
strawberries, hulled and halved

2 lbs (900 g)

brown sugar

⅓ c (65 g)

corn starch

2 tbsp (20 g)

kosher salt

¼ tsp

vanilla extract

1 tsp
---
Instructions
Preheat oven to 350°F (180°C) and lightly grease a 11×7 inch (28×18 cm) baking dish.
Make the crumble topping. Whisk together the flour, sugar, baking powder and salt in a medium bowl. Cut the butter into small cubes and then use a pastry cutter or your hands to incorporate the butter into the mixture. Work together the mixture until large clumps form. Set aside.
Prepare the strawberries. Combine the strawberry layer ingredients in a large bowl. Gently stir until fully combined. The corn starch and brown sugar will dissolve and a syrup will coat the strawberries.
Spread the strawberries evenly into the prepared pan. Sprinkle the crumble topping evenly over the top. It will seem like quite a bit of crumble, but trust us — it's the perfect amount!
Bake for 45 minutes or until the strawberries are bubbling up around the edges and the crumble is golden brown. Allow to cool 10 minutes before serving.
Notes
Measuring Flour: We highly recommend using a kitchen scale to measure flour. If measuring by volume, use the spoon and level method to avoid over-measuring the flour. Lightly spoon flour into the measuring cup until it's completely full. Then run the back of a knife over the cup to gently scrape off any excess.
Storing: Leftover strawberry crumble can be stored in the fridge for up to 5 days. To reheat, cover with foil and bake at 350°F (180°C) until warmed through.
Category:

dessert

Method:

baking

Cuisine:

english
Keywords: strawberry crumble, strawberry crisp
This post may contain affiliate links through which we may earn a small commission at no additional cost to you. We only recommend products that we genuinely love and would use ourselves.