These soft gingerbread cookies are perfectly spiced and topped with a four-ingredient chocolate liqueur glaze! Molded gingerbread cookies are easy to make and a charming addition to any holiday cookie box!
Using a cookie mold is one of my favorite ways to get beautifully intricate detail without spending a lot of time on icing or frosting! While you can use any cookie mold, we opted for these cute reindeer from Texturra Workshop. The little reindeer are made with our favorite soft gingerbread cookie dough and brushed with a sweet chocolate liqueur glaze — a fun and delicious holiday treat!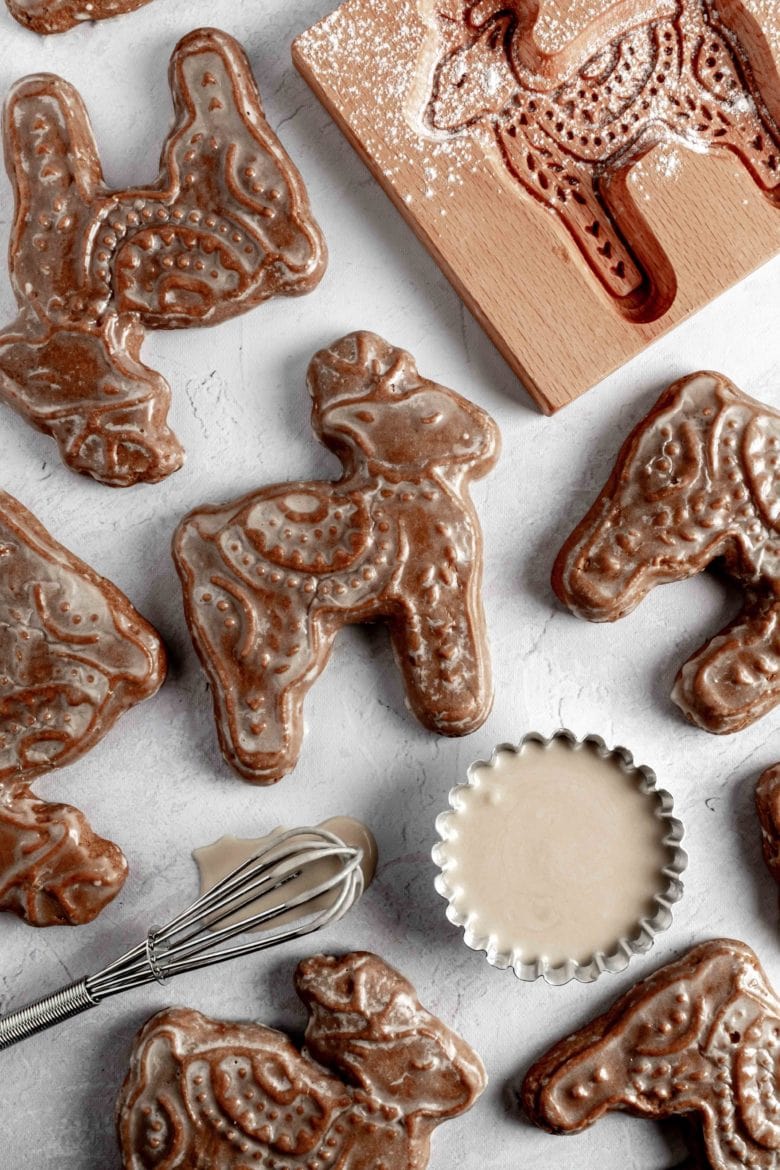 making molded gingerbread cookies
The gingerbread cookie dough recipe is pretty straightforward and comes together quickly:
Cream together the butter and sugar.
Add the egg and molasses.
Gradually mix in the dry ingredients (flour, baking soda, spices and salt) and knead until the dough comes together.
Wrap in plastic wrap and chill for at least one hour.
Working with cookie molds is a fun and easy way to add texture to your gingerbread cookies! We have several beautiful molds from Texturra Workshop, but really any cookie mold will work. Just keep in mind that bake times will vary significantly depending on the size and thickness of your mold. The reindeer mold I used was approximately 5×4 inches (13×10 cm) and took about 12 minutes to cook.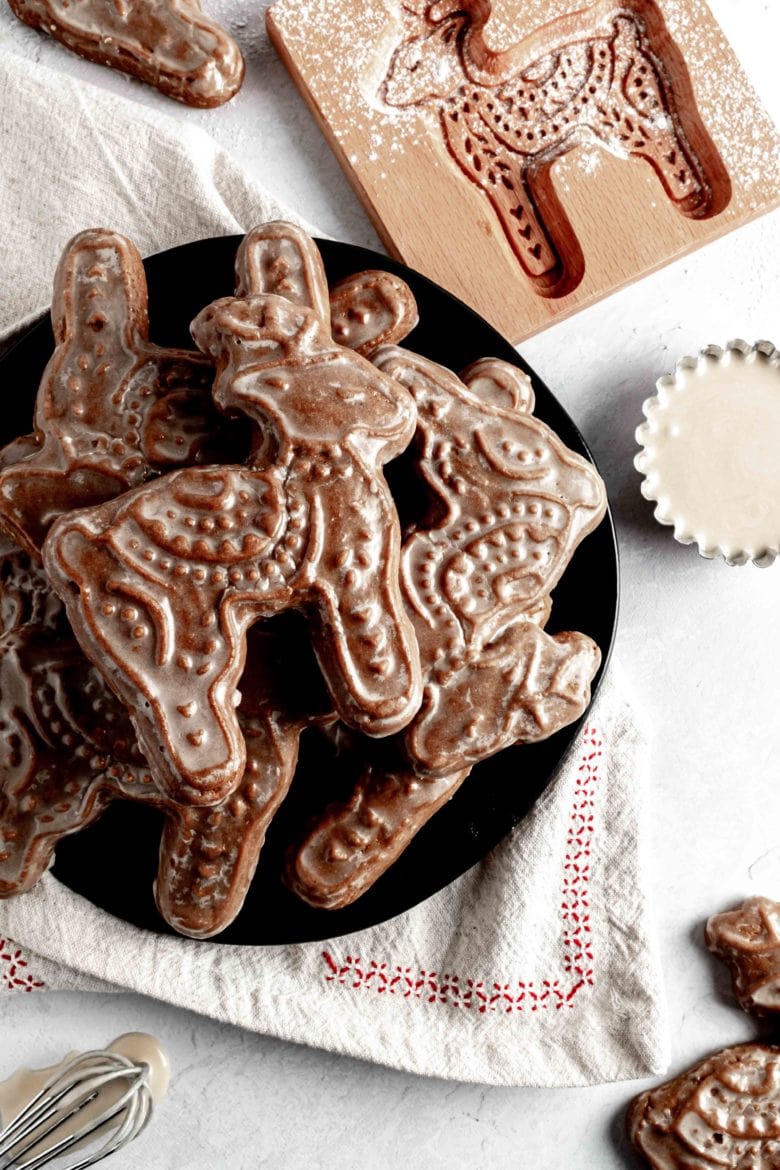 FAQ: using cookie molds
What consistency should the dough be?
One of the main factors in getting perfect gingerbread is using the correct amount of flour, which is why we highly recommend using a kitchen scale to measure your flour by weight. If using cups, start with a bit less flour and add more as necessary. The dough should be firm, but pliable. Crumbly dough won't hold together well in the molds.
How do I prevent the cookies from sticking to the mold?
To prevent the cookies from sticking to the mold, I first lightly brush the mold with vegetable oil and then sprinkle a bit of flour over the top. The vegetable oil will only need to be added once or twice and you'll need just a very thin layer, otherwise it might start to act as glue. The flour, on the other hand, should be sprinkled over the mold after every cookie. If you have a less intricate mold, using just one of these methods might work. And if you still have trouble with sticking, you can also lightly flour the outside of the dough that you'll be pressing into the mold.
To get the cookies out of the mold, I hold the mold at an angle and tap it against the counter until it begins to fall out. I then gently peel the cookie out of the mold and onto the pan. If you're having trouble removing the cookie, try using your hands to gently move the dough away from the edges of the mold. And if it's really stuck in there, you can use a small knife to gently pry an edge out of the mold and then peel the rest out.
How can I make sure the cookies don't lose definition?
If your cookies are losing definition before going into the oven, you'll want to make sure that you don't have any little pieces of dough or flour sticking into the details. The reindeer mold that I used was quite intricate, so I used a toothpick several times to clean out any extra dough.
And if it feels like your cookie dough is getting warm, I would recommend popping the formed cookies in the fridge for 15-30 minutes before baking to ensure they better hold their shape.
chocolate liqueur glaze
The chocolate liqueur glaze can be made with just four ingredients: powdered sugar, butter, chocolate liqueur and milk. Mix everything together and then brush the glaze on while the cookies are still warm. Make sure to be quite generous with the glaze — it will become transparent as it sets and if there isn't a good layer of glaze the cookies might appear a bit crackly on top.
We always opt for Godiva chocolate liqueur for this glaze. Great substitutes would be other chocolate liqueurs, Baileys Irish Cream or even Kahlua if you're a coffee lover!
And you have several options if you're looking for a non-alcoholic glaze. The first would be to simply omit the liqueur and add additional milk (or chocolate milk). Other fun flavor additions that go great with gingerbread include orange juice, maple syrup or even coffee. For the orange juice and coffee options you could completely skip the milk and just use as much liquid as needed (about 4-6 tablespoons). For the maple syrup option I would add two tablespoons and then use milk to thin as necessary.
Make sure to check out these recipes for more cookies perfect for the holiday season!
Print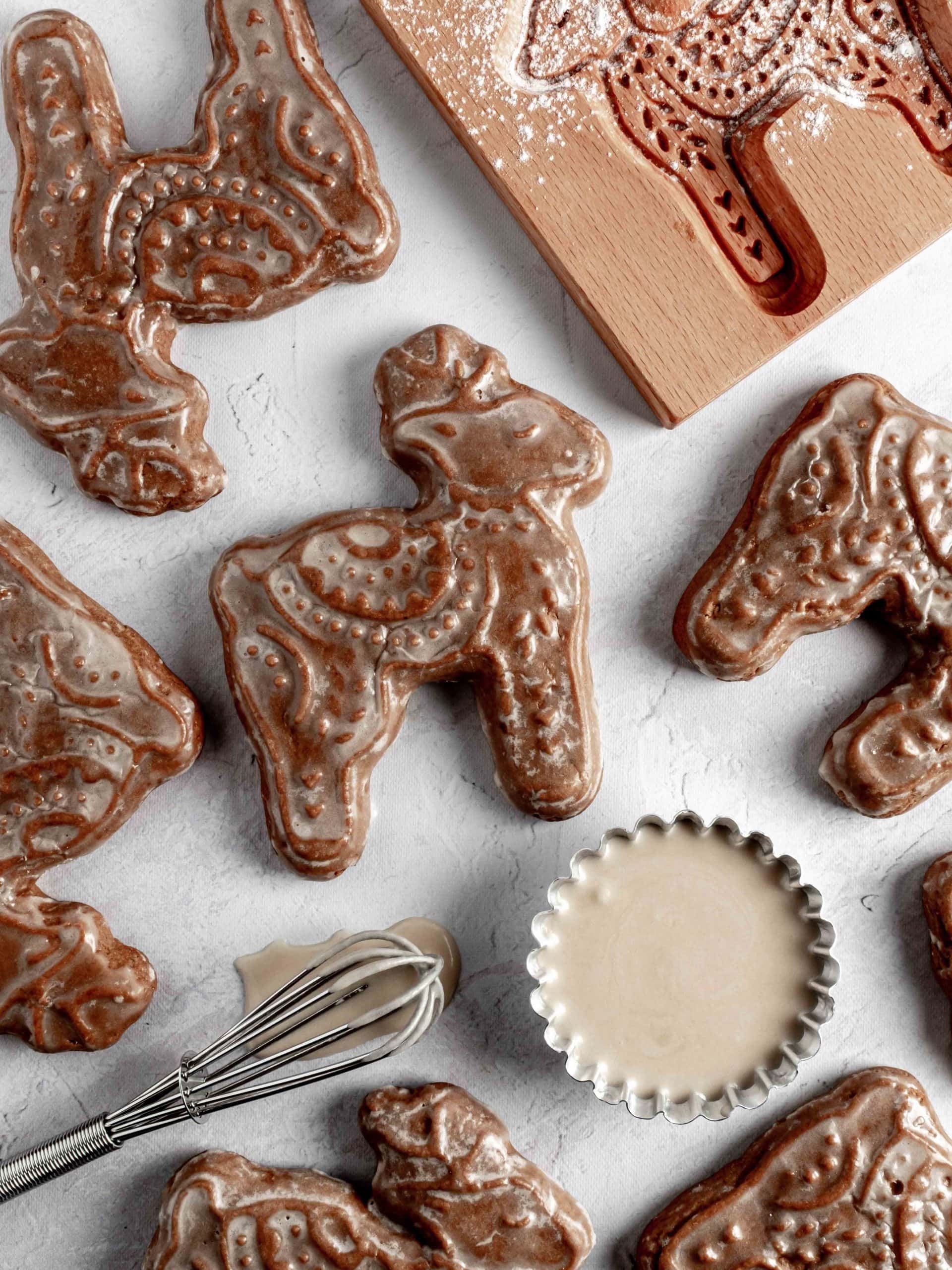 soft gingerbread cookies + chocolate liqueur glaze
---
Author:

Prep Time:

1 hour

Chill Time:

1 hour

Cook Time:

12 minutes

Total Time:

2 hours 12 minutes

Yield:

16
soft gingerbread cookies
all-purpose flour

4 c (480 g)

(spooned & leveled*)

ground ginger

2 tsp

ground cinnamon

2 tsp

ground cloves

½ tsp

salt

½ tsp

baking soda

½ tsp

softened butter

½ c (115 g)

brown sugar

¾ c (150 g)

egg

1 large

unsulfured molasses

⅔ c (160 ml)
chocolate liqueur glaze
powdered sugar

1.5 cups (170 g)

melted butter

1 tbsp (15 g)

chocolate liqueur*

2 tbsp

milk

2-4 tbsp
---
Instructions
Combine the flour, ginger, cinnamon, cloves, salt and baking soda in a bowl and set aside. For this recipe it is extremely important not to overmeasure your flour, as crumbly dough won't work well in the molds. If measuring with cups, I recommend starting with 3.5 cups of flour and adding more as necessary.

Beat together the softened butter and brown sugar until light and fluffy.

Add the egg and molasses and beat until combined.
Gradually add the flour mixture and mix until large clumps begin to form. Knead until the dough comes together.
Separate the dough in half and form two discs. Cover with plastic wrap and refrigerate for 1 hour or until firm.
Preheat oven to 350 F (180 C) and line a baking sheet with parchment paper.
Prepare the mold by lightly greasing with vegetable oil and then dusting with flour. Tap the mold against your counter to remove any excess flour. Repeat the flouring after each cookie, but only add vegetable oil as needed.
Remove one disc of dough from the refrigerator and break off a piece large enough to fill the mold. Press the dough firmly into the mold. Tap the edge of the mold against your counter until the dough begins to fall out.*

Place the cookies on the prepared baking sheet and repeat with the remaining disc of dough.

Bake the cookies for 12 minutes or until they just begin to brown around the edges. Bake times will vary significantly depending on the size and thickness of your cookie mold.

While the cookies are baking, make the glaze. Whisk together the powdered sugar, melted butter and chocolate liqueur in a small bowl. Add milk one tablespoon at a time until your glaze is smooth and thin (about the consistency of maple syrup).

Generously brush the cookies with the glaze as soon as they come out of the oven. Transfer the cookies to a wire rack to cool completely. Store in an airtight container at room temperature for two weeks.
Notes
Spooned and leveled: Scooping a measuring cup into a flour container can result in much more flour than intended, which can affect the success of your cookies. To get a more accurate measurement, use a spoon to lightly scoop flour into the measuring cup until it's completely full. Then run the back of a knife over the cup to gently scrape off any excess.
Chocolate liqueur: We like to use Godiva chocolate liqueur, but other chocolate liqueurs, Baileys Irish Cream and Kahlua would all make great substitutions. For a non-alcoholic version, you can simply add additional milk or chocolate milk.
Removing the cookies from the mold: If you're having trouble getting the cookies out of the mold, you can use your fingers to gently press the dough away from the sides. Then use a toothpick or knife to pry out one of the edges and gently peel away from the mold.
Keywords: soft gingerbread, gingerbread cookies, glazed gingerbread, gingerbread in mold
This post may contain affiliate links through which we may earn a small commission at no additional cost to you. We only recommend products that we genuinely love and would use ourselves.