These decadently rich chocolate dulce de leche cookies are easy to make and oh so delicious! Start by whipping up a batch of our quick chocolate thumbprint cookies and then top them with a heaping spoonful of homemade dulce de leche!
Meet our new favorite cookies: they're rich, chocolatey and filled with homemade dulce de leche! The base for these cookies is our favorite chocolate thumbprint cookie, which can be whipped up in less than an hour (including chilling time). And the filling is an irresistibly smooth and creamy dulce de leche that's made with just milk and a handful of pantry ingredients. Every bite is pure magic!
homemade dulce de leche
Let's get started with the dulce de leche as it takes a bit more time to make and I actually like to prepare it a day or two in advance when making these cookies!
If you're not familiar with dulce de leche, it's a caramel-like confection that's especially popular across many Latin American countries. It's made by simmering milk and sugar until the mixture turns a deep golden brown and takes on a sauce-like consistency. While it does take about an hour or so on the stovetop, I find that preparing dulce de leche is much less fussy than making something like caramel!
To make this dulce de leche, simmer milk, sugar, salt and a pinch of baking soda in a pot over medium heat. The baking soda is optional, but will help to make sure your dulce de leche is silky smooth. If using baking soda, just make sure you have a large pot, as the mixture will bubble up and expand considerably for the first 15 minutes — you'll need to constantly keep an eye on the mixture and stir regularly.
Once the bubbling subsides, just give your mixture a stir every 10 minutes until it turns a light brown color. The change in color is your signal to start stirring the pot more frequently to prevent any burning. Once the mixture takes on a golden caramel color you can remove it from heat, stir in a bit of vanilla (optional) and strain it through a fine mesh sieve (also optional). Now try a big spoonful and save the rest for your cookies!
chocolate thumbprint cookies
Now for the easiest part of the recipe: chocolate thumbprint cookies! These chocolate cookies are made with butter, sugar, an egg, vanilla extract, flour, cocoa powder and salt. After mixing together the ingredients, let the dough chill in the refrigerator for half an hour.
Once the dough has rested, use your hands or a cookie scoop to form the dough into about 28 balls. Then use the back of a tablespoon or your thumb to make an indent in the center of each cookie. Bake for 12-14 minutes at 350 F (180 C) and your cookies are ready!
One tip: sometimes the indents pop up a little bit after baking so I always find it helpful to press them down again right out of the oven while they're still hot!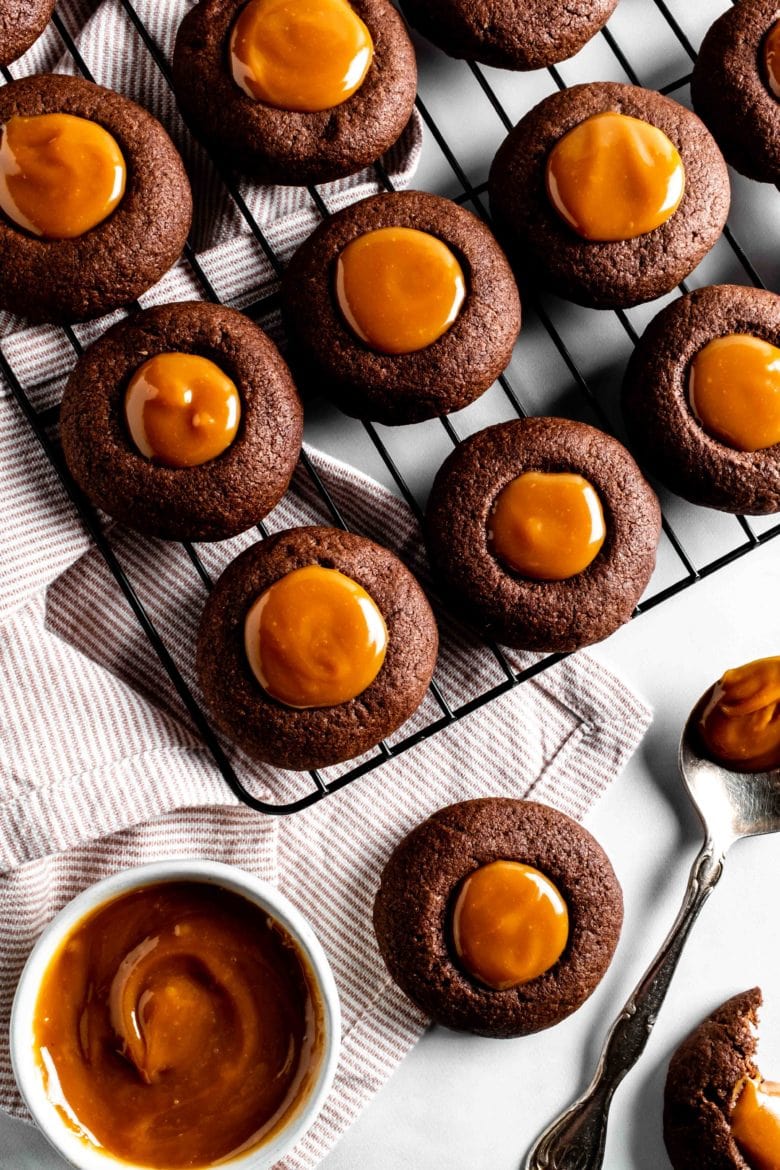 chocolate dulce de leche cookies!
And now the fun part: assembling and eating the cookies!
First, make sure your chocolate thumbprint cookies have completely cooled. Then just use a spoon (or a piping bag if you'd rather) to drizzle the dulce de leche into the cookie indents. I find that it's easiest to work with the dulce de leche when it's warm and almost a pourable consistency. If you've made your dulce de leche in advance, just pop it in the microwave and heat it in 30 second increments until it's warm.
Any extra dulce de leche? Try stirring your leftovers into a cup of coffee, drizzling it over crepes or spreading it on a warm piece of toast!
For more cookie inspiration, make sure to check out these recipes!
ingredients
chocolate thumbprint cookies
softened butter

1 c (230 g)

sugar

1 c (200 g)

egg

1 large

vanilla extract

1 tsp

flour

2 c (240 g)

(spooned and leveled*)

cocoa powder

½ c (60 g)

(unsweetened)

salt

½ tsp
homemade dulce de leche
whole milk

4 c (1 l)

sugar

1 c (200 g)

salt

¼ tsp

baking soda

¼ tsp

vanilla extract

½ tsp
instructions
chocolate thumbprint cookies
Cream the butter and sugar together on high with an electric mixer.
Add the egg and vanilla extract and mix until combined.
Slowly mix in the flour, cocoa powder and salt until the dough comes together.
Cover the dough and place in the refrigerator for 30 minutes.
Preheat the oven to 350 F (180 C) and line a baking sheet with parchment paper.
Using a cookie scoop or your hands, form the dough into balls and make an indent in the center either with your thumb or the back of a teaspoon.
Place the formed cookies on the baking sheet leaving a bit of space between them and bake for 12-14 minutes.
If the indent has puffed up during baking, slightly press back down with a spoon.
Let the cookies sit for five minutes and then remove to a wire rack to cool.
homemade dulce de leche
Add the milk, sugar, salt and baking soda to a large heavy-bottomed pot.
Place the mixture on the stove over medium heat and let simmer for approximately 1-1.5 hours. Adjust the temperature so it remains at a good simmer; we don't want the mixture to rapidly boil.
For the first 15 minutes keep a close eye on the mixture - the baking soda will cause the milk to expand and bubble considerably so you'll need to stir the mixture regularly.
After the bubbling subsides, check on and stir the dulce de leche every 5-10 minutes until it begins to turn a light brown color. That's your signal to start stirring the dulce de leche more frequently to prevent burning.
When the milk has caramelized and has reached a deep brown color, remove from heat and stir in the vanilla extract. Pour through a fine mesh sieve and store in a sealed container in the refrigerator.
notes
Spooned and leveled: Scooping a measuring cup into a flour container can result in much more flour than intended, which can affect the look and taste of your cookies. To get a more accurate measurement, use a spoon to scoop flour into the measuring cup until it's completely full. Then run the back of a knife over the cup to gently scrape off any excess.

Did You Make This Recipe?
This post may contain affiliate links through which we may earn a small commission at no additional cost to you. We only recommend products that we genuinely love and would use ourselves.