These delicious ukrainian garlic rolls (pampushki) are soft, fluffy and perfect served alongside a big bowl of borscht!
Freshly baked bread rolls brushed with a homemade garlic dill oil while still hot — these pampushki (пампушки) are exactly what you need for soup season. The little pull-apart rolls are made with a rich yeast dough that results in a wonderfully soft and pillowy texture — the perfect dinner rolls!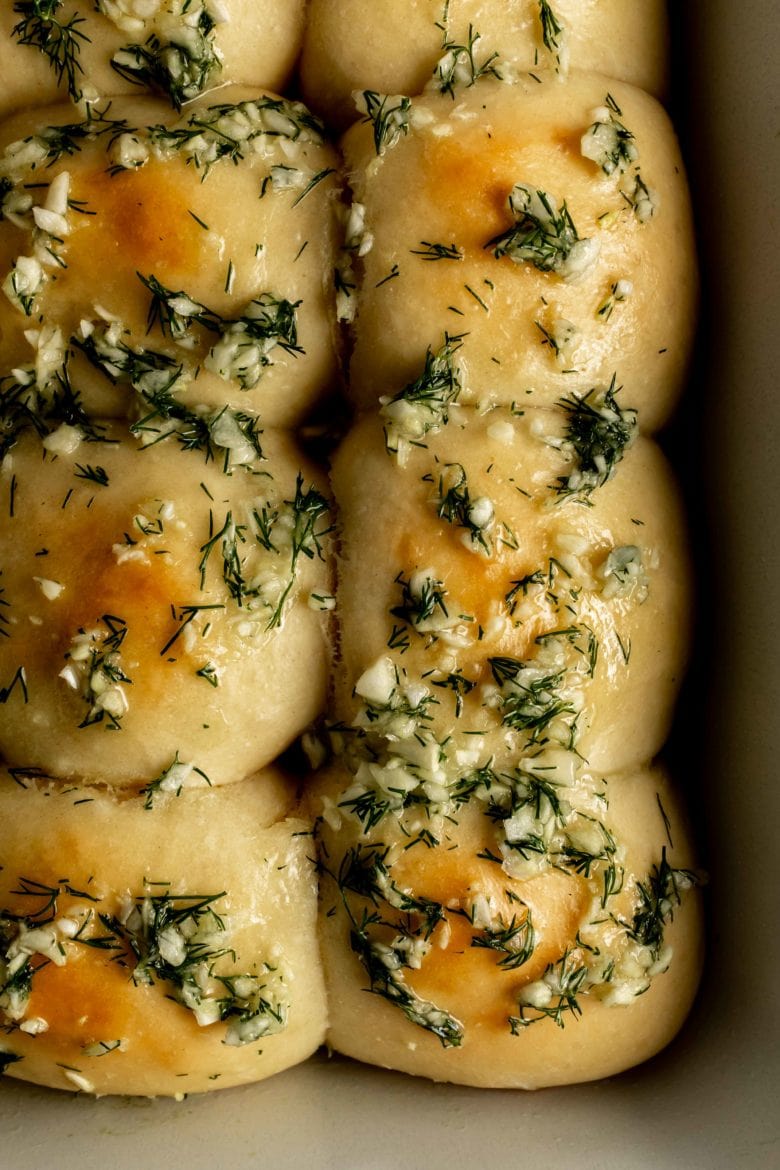 pampushki dough
You'll need the following ingredients for your pampushki dough:
active dry yeast: We opt for active dry yeast here, but you can substitute instant yeast if you'd like. There's no need to activate instant yeast, so you can just mix everything together! To make this substitution, I would recommend using a bit less instant yeast — about 1¾ teaspoons (5 g).
warm water: The water should be warm (but not hot!) to activate the yeast — about 110 F (43 C) if you want to get technical. Warm tap water will work just fine.
sugar: While not necessary to activate the yeast, we add sugar to the water-yeast mixture to make sure the yeast is still active. The sugar feeds the yeast, causing it to bubble up so you can be sure that your yeast hasn't expired. A little sugar also enhances the flavor of the rolls so don't skip it!
milk: Adding whole milk (instead of using solely water as the liquid) makes for a richer dough with more flavor.
bread flour: Bread flour produces chewier rolls, but you could use all-purpose flour in a pinch. You can start with the same amount of all-purpose flour, but may need to add just a tiny bit more if the dough is too wet.
eggs: The eggs also contribute to a richer, more tender dough.
butter: A few tablespoons of melted butter for even more flavor!
salt: A necessary addition for flavor and texture.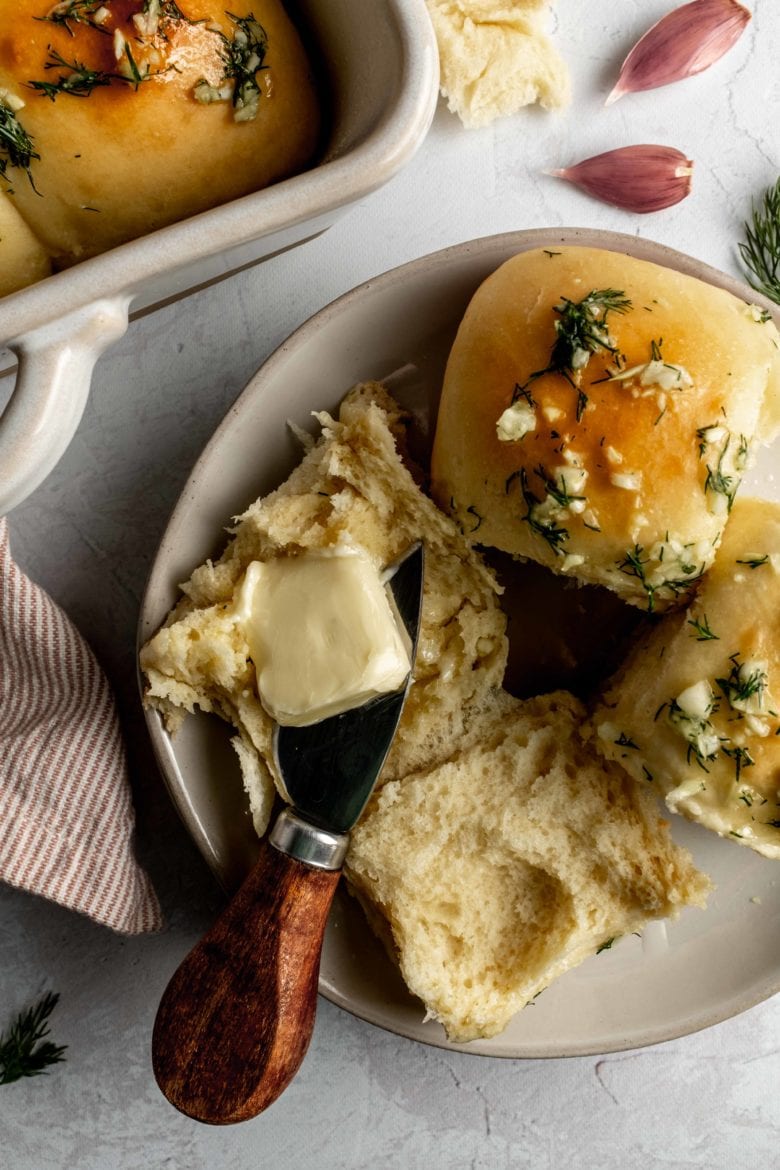 making pampushki
To make the pampushki, mix together warm water and sugar and sprinkle the yeast over the top to activate.
Once the yeast is foamy, combine it with the remaining ingredients and stir until the dough begins to form. Turn the dough out onto your counter and begin kneading. The dough should be quite soft, but if it's incredibly sticky you can add additional flour as necessary. The dough is ready when it's smooth and elastic — this usually takes about 10 minutes of kneading for me.
Next is a bit of hands-off time while we let the dough rise for about an hour or until it doubles in size. Then separate your dough into 15 equal pieces, roll them into buns and place them in a greased pan. Cover with a kitchen towel and let them rise for another 30 minutes.
Now just bake your pampushki at 400 F (200 C) for about 20 minutes or until golden brown. If you want to make sure they're done, you can always check the internal temperature which should be at about 200-210 F (93-99 C).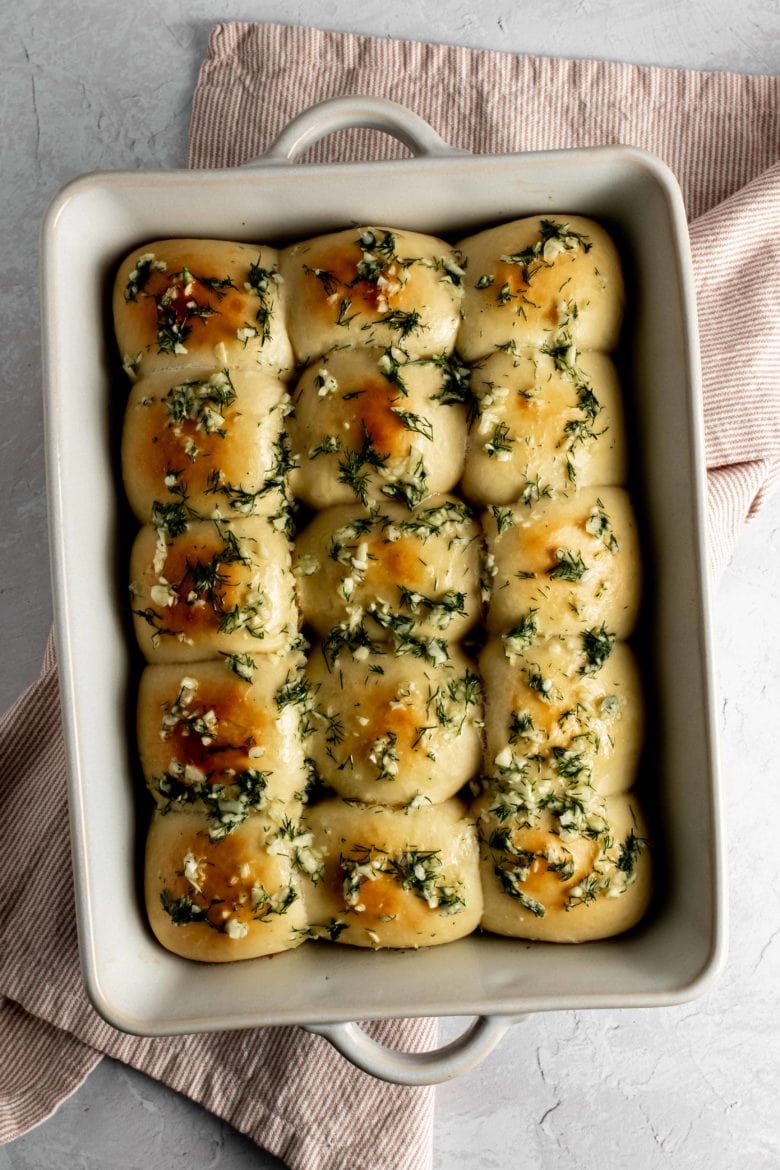 garlic + dill topping
And now for the best part: the garlic and dill topping! While the rolls are baking, mix together the topping: vegetable oil, water, fresh dill, garlic and a pinch of salt.
As soon as the rolls come out of the oven, spoon the garlicky dill mixture all over the pampushki. The wonderful aroma of fresh herbs and garlic will fill your kitchen and you'll want to dive right in! But I highly recommend waiting just a bit and covering the pampushki with plastic wrap or a kitchen towel for at least 15 minutes. This gives the topping a chance to really infuse the rolls with flavor!
And what should you serve with your pampushki? Here are our favorite options:
Print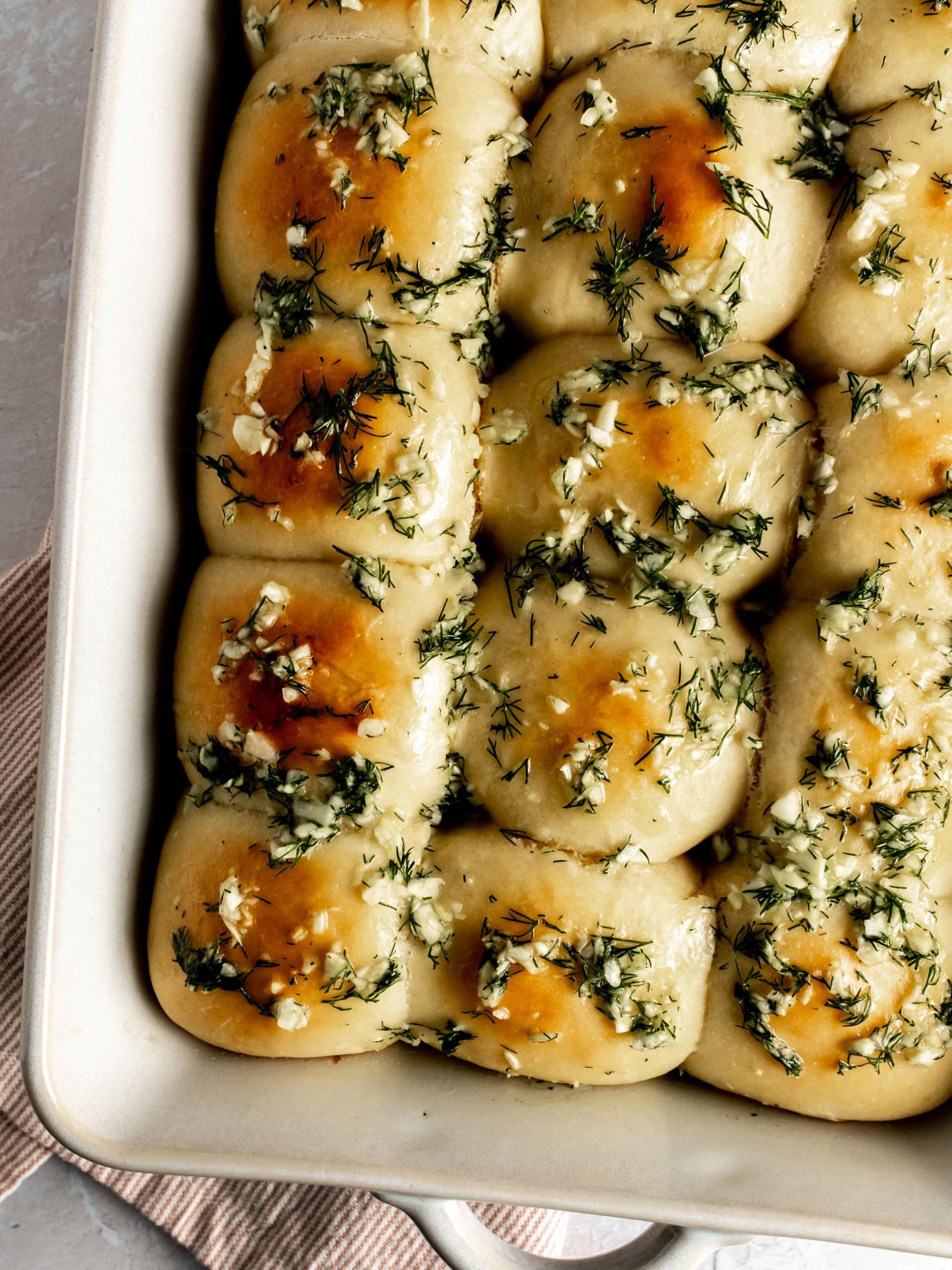 pampushki | ukrainian garlic bread rolls
---
Author:

Prep Time:

30 minutes

Rest Time:

1 hour 30 minutes

Cook Time:

20 minutes

Total Time:

2 hours 20 minutes

Yield:

15
pampushki
warm water

½ c (120 ml)

sugar

½ tbsp

active dry yeast

¼ oz (7 g)

bread flour

3.5-4 c (450-500 g)

(spooned and leveled*)

salt

1.5 tsp

milk

½ c (120 ml)

(plus additional for brushing)

eggs (lightly beaten)

2 large

melted butter

3 tbsp (40 g)
garlic dill topping
vegetable oil

1 tbsp

(sunflower oil works well)

water

1 tbsp

chopped fresh dill

2-3 tbsp

minced garlic

5 cloves

salt

a pinch
---
Instructions
Combine the warm water, sugar and active dry yeast in a small bowl. Set aside for 10 minutes or until foamy.

Mix together the flour and salt in a separate bowl.

Add the foamy yeast mixture to the flour and pour in the milk, eggs and melted butter. Mix the dough until it begins to form and then turn out onto your working surface and knead until smooth and elastic (about 10 minutes).

Shape the dough into a ball and place in a greased bowl. Cover and set aside in a warm space for about one hour or until it doubles in size.

Once the dough has doubled in size, punch it down several times with your hands. Divide into 15 pieces and roll each piece into a ball. Place the pampushki in a greased 13×8 inch (32×20 cm) baking dish and cover with a kitchen towel. Set aside in a warm space for 30 minutes.

Meanwhile, preheat the oven to 400 F (200 C).

Brush the pampushki with milk and bake for approximately 20 minutes or until golden brown.

While the pampushki are baking, make the topping. In a small bowl combine the oil, water, chopped dill, minced garlic and salt.

Spoon the topping over the pampushki as soon as they come out of the oven. Cover with a kitchen towel until ready to eat (this also gives the topping a chance to really infuse the pampushki).
Notes
Spooned and leveled: Scooping a measuring cup into a flour container can result in much more flour than intended, which can affect the success of your rolls. To get a more accurate measurement, use a spoon to lightly scoop flour into the measuring cup until it's completely full. Then run the back of a knife over the cup to gently scrape off any excess.
Keywords: pampushki, garlic bread, garlic rolls, ukrainian rolls
This post may contain affiliate links through which we may earn a small commission at no additional cost to you. We only recommend products that we genuinely love and would use ourselves.