Juicy chicken thighs roasted alongside beets and carrots is a vibrant and cozy recipe perfect for the colder months! Serve your one-pan dinner with a delicious and easy herby yogurt sauce for a meal you'll want to make on repeat!
This is one of those no-fuss meals that we turn to on busy days when we're craving something cozy and comforting. Tender chicken thighs roasted with flavorful and nutrient-dense beets and carrots — the perfect one-pan dinner for a chilly evening. And if you have an extra five minutes to spare, definitely try whipping up our easy herby yogurt sauce to take this quick dinner to the next level!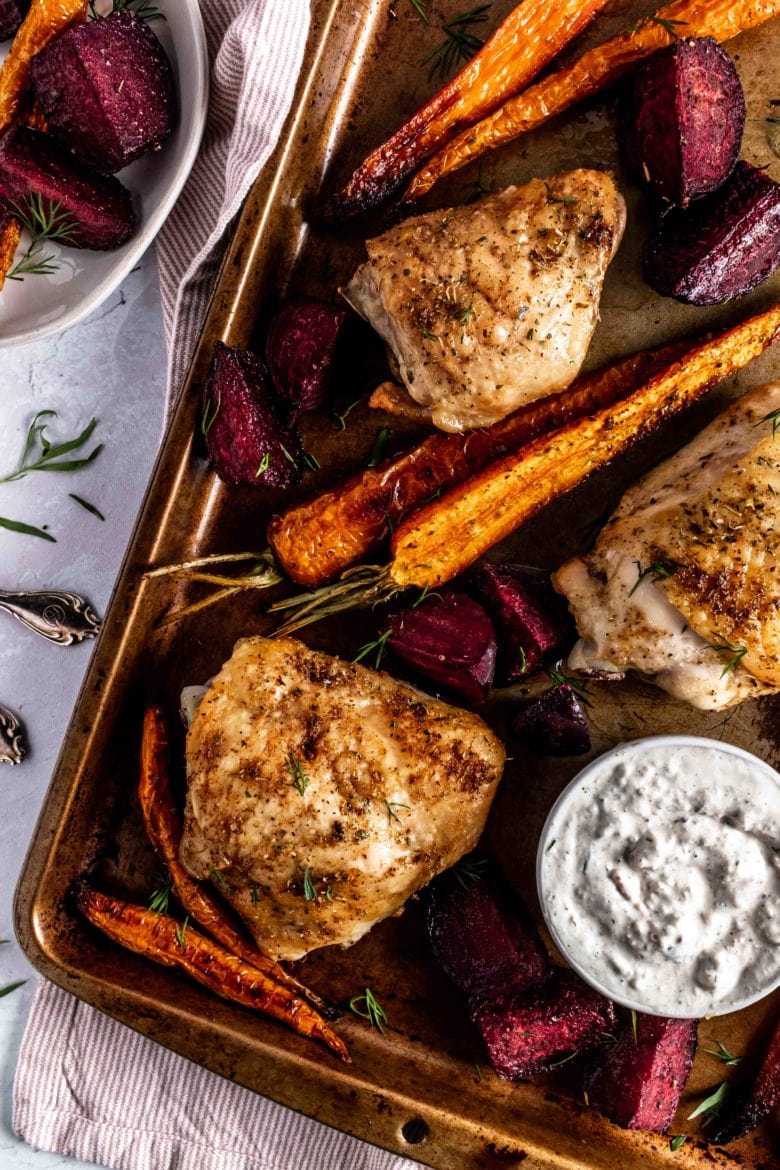 easy chicken, carrot and beet sheet pan dinner
For this sheet pan dinner we like to use bone-in and skin-on chicken thighs. If you'd prefer to substitute something like boneless skinless chicken breasts, just make sure you don't add them to the pan right away. They'll only need about 20-25 minutes to cook — you don't want to run the risk of drying them out by leaving them in the oven too long.
And for the veggies I think beets and carrots are perfect for this time of year. Roasted carrots are pure magic! The roasting process makes the flavors and textures really come alive — the carrots are crisp and caramelized on the outside and wonderfully tender on the inside! To me they actually almost taste like sweet potato fries. Almost.
And then the beets. One of my favorite vegetables. To prep, just scrub your beets really well — there's no need to peel. Then cut them into eighths (or even smaller if you're working with bigger beets). After roasting, the beets take on a sweet, earthy flavor that goes perfect with the rest of the dish!
Now just drizzle everything with a bit of olive oil and sprinkle with garlic powder, oregano, cumin and salt! Send off to the oven for a 40 minute roast and you're done!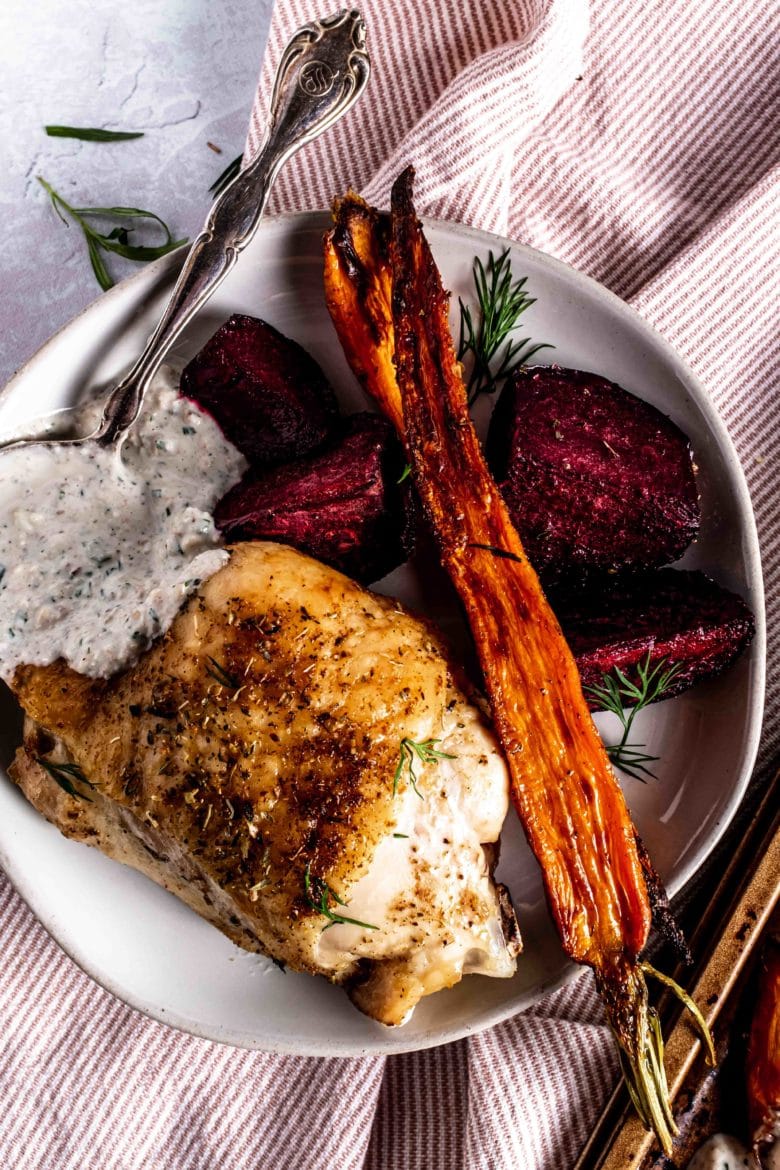 dill and tarragon yogurt sauce
This herby yogurt sauce is optional, but highly recommended. Just toss everything in a food processor and pulse until mostly smooth! Here's what you'll need:
greek yogurt: I find that full fat greek yogurt gives this sauce the best flavor, but plain yogurt or sour cream would work in a pinch.
walnuts: Chopped walnuts add a rich, almost buttery flavor to the sauce — don't skip this ingredient!
garlic: Add a few whole garlic cloves right to the food processor or use garlic powder instead.
fresh herbs: I use a combination of dill and tarragon for this sauce, but you could choose just one herb or use something completely different.
apple cider vinegar: A spoonful of apple cider vinegar will lift and balance out the sauce. White wine vinegar, red wine vinegar and lemon juice all make great substitutes.
salt: Just a bit to taste!
make it your own!
One of the great things about sheet pan dinners is that they're incredibly easy to customize. I already mentioned switching out chicken thighs for breasts above, but really you could leave out the chicken altogether. Sliced sausages, meatballs or even pork tenderloin would all work well in this dinner. Just make sure to adjust the cook time accordingly.
You also have a ton of options when it comes to the veggies. I tend to use sheet pan dinners to get rid of any leftover ingredients hanging around in my fridge. Broccoli, sweet potatoes, onions — all great options to just toss on there. And if you're looking for something a bit heartier, baby potatoes are one of my favorite things to add to the pan! Again, just remember to stagger the cook time — toss on sweet potatoes a bit earlier and broccoli a bit later.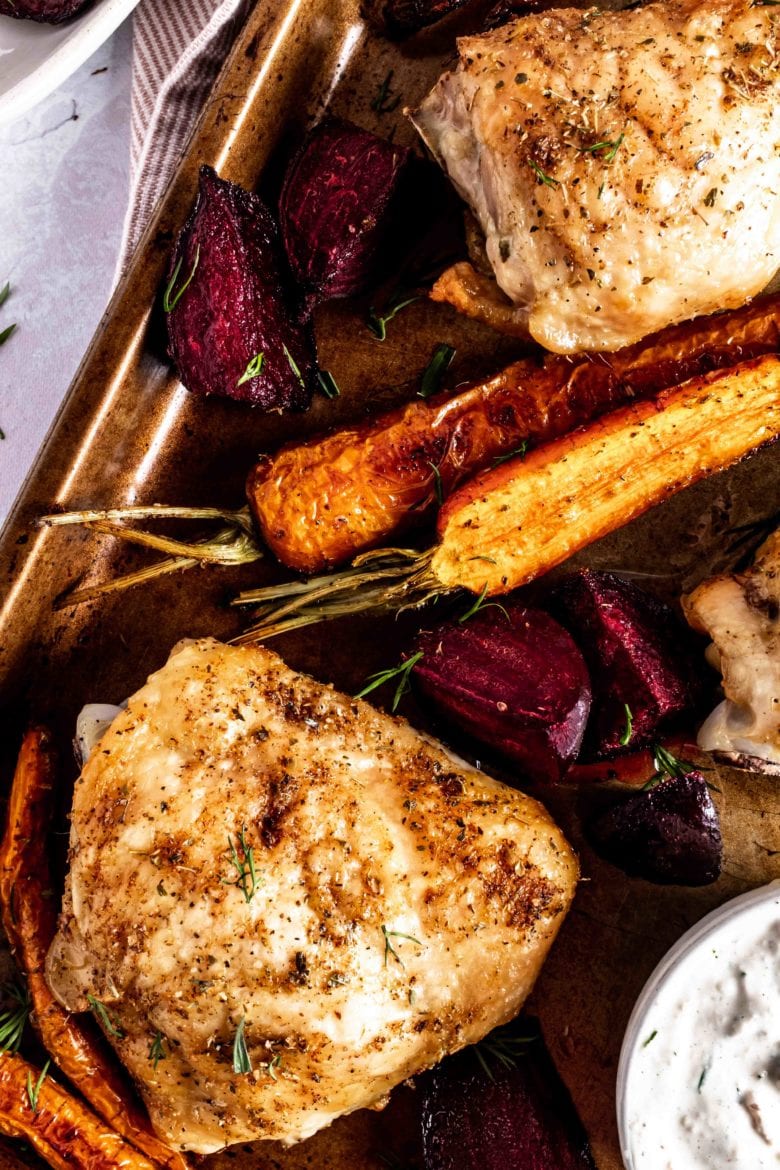 For more easy dinner ideas, make sure to check out these recipes!
Print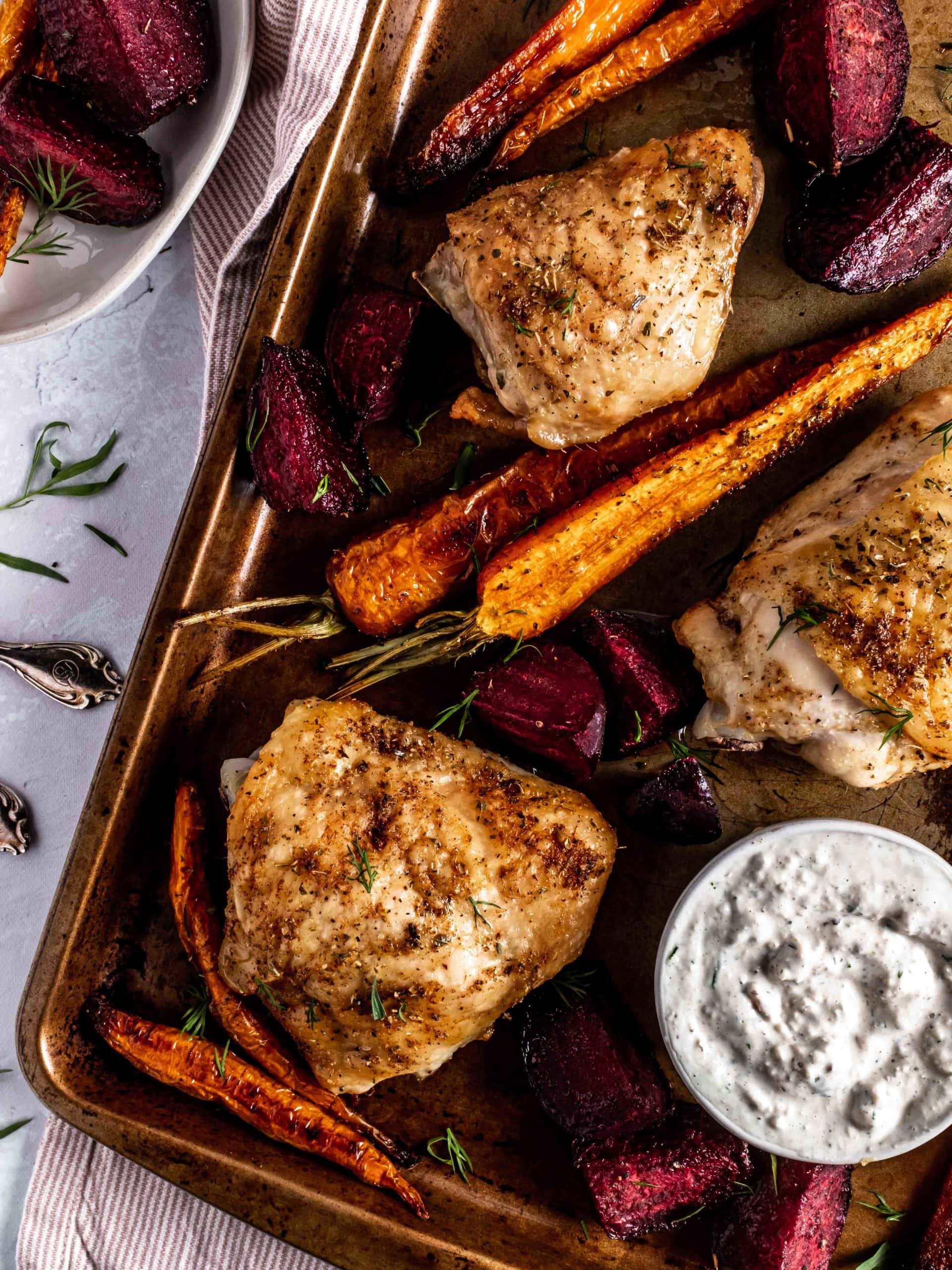 chicken sheet pan dinner with beets and carrots + herby yogurt sauce
---
Author:

Brittney

Total Time:

55 minutes

Yield:

4

Prep Time:

15 minutes

Cook Time:

40 minutes

Cuisine:

global
chicken sheet pan dinner
4 bone-in skin-on chicken thighs

3-4 medium beets

5 medium carrots

2 tablespoons olive oil

1 teaspoon garlic powder

1 teaspoon dried oregano

½ teaspoon ground cumin

kosher salt to taste
dill and tarragon yogurt sauce
¾ cups (180 grams) greek yogurt

⅔ cups (65 grams) walnut pieces

2 cloves garlic

2 tablespoons fresh dill

2 tablespoons fresh tarragon leaves

1 tablespoon apple cider vinegar

kosher salt to taste
---
Instructions
Preheat oven to 400 F (200 C) and line a rimmed baking pan with parchment paper.
Scrub the beets clean and cut them into eighths (or even smaller if you're working with bigger beets). Cut the carrots in half lengthwise.*
Place the chicken thighs, beets and carrots on the baking pan and pour the olive oil over top. Toss to combine.
Sprinkle with garlic powder, cumin, oregano and salt. Coat evenly on all sides.
Cook for about 40 minutes or until the chicken is cooked through.
While the chicken is cooking, prepare the sauce. Place all ingredients for the sauce in a food processor and pulse until mostly smooth.
Notes
Carrots: I tend to use pretty large carrots for this recipe. If you're working with smaller or thinner carrots, wait to add them to the sheet pan until you're halfway through the cook time.
Keywords: sheet pan chicken, easy chicken dinner, chicken and beets
This post may contain affiliate links through which we may earn a small commission at no additional cost to you. We only recommend products that we genuinely love and would use ourselves.