Our delicious homemade Runza recipe features freshly baked bread stuffed with a flavorful beef, onion and cabbage mixture! Make a batch now and freeze some for later — these little pocket sandwiches make for a comforting lunch on the go!
Today we're making Homemade Runzas! If you've ever spent time in Nebraska, you're probably familiar with our beloved fast food chain Runza that sells, well… Runzas! Also known as bierocks, Runzas are yeasted dough pockets with savory fillings that were brought to the Midwest by German-Russian immigrants. At the Runza restaurant, you'll find original Runzas filled with ground beef, onion and cabbage, along with other variations and even seasonal twists. And if you stop in don't forget to order a side of the best crinkle fries around!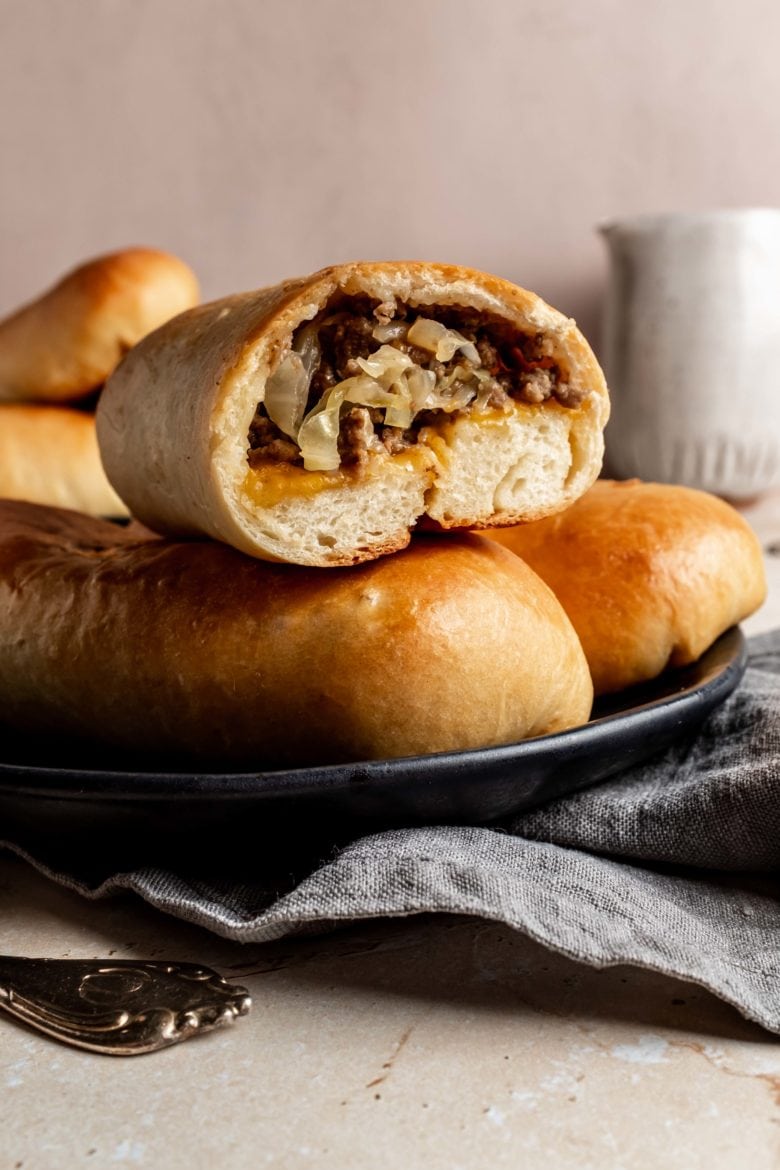 Recipe Ingredients
And no worries if you live nowhere near Nebraska — we've got you covered with our delicious homemade Runzas recipe! It's the first dish Viktor ever cooked for me (having never been to Nebraska but having read about our Runza obsession) and has since become a staple in our home. And to get the recipe just right, we even compared notes with my brother-in-law who developed his own version to get the spices just right!
Homemade Runza Dough Ingredients
Milk
Sugar
Active dry yeast
All purpose flour
Salt
Eggs
Melted butter
Beef and Cabbage Filling Ingredients
And now onto the filling! Although the Runza seasoning used in the restaurants is a closely guarded secret, we've come up with a simple blend that we think is quite similar. Here are our ingredients for homemade Runzas:
Ground beef
Diced onion
Shredded cabbage
Salt
Garlic powder
Paprika
Worcestershire sauce
Black pepper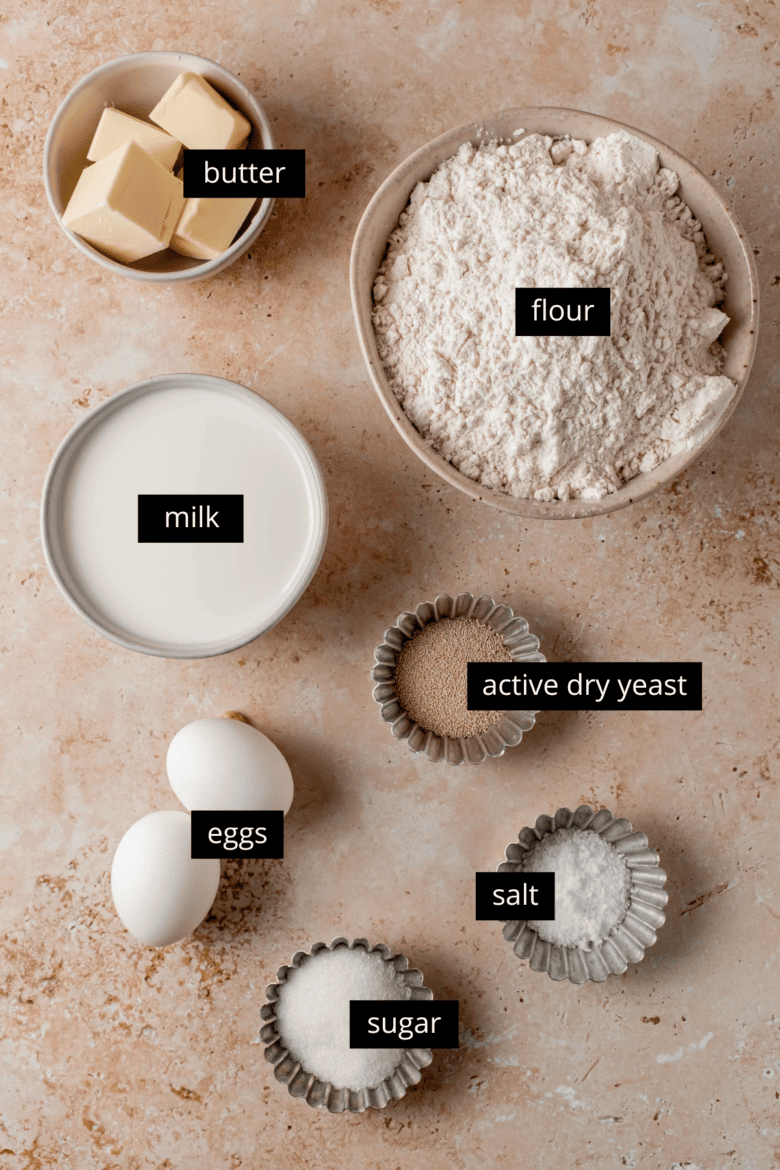 Step By Step Instructions
Making The Dough
The homemade Runza dough can be made in three simple steps:
Activate the yeast in warm milk.
Combine all ingredients and knead until smooth and elastic.
Place in a greased bowl, cover and let rise for an hour.
Making The Filling
The filling for homemade Runzas comes together quickly:
Brown the hamburger with the diced onion until the meat is just about cooked through.
Add the seasonings.
Stir in the chopped cabbage, cover and cook for 20 minutes.
And that's it! You'll want to drain the mixture when it's done cooking and make sure to let it come to at least room temperature before filling the Runzas.
Expert Tips and Tricks
Activate the yeast in warm milk. The milk should be warm (but not hot!) to activate the yeast — about 110°F (43°C) if you want to get technical. I generally just heat the milk in the microwave for a few seconds.
Start with less flour. Unless you're making homemade Runzas with a kitchen scale, I highly recommend starting with less flour to make sure your dough isn't too dry. It's easy to overmeasure flour when using cups so try starting with three cups and add the additional cup of flour as necessary. The dough will be soft and slightly sticky, but it shouldn't be sticking to your hands so much that you have difficulty kneading it.
Rising times may vary. The rising time for your dough can take from 45-90 minutes. You can start working with the dough as soon as it has about doubled in size.
Storage and Reheating
Homemade Runzas can be stored in an airtight container in the refrigerator for 3-4 days.
To freeze homemade Runzas, let them first come to room temperature. Wrap each Runza individually in plastic wrap or aluminum foil, then place in a freezer-safe bag or container. Thaw Runzas in the refrigerator overnight before reheating.
To reheat your Runzas, wrap them loosely in foil to prevent excessive browning. Heat at 350°F (180°C) for about 25-30 minutes or until they are warmed through.
Recipe Variations
The Runza restaurant has introduced various new flavors and seasonal Runzas over the years. If you want to spice things up, here are some of our favorite suggestions to give your homemade Runzas even more flavor:
Swiss Mushroom Runza: Add sauteed mushrooms and top with swiss cheese.
Philly Style Runza: Use thinly sliced steak and add sauteed green peppers and onions.
Spicy Jack Runza: Add jalapenos and crispy bacon. Top with pepperjack cheese.
Reuben Style Runza: Use corned beef, sauerkraut, swiss cheese and Russian dressing.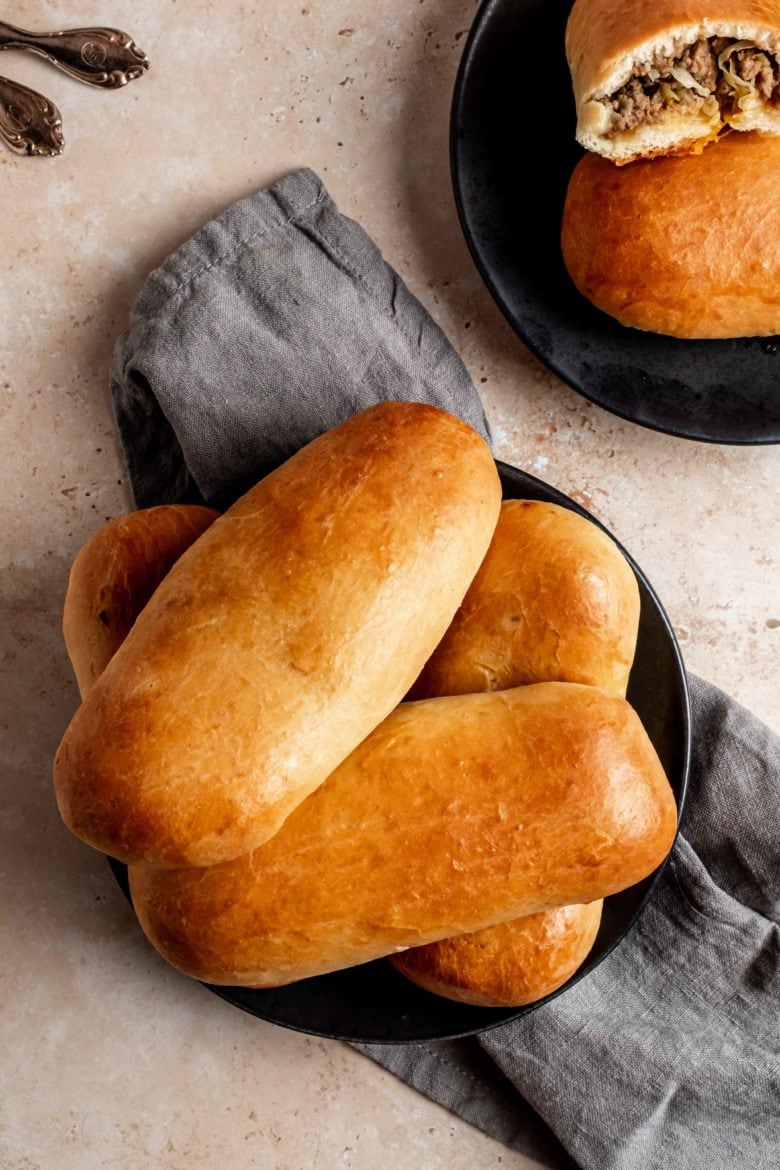 Frequently Asked Questions
Can I use instant yeast instead of active dry yeast for the Runza dough?
We opt for active dry yeast here, but you can substitute instant yeast if you'd like. There's no need to activate instant yeast, so you can just mix everything together! To make this substitution, I would recommend using a bit less instant yeast — about 1¾ teaspoons (5 g).
What should I do if I'm having difficulty rolling out the dough?
If you're finding that the dough is springing back a bit when rolling out, I recommend first dividing the dough into 15 portions and then letting it sit for about 15 minutes, making sure it's covered with a damp towel. The dough should be easier to work with after the short rest.
Can I freeze homemade Runzas?
Yes, this is actually one of our favorite freezer recipes! I recommend baking the Runzas before freezing. Just let them come to room temperature and then place in an airtight container or freezer bag. The Runzas can be reheated in the microwave or wrapped in foil and baked at 350°F (180°C) for 20-25 minutes.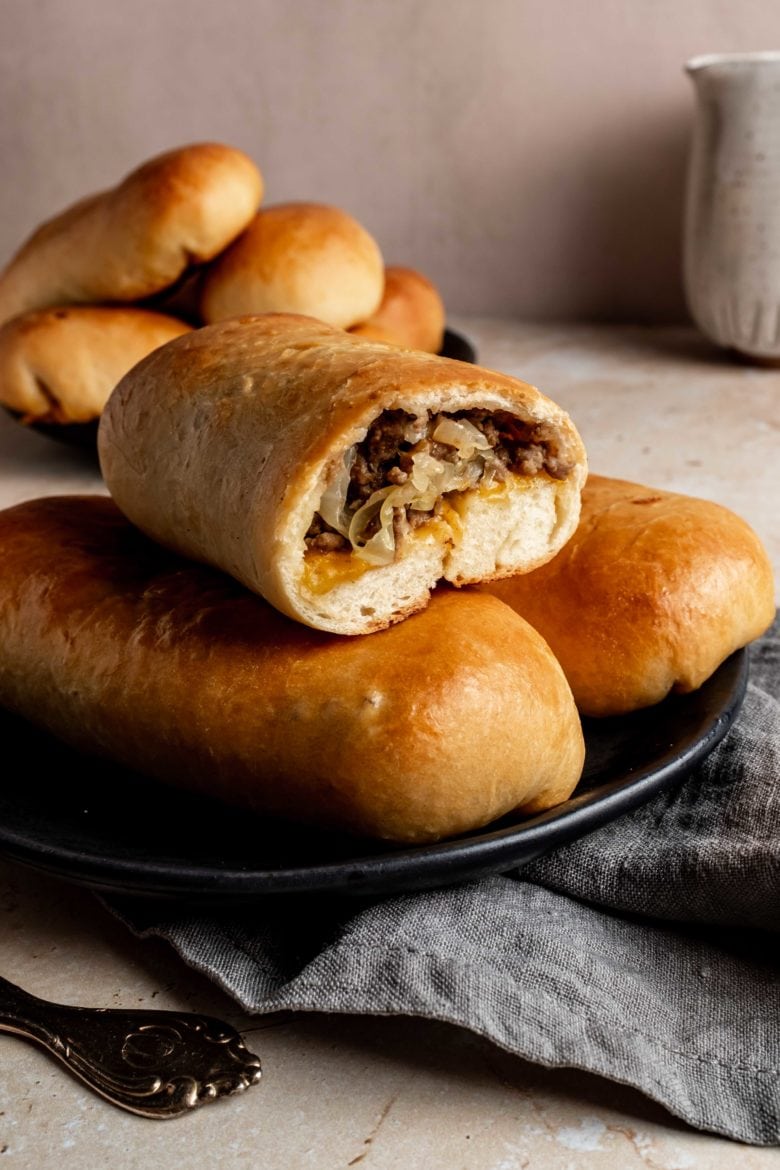 If you love this homemade Runza recipe, check out these posts for more delicious dinner inspiration:
Print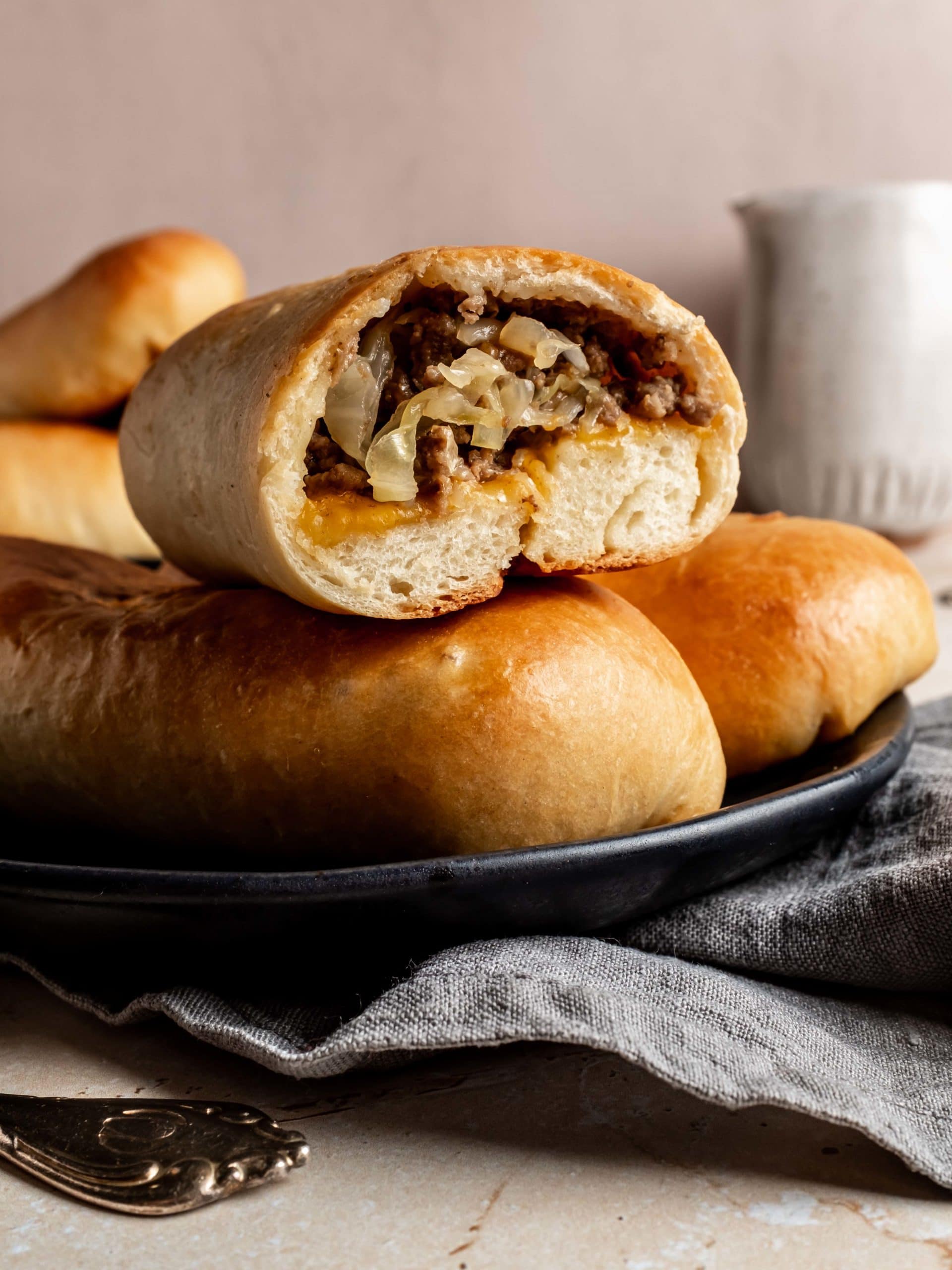 Homemade Runzas Recipe
---
Author:

Prep Time:

1 hour

Cook Time:

20 minutes

Total Time:

1 hour 20 minutes

Yield:

15
Runza Dough
milk (divided)

1 c (240 ml)

sugar

2 tbsp + 1 tsp

active dry yeast

2 ¼ tsp (7 g)

all purpose flour

3.5-4 c (450-500 g)

(spooned and leveled*)

salt

1.5 tsp

eggs (lightly beaten)

2 large

melted butter

6 tbsp (85 g)
Beef and Cabbage Filling
ground beef

1.5 lbs (680 g)

onion, finely diced

1 small

cabbage, shredded

5 c (350 g)

salt

1.5 tsp

garlic powder

1 tsp

paprika

½ tsp

worcestershire sauce

2 tsp

pepper

to taste

cheddar (optional)

15 slices
Baking and Assembly
egg

1 large

water

1 tbsp

butter (optional)

2 tbsp
---
Instructions
Runza Dough
Heat ½ cup of milk until just warm. Add 1 teaspoon of sugar and sprinkle in the active dry yeast. Set aside for 10 minutes or until foamy.

Mix together the flour, salt and remaining 2 tablespoons of sugar.

Add the foamy yeast mixture to the flour and pour in the remaining ½ cup milk, eggs and melted butter. Mix the dough until it begins to form and then turn out onto your working surface and knead until smooth and elastic (about 10 minutes). Alternatively, you can mix the dough in a stand mixer fitted with a dough hook.

Shape the dough into a ball and place in a greased bowl. Cover and set aside in a warm space for about one hour or until it doubles in size.
Beef and Cabbage Filling
In a large pot over medium heat, cook the ground beef and diced onion until the meat is no longer pink (6-8 minutes).
Add the salt, garlic powder, paprika, worcestershire sauce and pepper and stir to combine.
Mix in the shredded cabbage, cover and reduce heat to low. Cook the mixture for 20 minutes, stirring halfway through.

Adjust salt to taste. Thoroughly drain any excess liquid. Allow to cool to room temperature before using.
Baking and Assembly
Preheat oven to 375°F (190°C) and line a baking sheet with parchment paper.

Once the dough has doubled in size, punch it down several times with your hands. Divide the dough into 15 portions. Make sure to keep the dough covered when not using so it doesn't dry out.

Roll out each portion into an oval approximately ⅛ inch (3 mm) thick.
Top with several heaping spoonfuls of the meat mixture. Add a slice of cheese if using. Fold the dough over the filling and tuck in the edges, pinching to seal.
Place the Runzas seam side down on the prepared pan.

Lightly beat one egg with 1 tablespoon of water and brush the Runzas with the egg wash.

Bake for 20-22 minutes or until golden brown.

Brush the Runzas with melted butter as soon as they come out of the oven (optional).
Notes
Spooned and leveled: Scooping a measuring cup into a flour container can result in much more flour than intended, which can affect the success of your dough. To get a more accurate measurement, use a spoon to lightly scoop flour into the measuring cup until it's completely full. Then run the back of a knife over the cup to gently scrape off any excess.
Storage: Homemade Runzas can be stored in an airtight container for 3-4 days in the fridge or for up to 3 months in the freezer.
Category:

Dinner

Cuisine:

american
Keywords: homemade runzas, runza recipe, bierocks recipe
This post may contain affiliate links through which we may earn a small commission at no additional cost to you. We only recommend products that we genuinely love and would use ourselves.